The Loop
Jim Herman, journeyman and Donald Trump protege, wins Shell Houston Open
Odd business we're in sometimes. We root for the best story, and in the lead-in to the Masters this week, any number of them would have sufficed, notably Jordan Spieth with a Sunday charge in advance of his Augusta National defense.
In the absence of a Spieth win, maybe Henrik Stenson or Dustin Johnson would step up and claim an elusive victory and momentum in pursuit of their first major championship.
Reality rejected those scripts. Good thing, too. The best story, in fact, turned out to be Jim Herman, a 38-year-old journeyman who was rescued from his club pro job by a billionaire candidate for president.
One needn't be a Donald Trump supporter to appreciate Herman winning the Shell Houston Open at the Golf Club of Houston on Sunday by withstanding challenges from some of the game's elite.
Herman is going to the Masters, and that ought to be good enough.
"Never thought it was possible," he said through tears.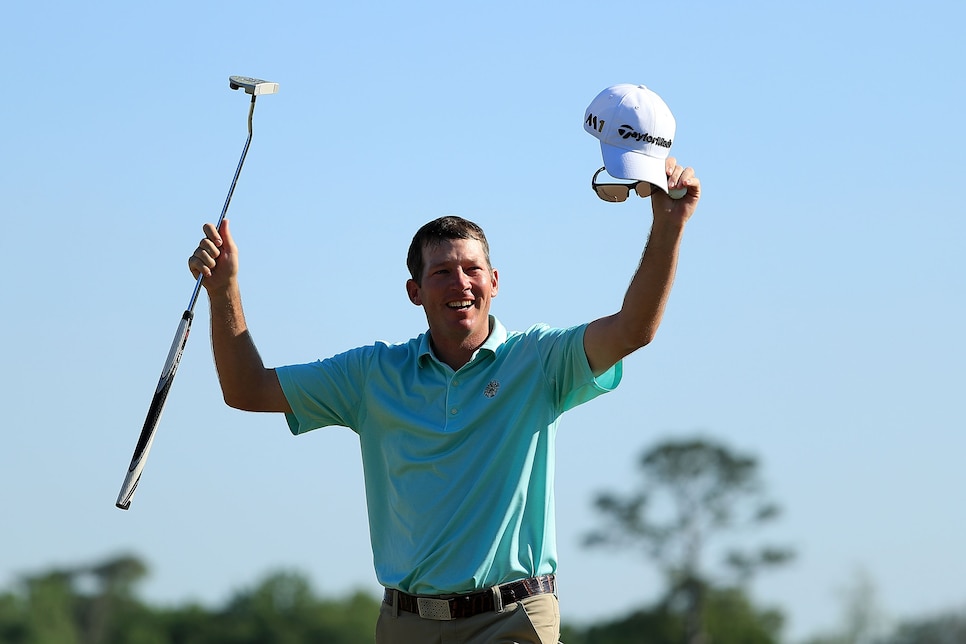 Herman played mini-tour golf after leaving the University of Cincinnati, then became an assistant club pro who eventually landed at Trump National Bedminster in New Jersey.
"Why are you folding shirts and giving lessons?" Trump said to him one day. "Why aren't you on the tour? I've played with tour players. You're good enough."
On this day, Herman emphatically made the point for Trump. He was tied with Stenson before holing a 40-foot pitch shot for birdie on the par-3 16th hole, making a routine par on 17 and another routine par on an exceedingly difficult par-4 18th for a one-stroke win over Stenson
"We had a good game plan," he said. "Sorry for the tears. I'm pretty happy. We did a good job of keeping our game plan. We did a lot of 3-woods. I'm sure everyone was wondering about that. We wanted to give ourselves as many birdie chances as we could and keep it low stress."
Stenson, seventh in the World Ranking, was not the only elite player to challenge Herman. Dustin Johnson, ranked ninth, made five birdies on the back nine, but was undone by a double-bogey on the 11th hole and finished third, two shots back.
Then there was Spieth, who birdied five of his first seven holes to get within one shot of the lead, but played the final 10 holes in three over to finish tied for 13th.
Herman, meanwhile, posted a four-under par 68 while playing in the final pairing and looking at leaderboards with names like Spieth, Stenson and Johnson threatening his dream.
"Tomorrow could be a lot of things, but I'm not in my 20s anymore. I'm 38. I've been around," Herman said in an NBC interview from Saturday. "I've watched the tour for a long time. I was growing up watching the tour and dreamed of being out here. To play five years is pretty amazing for a kid from Delhi, Cincinnati, Ohio. To have a chance at winning is going to be be awesome. I'll see if I can keep my composure and see what happens. I'm looking forward to it."
That might have made him a party of one, at least until Sunday afternoon when the best story was the 38-year-old wiping away tears.