The Loop
Jim Furyk wins the Payne Stewart Award -- and not just because he shot 58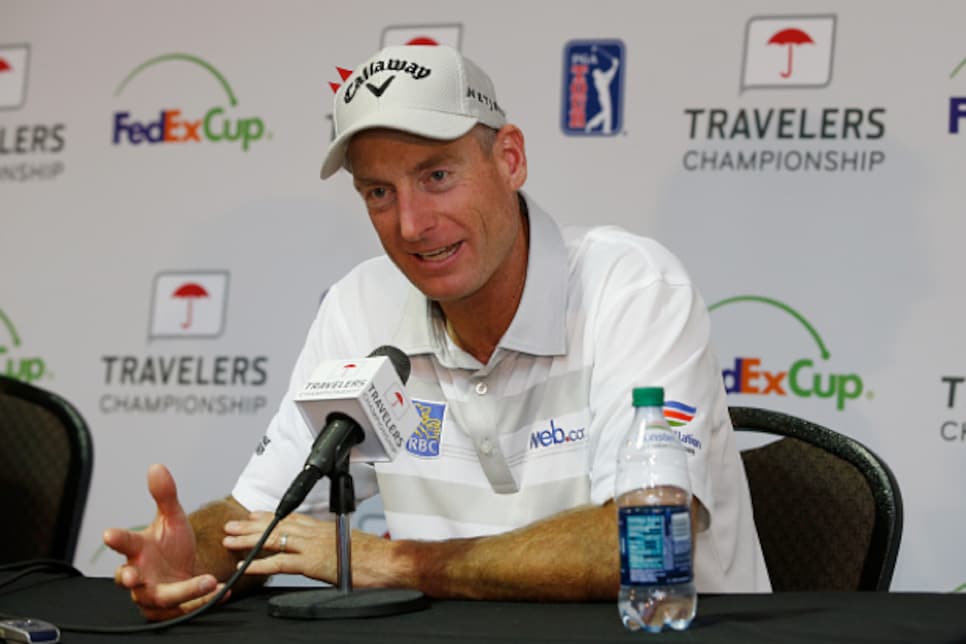 What looked like it could be a lost season has turned into a banner year rather quickly for Jim Furyk. On Sunday, the 46-year-old became the first player in PGA Tour history to shoot a 58. And on Tuesday, he was named the recipient of the Payne Stewart Award.
Named in honor of the late Stewart, the award is presented annually to a golfer who best exemplifies Stewart's steadfast values of character, charity and sportsmanship. Furyk will officially accept the award at a September 20th ceremony at the Tour Championship.
"I am incredibly honored to receive the Payne Stewart Award," Furyk said during a Tuesday morning teleconference. "I was fortunate enough to know Payne as a colleague and friend, and I always admired the character and spirit he brought to the game of golf. The Payne Stewart Award is an important part of the TOUR's efforts to honor Payne's legacy. Knowing my name will be forever linked to him through this honor is extremely humbling, and I am very grateful."
"Payne was a friend, he and Tracey kind of took Tabitha and I in. When I was early on TOUR we met them really in Bermuda for a shoot-out for a challenge and his spirit, his character, he was so much fun. I look back to our careers and I see a lot of similarities."
One of those similarities is a passion for representing the red, white, and blue.
"I think one thing that sticks out about me about Payne was his love of playing for his country for the Ryder Cup and for the Presidents Cup and good leadership on those teams and especially in '99, that was something I'll never forget," said Furyk, who made his season debut at the Wells Fargo Championship in May after undergoing wrist surgery in the winter.
The Payne Stewart Award was first given out in 2000, the year after Stewart's tragic death in a plane crash. A triumvirate of golf legends -- Arnold Palmer, Jack Nicklaus and Byron Nelson -- were the first to receive the honor.
On Tuesday, PGA Tour commissioner Tim Finchem thanked and congratulated the 17-time PGA Tour winner.
"I want to point out that this decision on his recognition of the Payne Stewart Award was made prior to him shooting 58," PGA Tour commissioner Tim Finchem said. "But I also want to recognize what he has meant to the PGA TOUR, its image, what people think about the sport, in our home area of Ponte Vedra Jim and his wife Tabitha have been absolute leaders and have had stunning success in giving back to the people and communities around the Ponte Vedra and Jacksonville area. And he continues that work constantly. He is a great contributor to what the PGA TOUR is all about, in addition to being a very, very great player."
And it will become a very, very great year if Furyk has wrapped up another Ryder Cup spot as a player by the time he accepts his latest award.