The Loop
Jim Furyk is really, REALLY good at finishing runner-up
You'd think moving ahead of one of your most successful contemporaries (Vijay Singh) and within one of two others who happen to be all-time greats on any list (Tiger Woods and Phil Mickelson) would be cause for celebration. But for Jim Furyk, it's just another reminder of what could've been.
Furyk finished runner-up at the Canadian Open by a shot to Tim Clark on Sunday for the 28th second-place finish of his great -- probably Hall of Fame -- career on the PGA Tour. However, his 16 wins pale in comparison to the 155 combined victories by those three giants of this era.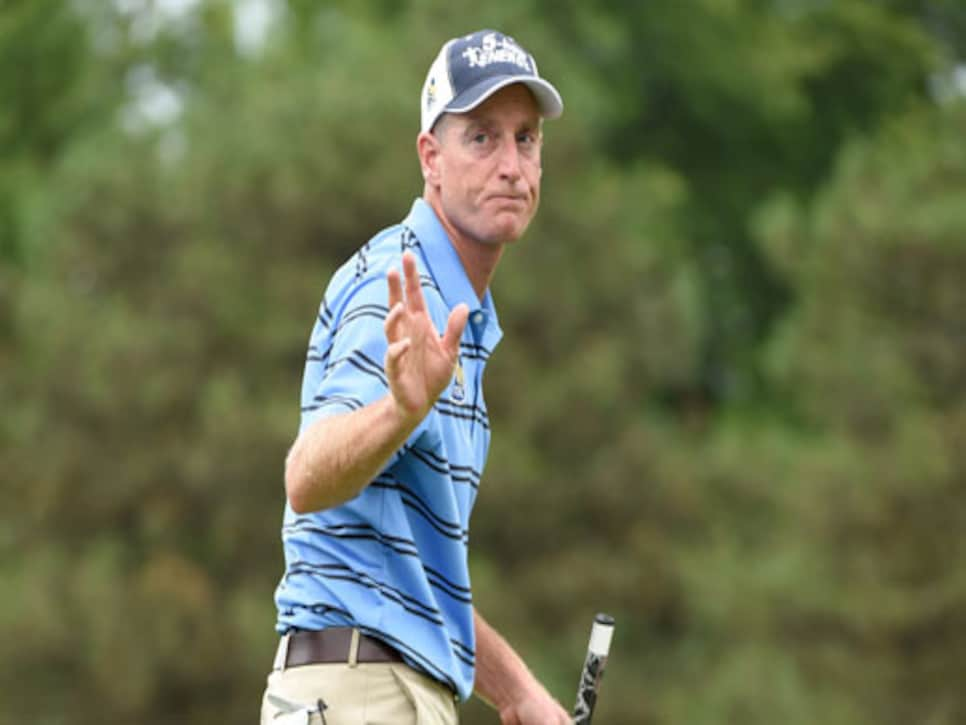 No one is saying Furyk is as good as those other three guys, although he seems to be when it comes to finishing second. But 28 runner-ups and just 16 wins? Something doesn't add up.
This season, although a success overall, has to be particularly painful for the 44-year-old Furyk. Three runner-ups since May (plus a solo fourth at the British Open) have Furyk up to No. 8 in the Official World Golf Ranking -- the highest he's been since the start of the 2011 season. The difference is that then Furyk was coming off a three-win season in 2010 that ended with him winning the FedEx Cup and PGA Tour Player of the Year honors.
Furyk has continued to pile up high finishes, but he hasn't won since the 2010 Tour Championship. In nearly four years, he's added six runner-ups and three third-place finishes, and that doesn't even count the 2012 U.S. Open, in which he had the lead before bogeying two of the final three holes at Olympic Club to finish T-4. Even a 59 in the second round of last year's BMW Championship wasn't enough to put Furyk over the top.
At the Canadian Open, Furyk had a three-shot lead through 54 holes, but Clark's final-round 65 clipped him by four. According to Adam Sarson, Furyk now has a dismal 37-percent success rate with 54-hole leads (9 of 24). Comparing him again to Woods (89 percent), Mickelson (67) and Singh (64) in that category isn't pretty.
The funny thing about that stat is that if you take out Furyk's current streak of seven straight failures, you could argue he was once pretty good at closing out tournaments, with a 9-of-17 record between 1994-2010.
But it's easy to say Furyk should have more career wins. In fact, after Furyk's runner-up at the Players two months ago, we argued he should have anywhere between 20 and 24 tour titles based on how many times he's finished in the top three. His 27-percent win rate in those situations isn't awful (Luke Donald's 17 percent is, for instance), but it's below average and well below the marks of Woods (61), Mickelson (44) and Singh (44). The numbers say that even bad "finishers" will win if they put themselves in position to do so enough times.
Of course, finishing second these days on the PGA Tour has its perks. Furyk made $615,600 for his latest close call to push his 2014 on-course earnings to more than $4 million. But at this point in his career, he's much more concerned about trophies than his bank account.
"I'm definitely disappointed not to get over the hump," Furyk said Sunday. "It's been a long time since I've won, and it stings to finish second again."
Again. For the 28th time. Hang in there, Jim, it's bound to happen. No one should be this good at coming in second.