The Loop
Furyk puts himself in position for second U.S. Open title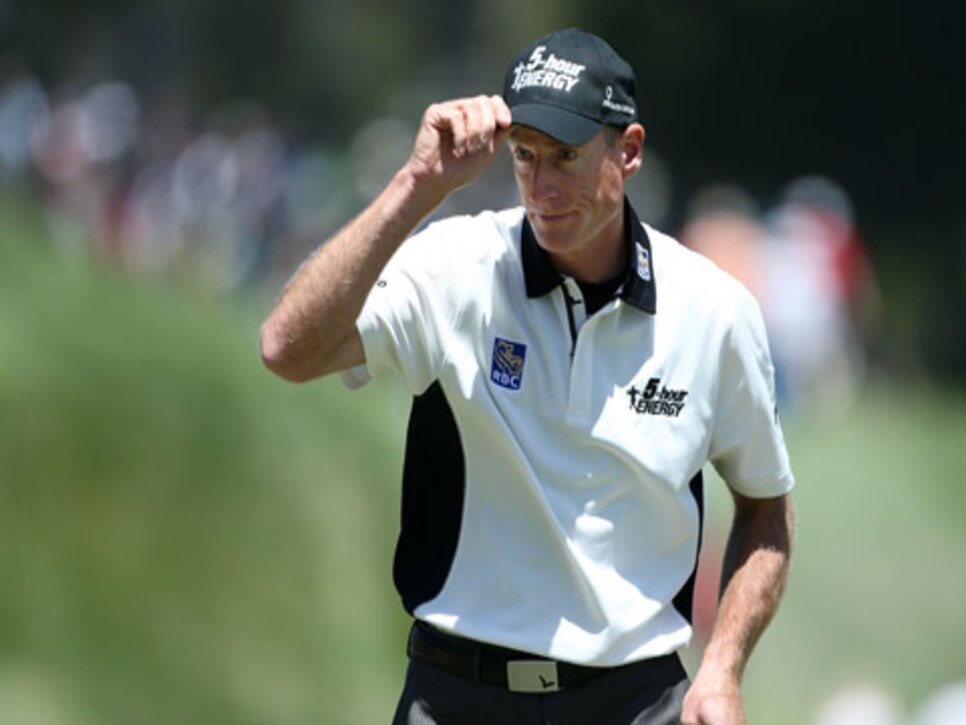 A methodical 69 gave Jim Furyk the clubhouse lead on Friday. (Photo: Getty Images)
SAN FRANCISCO -- Jim Furyk had spent 18 holes scaling Olympic Club's steep hills and trying to steer clear of its trouble. Now, with his voice barely above a whisper, he seemed like he wanted to take a nap right at the table in front of him.
"It's draining both mentally and physically," Furyk said after his Friday 69 moved him to one-under 139. "You have to be on top of your game the whole time."
"Electric" isn't a word often used to describe the 42-year-old Furyk. Not on a normal day, and especially not when he just got done playing the toughest course he's played all year. But Furyk's plodding, no-frills style is also what positions him so well on weeks like these. With one U.S. Open title already, Furyk has given himself a chance at another through two rounds by following the typical U.S. Open recipe of fairways, greens, and not exacerbating mistakes.
"I watched Jim yesterday and I watched it again today," said Furyk's playing partner Graeme McDowell, who is two shots back at 141. "He doesn't take chances he doesn't have to take on. He gets back in the fairway. He putts well. He holes out well. He takes his chances when they come."
When Furyk won his first major at the U.S. Open at Olympia Fields in 2003, it seemed like another one wouldn't be far behind, a testament to a solid overall game and a methodical approach. But while Furyk's had a number of big wins since the Open, including a FedEx Cup championship in 2010, a second major has been elusive, and he knows now time is an issue.
"I realize at 42 that the window's not wide open anymore," Furyk said. "I have a lot more good years behind me than I probably do ahead of me. But I still feel like I've got some game. I've got some more tournaments to win."
Some of Furyk's best golf came just two seasons ago, but after won the Player of Year and FedEx Cup title in 2010, he admitted to being knocked off course in 2011. An equipment switch to TaylorMade didn't pan out (he's since gone to Callaway), and he said too much time working on his game caused him to neglect his fitness. After finishing the season 50th in the world ranking, he sought to put in extra work on the greens and in the gym. Halfway through the 2012 season, and halfway through this U.S. Open, Furyk is back to being as dangerous as ever.
"You're always trying to find ways to improve. I've done that my whole career. I always looked for ways to improve and last year I think I took the wrong steps," Furyk said. "I got to the point where I can't wait until the offseason to just kind of reflect and start working on my game. I got excited about playing again and was excited for the season to start, which is always a good thing."