INCHEON, South Korea – A large bandage on the top of Jim Furyk's left wrist hides the extent to which he tried to rehabilitate a bone bruise that forced him to withdraw from this week's Presidents Cup.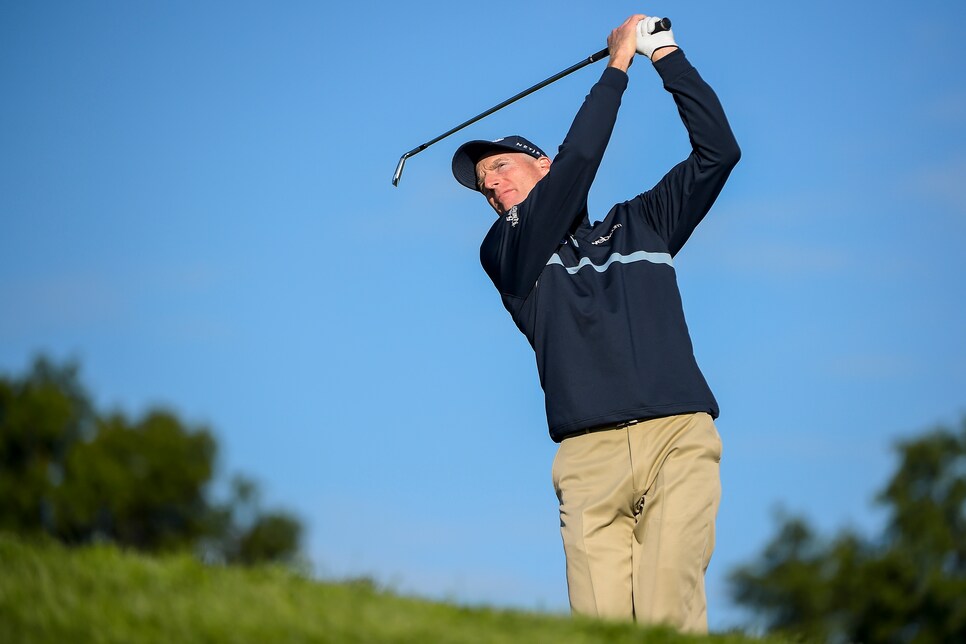 "Do you know how they say if you leave ice on your skin for too long you get an ice burn? It's actually true. I've got a nice blister right there," Furyk said with a chuckle, pointing to the offending area. "I tried as much as I could to get it ready."
Only doing a slow burn at home could have made Furyk feel worse. Instead, after accepting an offer from captain Jay Haas to serve as an assistant, he was enjoying the warmth of an early-morning sun Tuesday while standing on the range at Jack Nicklaus GC watching his would-be teammates prepare for their practice round.
"Being over here is very therapeutic for me emotionally, because I'd be miserable if I were home. I will say it's weird traveling without your sticks."
Furyk, who had seen a 15-year run in the Presidents Cup and Ryder Cup end at the 2013 Presidents Cup, qualified automatically for this year's U.S. team by finishing fifth in the points standings after a solid season that included his first win since 2010 at the RBC Heritage. But when a bone contusion that flared up at the Deutsche Bank Championship still hadn't healed, even after withdrawing from the final two FedEx Cup playoff events, he had no choice but to step aside for alternate J.B. Holmes.
"I feel so fortunate and honored that Jay wanted to have me over here and that the PGA Tour could make it happen because I was feeling pretty down a week ago," said Furyk, who undoubtedly has the credentials to one day be tapped as a captain for one of the U.S. teams. "I hope I can lend something to it to help the team. I also hope it's a great learning experience, and I'm sure it will be.
"Half the fun of these things is competing, and I wish I were doing that. But the other half is just hanging out, and I get to do more of that now," he added. "Being over here is very therapeutic for me emotionally, because I'd be miserable if I were home. I will say it's weird traveling without your sticks."
Ranked ninth in the world, Furyk, 45, enjoyed a comeback season of sorts with seven top-5 finishes, including his playoff win at Harbour Town GL. He posted three top-4s after his wrist began giving him trouble, which speaks to his toughness, which never has been in doubt. He finished T-4 in his last start of the year at TPC Boston.
His Presidents Cup record of 20-10-3 includes a 5-2 singles mark.
"My first instinct was he wouldn't want to be anywhere near it because it'd be like bringing a kid to a candy store and making him stand outside where he couldn't grab anything," Haas said. "But he said it would just kill him not to be here. That's Jim – he's a team player, a selfless guy. And he's been unbelievable. Just look at what he did to try to play this week. He put aside the BMW Championship, he put aside the Tour Championship. He really did everything he could. He deserves to be here."
His fellow teammates agree. But more, they, too, appreciate his efforts to remain involved.
"For him to show up and get on that plane without his golf clubs, that just shows you how much he loves the game, how much he respects the game, and how passionate he is about these team events," Bubba Watson said. "You know, we've heard a lot of talk about how veterans maybe don't want to be here, and this shows that isn't true."
"You're seeing the unselfish side of Jim coming out," Zach Johnson added. "He came over here knowing he couldn't play. He's embraced that, and now he's just trying to help us out another way."
What Furyk's specific role this week will be, he isn't sure, probably because Haas isn't sure. And that's not a result of the late change in the lineup. "You know, Freddie [Couples] didn't have any rules or assigned duties or anything. He just kind of winged it," Haas said with a laugh. "So we're just keeping it the same in that regard."
And why not? Haas was an assistant to Couples in the last three U.S. victories. Their roles are simply reversed this week. Furyk, meanwhile, is getting his first taste of team golf without a club in his hands. He clearly was enjoying it so far.
"They actually gave me a cart and a radio," Fuyrk said with obvious relish. "They don't know the monster they are creating."