News
Jim Furyk dashes Tiger Woods-Phil Mickelson Ryder Cup dream pairing: "I wouldn't guess that would be a good idea"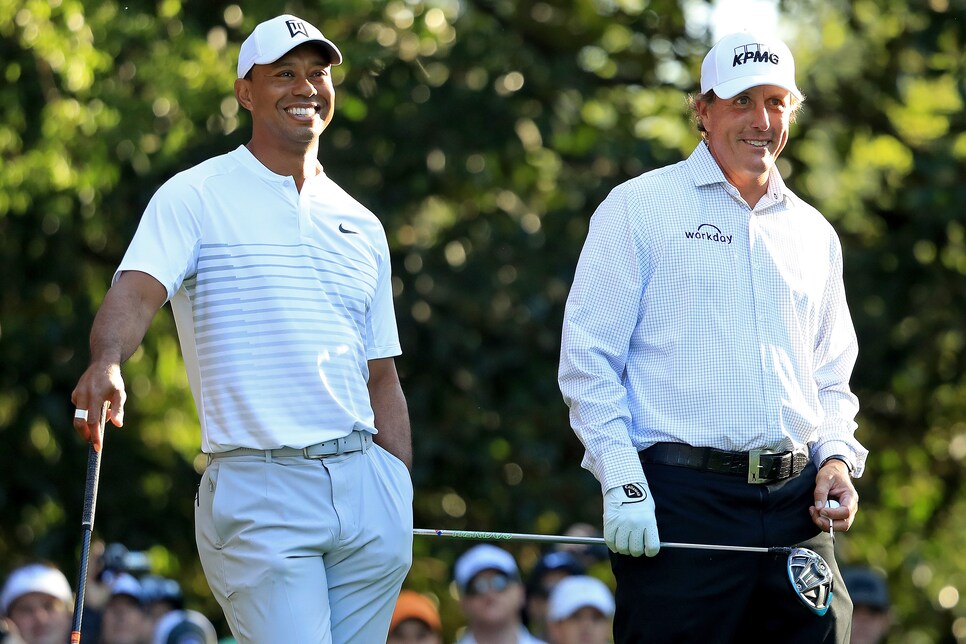 The Ryder Cup is still three months out, but the squads for both sides are starting to take form. For the United States, two of the biggest question marks involve two of the biggest names in the game. Phil Mickelson, at 48 years old, is just outside an automatic qualifying spot, while Tiger Woods and his relatively successful comeback has made the 14-time major winner an intriguing wild-card pick. Their prospects have fueled speculation, or perhaps fantasy, that Woods and Mickelson could join forces in Paris. The cold war between the two has thawed in recent years (partially due to their involvement in the Ryder Cup task force), and they famously played a practice round together at the Masters.
However, those aspirations were dashed on Monday morning by the man who has final say on the matter.
"It worked out so well the first time!" Furyk joked, a reference to the 2004 Ryder Cup at Oakland Hills. Then U.S. captain Hal Sutton coupled the stars to disastrous results, with Woods and Mickelson going 0-2 as the Europeans doubled up the Americans at the biennial event.
"I hope they're both watching, because they just fell off the couch laughing," Furyk continued. "I wouldn't guess that would be a good idea as a captain, I'm just saying."
Furyk was also evasive when asked about the possibility of Woods' involvement as player. The 42-year-old, who is already signed up to serve as one of Furyk's vice captains, has expressed interest in competing, yet ranks 39th in the current standings (the top eight qualify, with Furyk then getting four captain's picks). Furyk did not say what he needs to see from Woods going forward.
"He hasn't played as big of a schedule as everybody else, but when he has played, he's played pretty well," Furyk remarked. "Definitely an eye-opener for everyone."
Mickelson has played on every U.S. Ryder Cup and Presidents Cup team since 1994, while Woods' last appearance came at the 2013 Presidents Cup. This year's Ryder Cup begins on Sept. 28 at Le Golf National. The Americans are the defending champs, but haven't won in Europe in 25 years.