The Loop
Jim Furyk brushes major disappointments aside, puts himself in PGA hunt
ROCHESTER, N.Y. -- The question was about disappointment, a subject with which Jim Furyk has become familiar.
A little more than a year ago, Furyk had a chance to win the U.S. Open at Olympic, but he made two bogeys in his final three holes to lose by two. Later that summer, he blew a Sunday lead at the Bridgestone Invitational. The month after that, he had a crushing singles loss in the Ryder Cup at Medinah.
So, yes, Jim Furyk knows something about disappointment. And yet as he sat with the clubhouse lead at the PGA at Oak Hill after an opening 65, Furyk said disappointment in golf is all relative.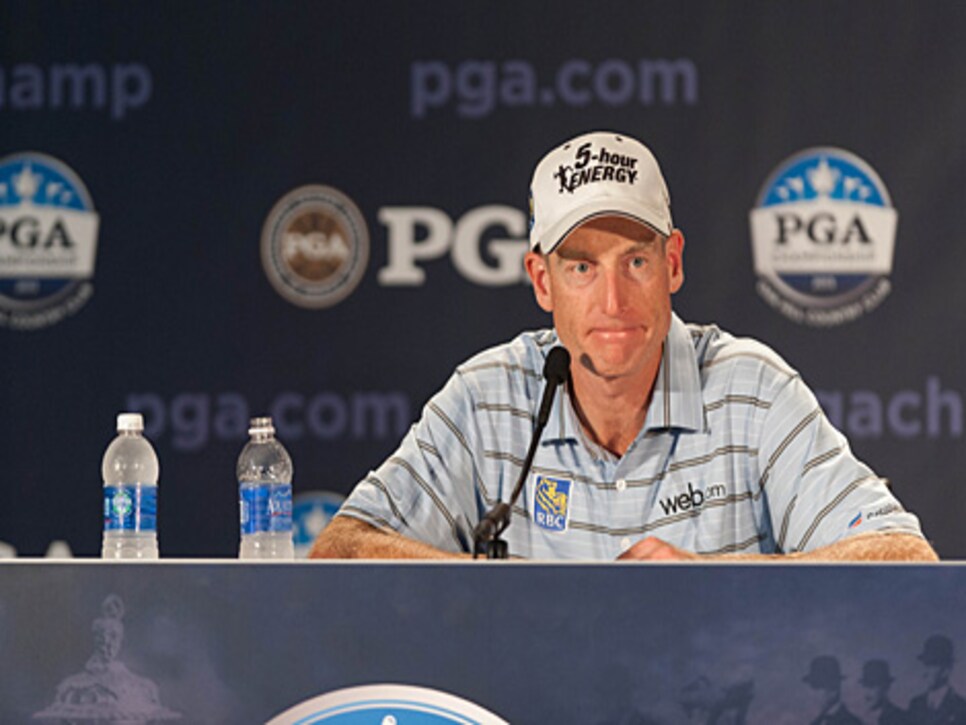 "Yeah it's disappointing," Furyk said of his U.S. Open loss. "But this sport beats you up. If I played 25 events a year and I win one event a year for my entire career, you would be a hell of a player...And you're going to lose 24 times a year. You've got to take your lumps."
At 43, with 16 PGA Tour wins including a U.S. Open, Furyk has been one of the most successful players of his generation. He doesn't dwell on his failures, but he also doesn't measure success in 18-hole increments. His round on Thursday, which ended with a bogey after blocking his tee shot right on the 18th hole, was enough to put him "in a good mood the rest of today." But it also comes on the heels of missed cuts in the U.S. and British Opens. And, of course, it comes after a 2012 that would test most golfers' resolve.
In other words, just as Furyk doesn't beat himself up when things go awry, he knows enough to always tread cautiously.
"As soon as I leave here it will be more about what I need to do to get ready for Friday," Furyk said. "I'll be thinking about trying to play a good round tomorrow and keep myself in a good position."