News
Jim Furyk's balancing act
The U.S. Ryder Cup captain is learning it's no easy feat to prepare for this September's match in France and stay competitive as a player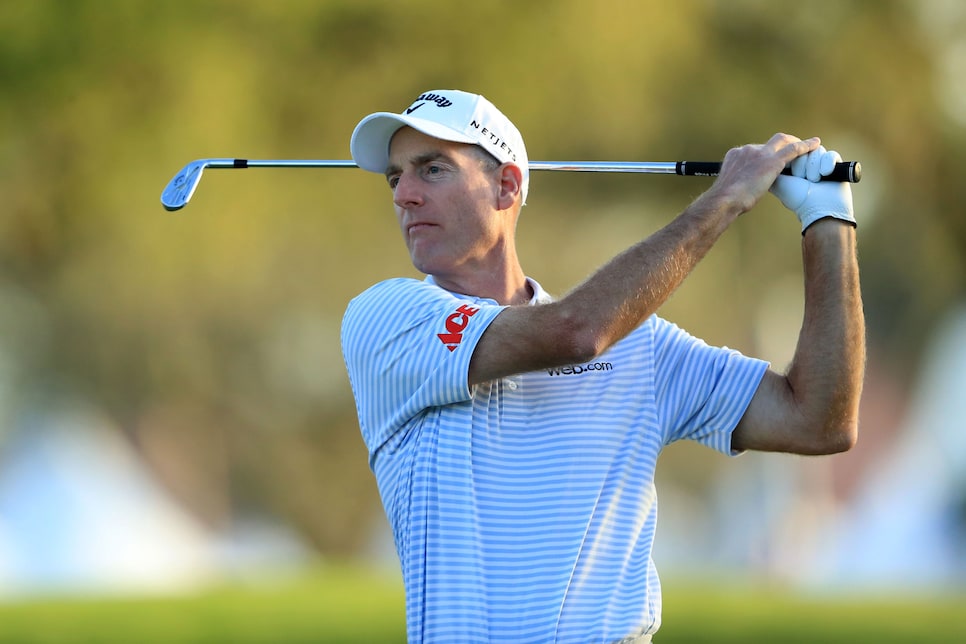 Photo By: David Cannon/Getty Images
On a recent sunny and warm afternoon in south Florida, Jim Furyk had an epiphany, an idea about how to create more team-room chemistry for the Ryder Cup in Paris this September.
The only problem? The timing of it wasn't particularly convenient. The U.S. captain found himself without anything on which to write it down. Except a scorecard. Which belonged to his playing partner, Stewart Cink. And he happened to be standing on the 15th tee on the Champion course at PGA National, the opening to the treacherous three-hole stretch known as the Bear Trap. Tee to green on the windswept 180-yard par 3 is separated by water, which then wraps around the right side and rear of the putting surface.
Perfect time to let the mind wander—if you don't mind making bogey. Furyk did mind. And he was equally displeased with another bogey on the 17th hole that further marred what had been a largely satisfying second round in the Honda Classic.
Golf does not have a man who is more congenial and professional than Furyk. Neither is there one more competitive. His even-par 70 was still plenty good enough to make the cut. But he was irritated. So what if it was only his fourth competitive round since missing the cut in the PGA Championship last August. So what if he'd only been hitting balls since January because of a nagging shoulder injury. So what if he's got captaincy concerns pinging his brain at all hours.
"I made some bad, bad swings today coming in. Just not trusting myself," he said while munching on an energy bar. "Let a good round get away, so I'm struggling to look at the positives right now."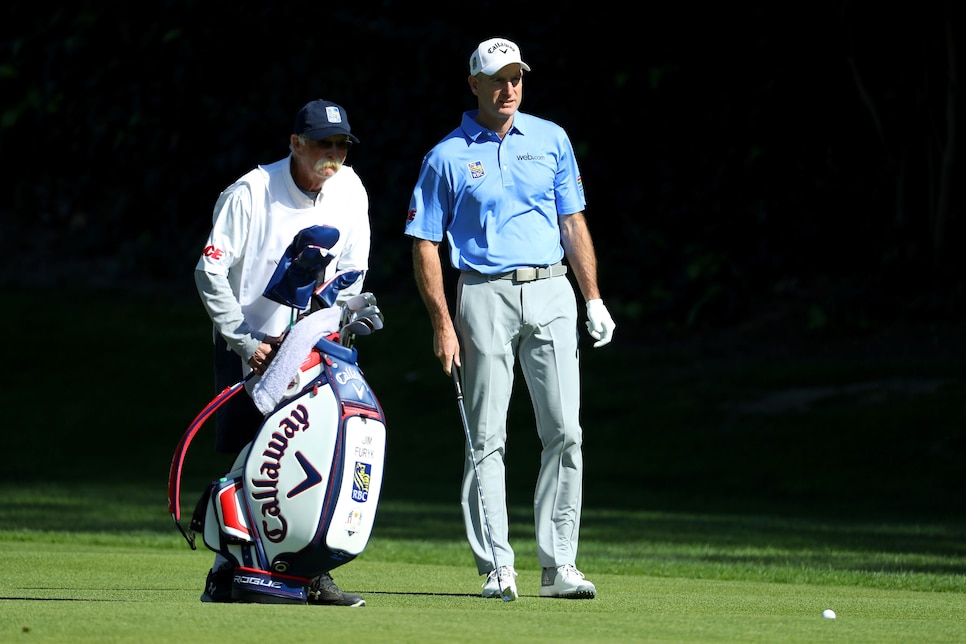 Tiger Woods isn't the only major champion attempting a comeback this year. Furyk, who will be 48 in May, didn't have fusion surgery like his more decorated friend, but the fusion of his captain's duties with a desire to be competitive this year isn't the most promising elixir. isH
Due primarily to his health struggles in 2017, Furyk failed to qualify for the FedEx Cup playoffs for the first time in his career, which is why he is competing on the PGA Tour this season on his past-champion status. He'll make his third start at this week's Valspar Championship at Innisbrook Resort in Palm Harbor, Fla., paired with Branden Grace and Brandt Snedeker for the first two rounds.
A final-round 74 at the Honda dropped him to T-46, not necessarily the momentum he'd like to be taking into this week.
"I'm not quite back in the flow. After six months off, I don't feel it," said Furyk, a 17-time PGA Tour winner, including the 2003 U.S. Open. "There are flashes. There are times I'm really comfortable, but there's definitely some situations where I could have some more confidence, have a few more rounds under my belt to feel that I have a trust factor with what I'm doing out there."
Not helping matters was the fact he spent nearly as much time in meetings at PGA National as he did hitting golf balls. The challenge of leading an American team to victory abroad in the Ryder Cup for the first time since 1993 has been a consuming endeavor.
"I'd say this week I spent more time being a captain," admitted Furyk, who by the way wouldn't reveal that on-the-course Ryder Cup epiphany (we told you he was competitive). "Was over the PGA of America for the press conference [to announce Woods and Steve Stricker as vice captains], and then I was there the next day for some meetings. It's definitely taking time. It hasn't snuck up on me, though I wouldn't say I was totally prepared for this. But I was prepared for the idea that I was going to spend a lot of effort and time, and I want to have fun doing it as well.
"I have a lot of people, whether it's friends or family or players, ask me, 'Is it as much work as you thought?' Or 'Is it as much as they say?' But they say 'work' and not realize there's an enjoyment factor. I take the position that there is a lot of time involved, a lot of preparation, but this is something that I always wanted to do. There is fun in that."
But that doesn't mean he is willing to sacrifice enjoyment on the course. Furyk can't fathom being so absorbed by golf that he wouldn't allow himself moments to think about other things, or have casual conversations with his playing companions or longtime caddie Mike (Fluff) Cowen.
Aurelien Meunier/Getty Images
"They said Ben Hogan would get to the first tee and he would concentrate on golf for five hours. There's no way I could do that," Furyk said. "Lee Trevino could talk and talk but then turn the switch back on and think about the next shot. I'm more in that realm. I have to let go a little."
On the other hand, Furyk still feels competitive, being less than three years removed from his last victory at the 2015 RBC Heritage. He's fighting the urge to let the Ryder Cup become his priority, something that wasn't an issue when he was a vice captain to Davis Love III at Hazeltine National in 20016.
"I can play a little, at least when I'm healthy, so, yeah, I'd like to see what kind of golf I am capable of playing this year," said Furyk, who refrained from using his career earnings exemption because of the uncertainty with his health. "I'm glad I'm doing this before I'm 50 so that I'm out here. I'm seeing the guys. I'm in the locker room. I can go to dinner with them. Or play practice rounds. I think I can still play. I have to get healthy. I need more rounds under my belt."
Notice the blending of the ideas. It can't be helped. He is a player. He is a captain. The dual identity adheres to him like lint in his pocket. This will be a year-long tussle. He'll have to decide how much of this ride he'll enjoy if his stats match up poorly with the dozen players that will eventually populate his team. He will notice.
"I look at stats a lot more than I used to," he admitted. "It's part of the deal."
So is the interminable wait to get to Paris.
"There are times I wish it were tomorrow. And there are times when I know that I need the preparation," he said. "I look at it like this: It's a long time, since I was named captain, to think about an event. Haven't talked to Thomas [Bjorn, the European Team captain] about it. But it dawns on you that you are putting all of this preparation and thinking and energy into it, and it's going to be three days. And it's going to go so fast and be over. It's a weird feeling."
Well, he can always distract himself with tournament golf in the meantime. See the dilemma?