PGA Championship
PGA Championship 2021: Max Homa confirms he'll use Jim 'Bones' Mackay as a fill-in caddie at Kiawah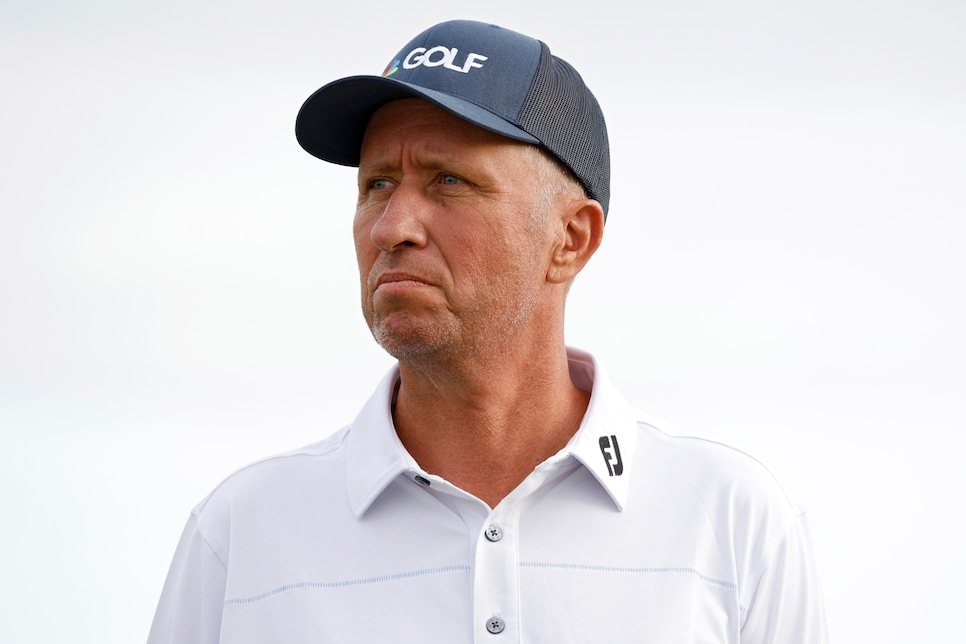 Jim 'Bones' Mackay will trade in his broadcasting microphone for a caddie big at next week's PGA Championship, when he will work for Max Homa at Kiawah Island.
On Wednesday, PGA Tour pro Joel Dahmen posted a photo on Twitter showing Mackay carrying his bag. "Trying to warm #Bones up for @maxhoma23," Dahmen wrote.
When we reached out to Dahmen via text message, he suggested Homa (Dahmen's good friend) was planning to use Mackay's services at Kiawah Island, and Homa confirmed the news in his Get a Grip podcast with Shane Bacon.
Homa was in the market for a one-week, fill-in because his longtime caddie, Joe Greiner, qualified for the U.S. Amateur Four-Ball at Chambers Bay. The first round of that tournament begins May 22, the Saturday of the PGA Championship.
"Super, super fortuante, I've gotten to know Bones out at Whisper Rock in Arizona," Homa said on the podcast. "Bones is one of the nicest, greatest people I've ever been around. Not saying that Joe—I have the utmost respect for Joe's caddieing and I mean this is not a slight at all, so please believe me when I say that. But it'll be really cool to be around someonel liek Bones who is, quote unquote, a real caddie. Joe has learned his way into this—not that Bones didn't, but he's been doing this forever.
"He's been on the bag for a bunch of majors, major champions, he's just kind of seen it all. Ryder Cups, Presidents Cup, he's just probably one of the best minds in golf."
Mackay spent more than 25 years on Phil Mickelson's bag, working for him in all five of his major championship victories before the two mutually parted ways in 2017. He then joined NBC Sports and Golf Channel as an on-course reporter but has served as a fill-in looper a number of times in recent years. He was on the bag for Justin Thomas at last year's PGA Championship, having taken over temporary duties earlier in the summer when Thomas' full-time caddie, Jimmie Johnson, worked through health issues. Thomas won the WGC-FedEx St. Jude Invitational with Mackay on the bag the week before the PGA.
Mackay also worked for Matt Fitzpatrick in the two events at Muirfield Village last year, helping the Englishman to his best finish of the 2019-20 season, a solo third in the Memorial. Most recently, Mackay worked for Jimmy Walker at the 2020 Masters.
Homa, currently ranked No. 39 in the world, is in the midst of his best season on tour—he won his second career title at the Genesis Invitational in February and has three other top-10 finishes.