The Loop
Jhonny Vegas wins in Canada, a tour pro's odd music video, and Sergio Garcia's romantic NYC getaway
Welcome to another edition of The Grind, where we never take a break – not even on a romantic vacation to celebrate a one-year wedding anniversary. How did I find the time to get away on this getaway? Three letters: S-P-A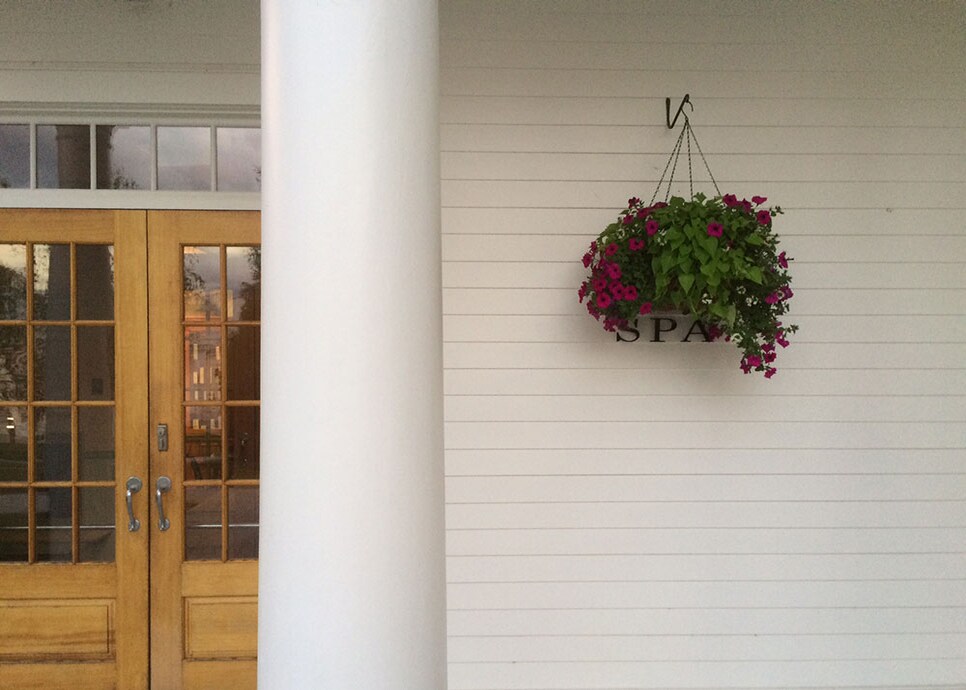 And here my wife just thought I was spoiling her. In any event, after a couple days of (mostly) R&R, I'm ready for the season's final major. Let's get cranking before there's a knock on my hotel door.
Jhonattan Vegas: Congrats to the golfer with perhaps both the coolest last name and most spell-checkable first. A week after shooting a 60 and nearly winning the Barbasol Championship, Vegas closed the deal at the RBC Canadian Open by shooting a final-round 64 and posting a 12-under total that no one – not even the planet's hottest golfer – could catch. Vegas is pretty hot himself right now, and he'll arrive at Baltusrol on a roll.
Team USA (women): Two years after a disappointing showing in the inaugural LPGA International Crown, Team USA returned to win the event, edging South Korea by a point. And they even did it without the use of any face paint!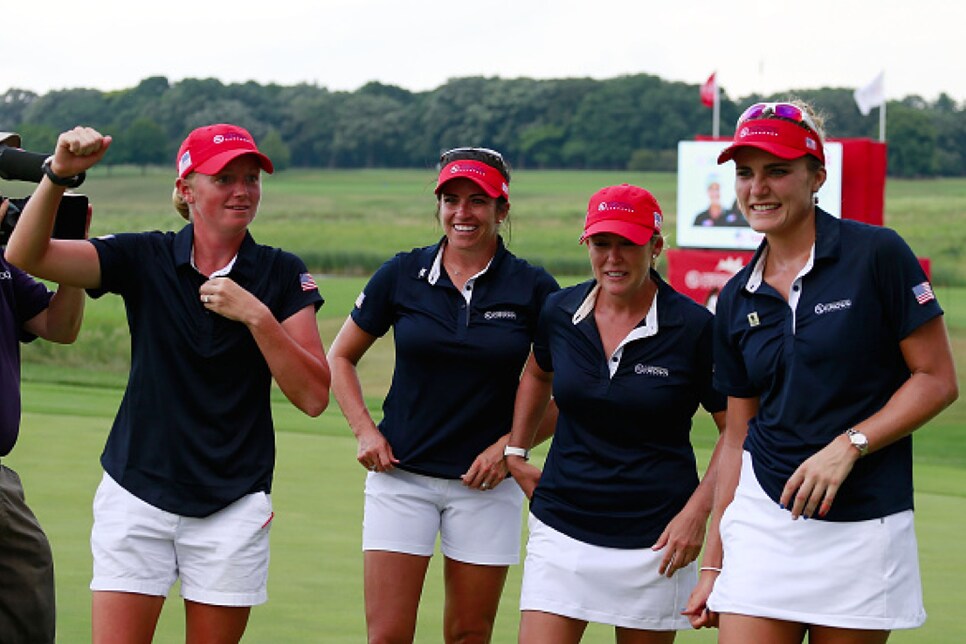 BEEF: "Beefsanity" reached new heights with Andrew Johnston's eighth-place finish at the British Open, but the jolly Englishman followed that up with an equally entertaining week. First, he gave everyone a tour of his flat, which contained plenty of chocolate, beer and ... a Christmas tree? Yes, a Christmas tree:
And then Beef signed an endorsement deal with Arby's: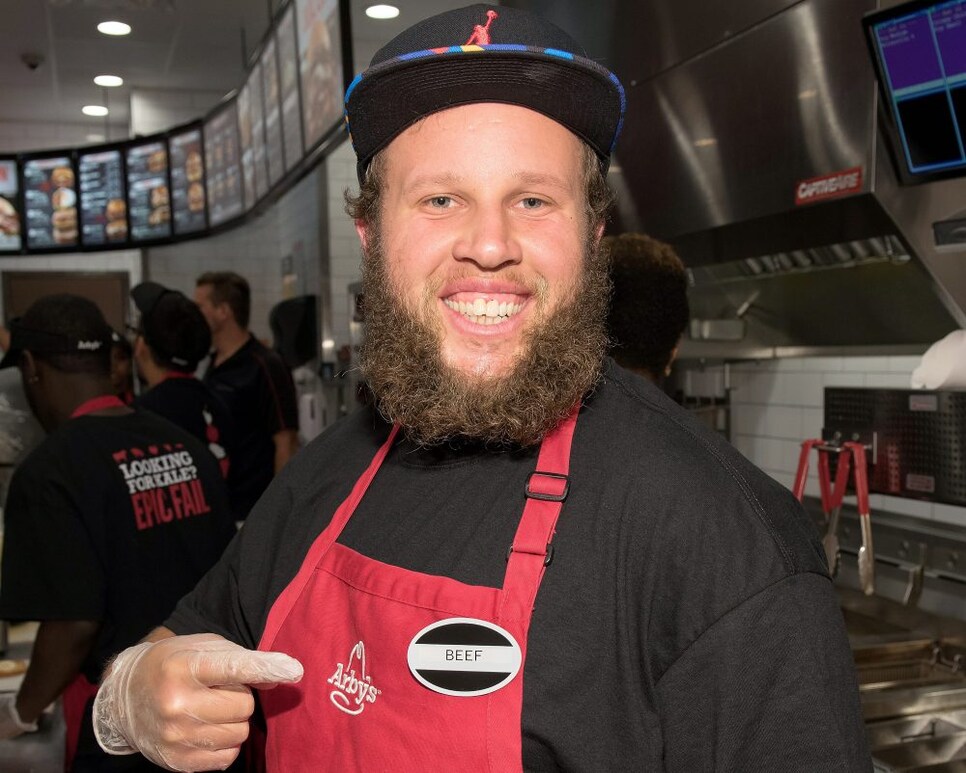 There has never been a more appropriate sponsorship deal. Ever.
Tiger Woods' season: Woods' withdrawal from the PGA didn't come as much of a surprise, but it marked the first time in his pro career he's missed all four majors in the same season. Although it's probably best for his long-term health that he take off as much time as possible, it is a bit odd he was hitting drivers at golf clinics as far back as April. And remember that video of him hitting a shot on a simulator? That was SIX months ago. What an odd, sad season for the 14-time major champ.
Team USA (men): After winning the claret jug, Henrik Stenson was asked if he expected to see Phil Mickelson on the U.S. Ryder Cup team. The Swede reacted as if he had just been told a bad joke. Not only is Mickelson going to play at Hazeltine, but he's No. 3 in the latest team standings by a comfortable margin. This, despite the fact he hasn't won in more than THREE years. Yeah, it's been a disappointing season for most of America's younger golf stars.
Charles Barkley: The NBA Hall of Famer managed to play three rounds at the American Century Championship and not make a single par. Not one. Barkley shot the maximum score of 108 (double bogey on every hole) in the first round, and really improved over the weekend with a pair of 106s. Check out this brutal scorecard: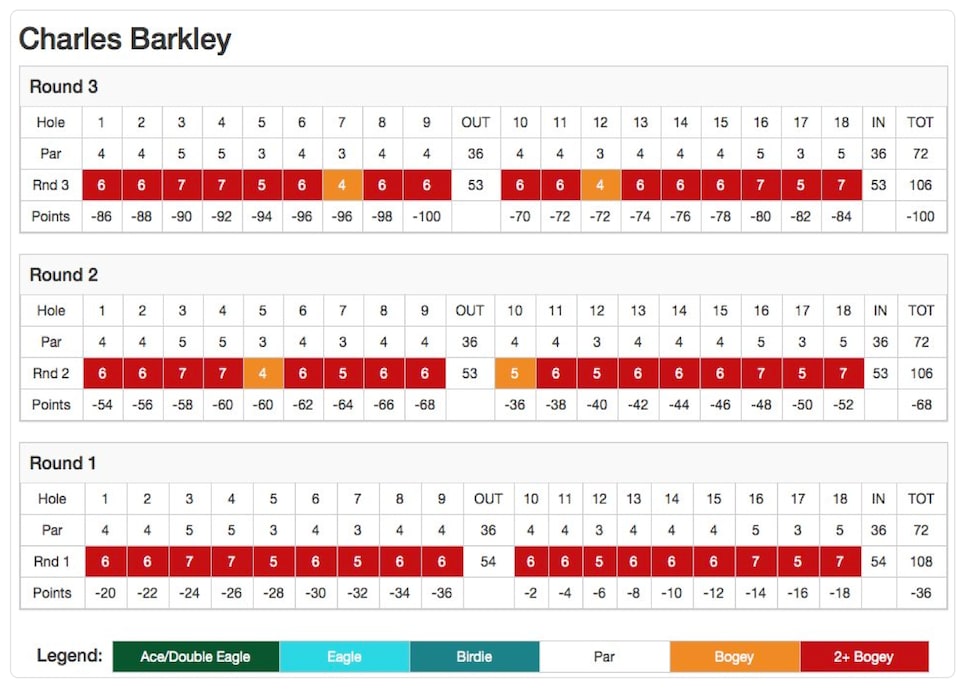 The only conclusion that can be drawn from this continued public humiliation is that Charles Barkley loves playing golf more than anyone else in the world.
The PGA Tour heads to New Jersey for the PGA Championship at Baltusrol. And if you feel like we just had a major championship, well, you're right.
Random tournament fact: Phil Mickelson won the PGA the last/only time it was held at Baltusrol.
RANDOM PROP BETS OF THE WEEK
-- Charles Barkley will ever win a celebrity golf tournament: 1 MILLION-to-1 odds
-- Phil Mickelson will win this PGA Championship at Baltusrol: 7-to-1 odds (Actual odds)
-- You will be tired of hearing about Phil's PGA win at Baltusrol by the end of the week: LOCK
THIS WEEK IN CELEBRITIES PLAYING GOLF
Between the Pebble Beach National Pro-Am and the American Century Championship, it's tough to pick the best celebrity golf week of the year. It was another fun week in Lake Tahoe, highlighted by Stephen Curry joining Justin Timberlake and Alfsonso Ribeiro in a rendition of "The Carlton" dance:
And the continuation of a tradition unlike any other: A.J. Hawk laying out a fan. For a third consecutive year, some nutty fan convinced the Pro Bowl linebacker to tackle/obliterate him. At least he had the sense to wear some protective gear this time:
That still looks like it hurts.
VIRAL (MUSIC) VIDEO OF THE WEEK
Pat Perez has been out for most of the season with a shoulder injury, but at least we know he's been having fun. This new music video is, um, interesting:
Of course, we would have been a lot more impressed if it was Pat on lead vocals and guitar. Maybe that's a project for the next injury.
"I am playing the best golf of my life. I truly believe that I still have some big wins in me if I keep playing like I have been." – Phil Mickelson, 46. And did we mention he won the last time the PGA was at Baltusrol?
THIS WEEK IN DUSTIN JOHNSON-PAULINA GRETZKY SERGIO GARCIA-ANGELA AKINS PUBLIC DISPLAYS OF AFFECTION
Sergio Garcia treated his girlfriend to quite the romantic NYC getaway:
The couple even got to see Hamilton!
A carriage ride? A hot Broadway show? Slow down, Sergio. You're making the rest of us guys look bad!
Mark Mulder won the American Century Championship for a second consecutive year. Who says Oakland A's can never close the deal in a big spot? . . . Speaking of people famous for not closing the deal, Jean van de Velde returned to Carnoustie for the Senior British Open and double bogeyed the 18th hole, which he famously triple bogeyed in 1999, during an opening 83. The golf gods really owe this dude. . . . Some Australian gambler made nearly $87,000 by placing a $50 parlay on Henrik Stenson winning the British Open and Aaron Baddeley winning the Barbasol Championship. Forget picking golf winners, can we get this genius to start solving the world's problems? . . . And finally, the supplies for our new office putting green are currently sitting in the hallway: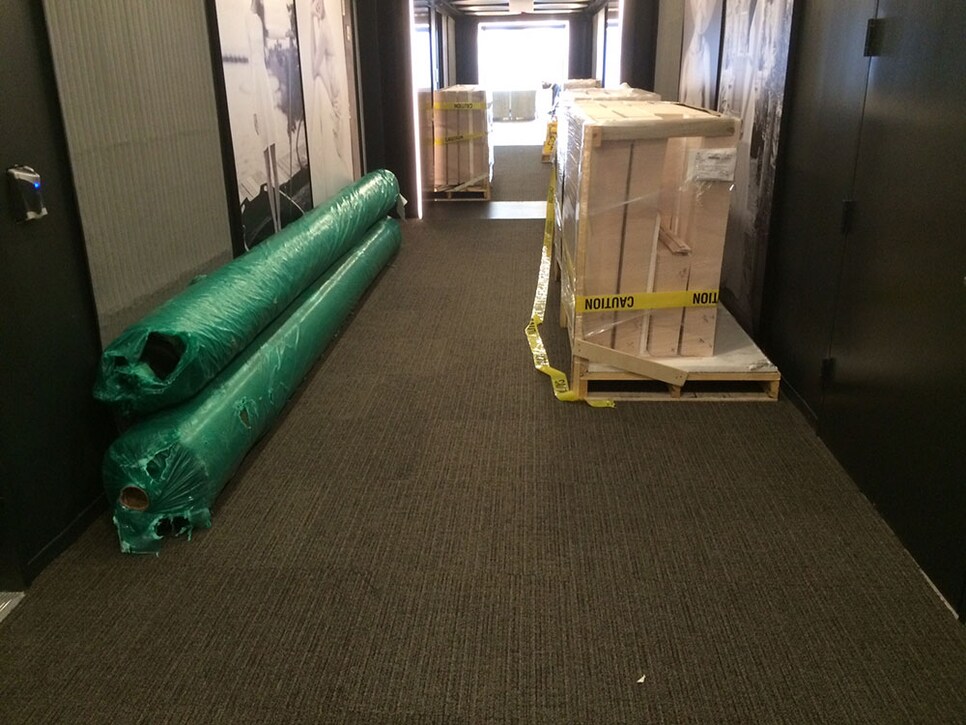 If you notice a drop-off in the number of GolfDigest.com posts in August, you'll know why.
RANDOM QUESTIONS TO PONDER
What will the new office green register on the Stimpmeter?
Is Tiger Woods secretly working on a music video? (Fingers crossed)
Can Sergio hook me up with "Hamilton" tickets?