News
Jessica Korda's long birdie putt on first playoff hole defeats Danielle Kang in Diamond Resorts Tournament of Champions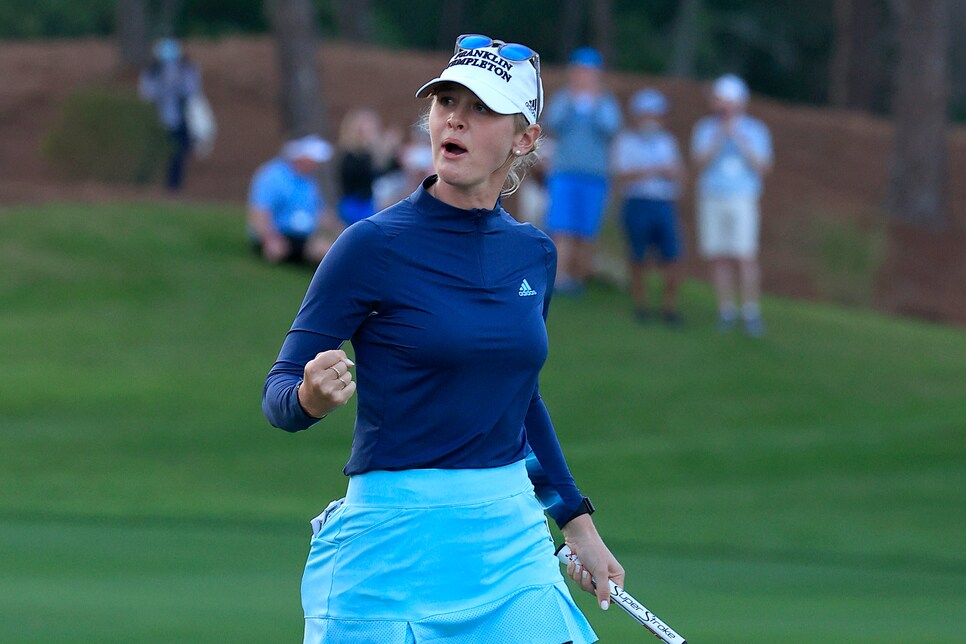 The 18th hole at the Diamond Resorts Tournament of Champions doesn't have a reputation for being a quick settler of ties. In 2020, it took seven trips down the long par 3 to get a champion. But on Sunday evening, Jessica Korda bucked the trend by dropping a long birdie putt that Danielle Kang couldn't answer.
The win is Korda's sixth on the LPGA Tour, and her first since 2018.
Korda entered the final round after shooting the fifth 60 in LPGA history on Saturday, but she did not bombard leader Kang with birdies on the front nine on Sunday. Turning in one-under to Kang's two-under, she faced a three-shot deficit.
She rallied with birdies on 13, 14 and 16, while Kang made her first bogey of the tournament at 15, and made only a par on the short par 4 16th following a wayward drive, and the two were tied with two holes remaining.
After both finished birdie-par, they returned to the 18th tee where the music that was blaring minutes before was silenced. The music on 18 is part of what makes this tournament different from any other on the tour. The field features LPGA champions, as well as celebrities who play a modified stableford format.
Throughout the first three rounds, each LPGA player is paired with two celebrities. In the final round, the top three LPGA players play together – Kang, Korda and Nelly Korda – as do the top three celebrities. Mixing LPGA players with athletes, entertainers and other celebrities creates a much more relaxed vibe than a normal tour event.
Korda credits embracing that energy as part of the reason she was able to turn it around on the back. There was a backup at the 13th hole, and she chatted with the celebrity group in front of her, which included Mardy Fish, who won the celebrity division.
"It was like a fun little get-together," she said. "I think it just relaxed me a little bit, made me realize I was just trying to force a lot of stuff. When you're chasing you know you need to put the pedal to the metal, and I wasn't doing that. I knew how I was hitting the ball the last couple of days, and it was just frustrating that I was trying to force it instead of sticking to my process. Once I started to do that, it kind of turned around for me."
After she hit her tee ball on the 18th during regulation, she was mouthing along to the lyrics of the songs playing while her sister and Kang hit their tee shots – a picture of comfortable.
But Korda was comfortable when the heat was on, too. When she and Kang went back to the 18th tee for the first playoff hole, Kang hit her tee shot closer to the pin than either of them had done in regulation.
Korda's tee shot, meanwhile, ended up outside Kang's. But her lengthy birdie putt fell squarely in the center of the cup.
"Leaving it short on 16, 17, and 18, I was pretty motivated to get that ball to the hole," Korda said of what was to become the winning putt.
Kang was unable to convert her birdie, and Korda had closed out the win in front of her sister and their parents.
Full of smiles after the win, Korda got emotional when talking about her family. Since joining the tour in 2011, Korda has had success, but also has faced setbacks – including injuries that have forced her to withdraw from tournaments and jaw surgery to fix unrelenting headaches.
Ten years is a long time for a 27-year-old to have been on tour. Belief isn't generated from within alone. Sometimes it has to be catalyzed by those with whom an athlete surrounds themself.
"They're always there to pick me up when I'm down. Let me tell you, I've been down," Korda said. "My family is everything. They're my biggest support system. They believe in me more than I believe in myself."