News
Jessica Korda just shot a number no LPGA player has since 2008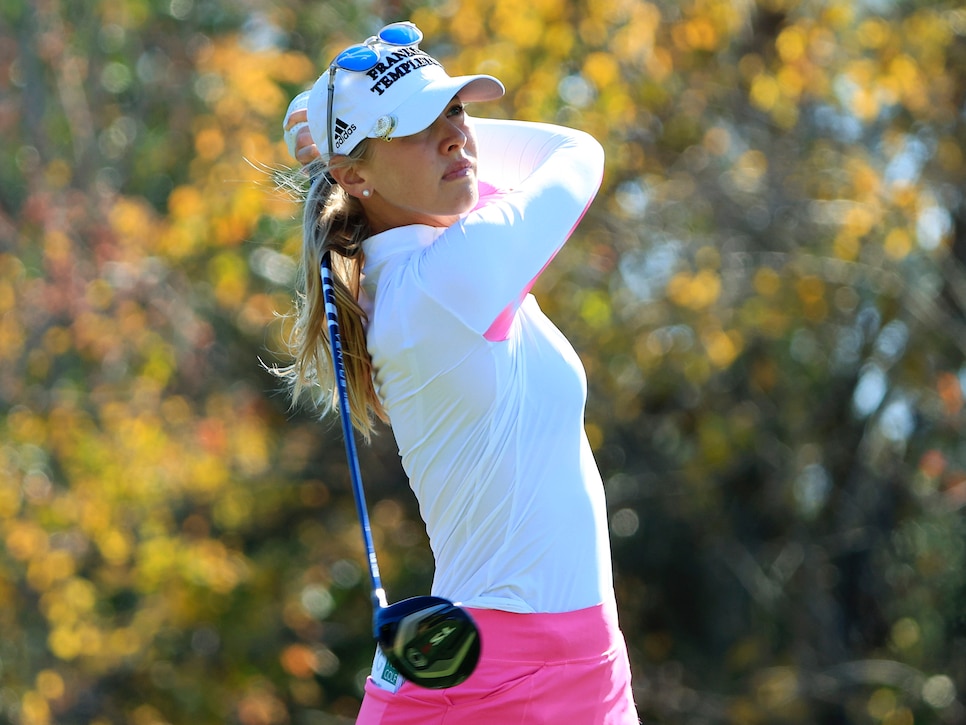 Jessica Korda, shown during the second round, shot 28 on the back nine en route to scoring 60 in the third round of the the Diamond Resorts Tournament Of Champions.
Sam Greenwood
Jessica Korda loves the back nine at the Four Seasons Golf and Sports Club in Orlando. In the first round of the Diamond Resorts Tournament of Champions, she shot 30 coming home. On Saturday, she did two better than that, scoring 9-under 28, and with a birdie on the difficult par-3 18th, Korda carded an 11-under 60 to become only the fifth player in LPGA Tour history to shoot that number in competition. The last person to do it was Paula Creamer in 2008.
"On the back nine I don't know what happened. I just turned it up," Korda said. "I had a lot of great looks and we were just really relaxed all day."
Korda, 27, wasn't keeping track of how it was going until the last hole. To that point, she'd recorded six birdies and an eagle on the back. She opened the round with two straight birdies before making seven straight pars heading into the turn.
"Once I made eagle on 17 I looked at my scorecard and I was like, Oooh, OK," she explained.
Though she didn't know what was happening, her playing partners certainly did. At the Tournament of Champions, each pro plays in a group with celebrity golfers. Korda was paired with Fox News chief political anchor Bret Baier and NFL wide receiver Larry Fitzgerald.
"I picked up [his ball] on 16 and 18; I picked up on 18 just so I didn't mess up the flow," Fitzgerald said. "I just wanted her to be comfortable and stay in her routine. I think once we probably got about to 13 or 14 and saw her picking up steam, you just don't talk to her unless she talks to you. You just want to make sure you're doing everything you could to just cheer her on and root her in strong."
Fitzgerald was just happy to have been there to witness it.
"It was mastery at its finest. She had complete command of her ball today," Fitzgerald said.
Korda's round was good enough to put her in second heading into the final round. She's at 19 under, two shots behind Danielle Kang, who shot 63. Four shots behind Korda in third is her sister, Nelly (67).
Only one player has broken 60 in LPGA history: Annika Sorenstam in 2001. Though Korda was just one birdie away from that mark, she's grateful for the day she had.
"Days like today don't come often, so you really cherish them when they do," Korda said.