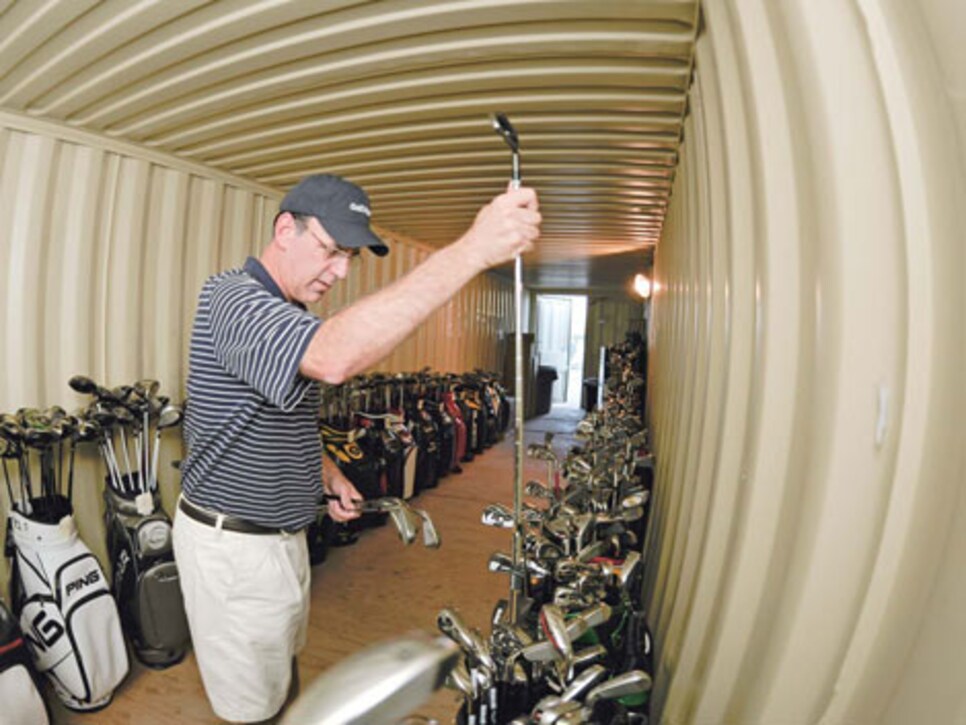 Hot List judge E. Michael Johnson goes through the inventory during testing in Mesquite, Nev.
Are your golf clubs obsolete? We'll be answering that question in two parts this year. First, with the Hot List, we begin at the end and present your current options. Our equipment editors evaluate everything that's new for 2010 and give you recommendations on what's hot, and why.
Part 2 will come in the May issue, when we reveal for the first time the Obsolete List: a guide to what's in your bag that shouldn't be. Our equipment editors will rate old and not-so-old equipment that holds you back from playing your best. It might be even more anticipated and contentious than the Hot List because it will focus on golfers' replacement plans.
To get started, we're asking a favor: Tell us about what you think is obsolete in your bag, and why you're still carrying it around. Who's the most obsolete golfer you know? A friend, a spouse, your dad or daughter? We think we could have some fun with this and help golfers get better. Send us a picture or story to obsolete@golfdigest.com.. We'll feature the best online and in the magazine, and maybe give out some Hot List clubs as replacements.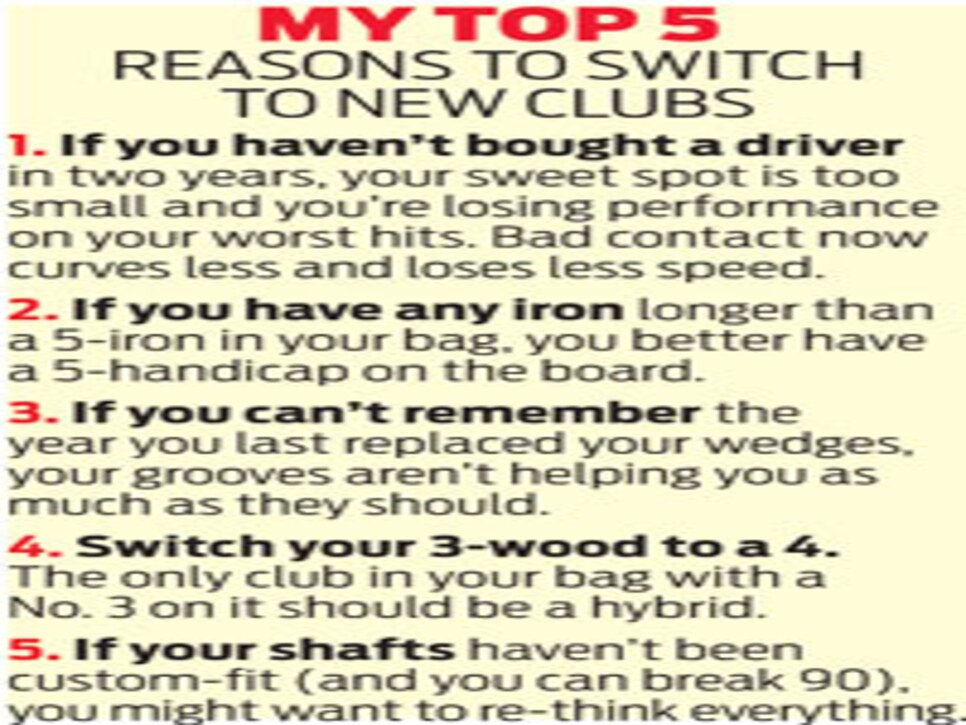 Does this stuff really matter? "When we were working on our first thin-faced irons, we saw a difference of 30 yards between those and a conventional forged iron," says TaylorMade R&D chief Benoit Vincent. "Today's irons launch higher and reach their peak height farther downrange. It's a different ball flight." Vincent also told our editors that if you're using a pre-2007 driver, you are obsolete.
I did my own survey of the editors, and there are plenty of obsoletes in the bags at Golf Digest, but most were old putters and wedges. The exceptions are Bob Carney, who still carries an original TaylorMade Rescue hybrid because he made a hole-in-one and won a car with it; "How can I throw it out?" he says. And Digest Editor Ron Kaspriske uses a Cleveland Launcher 3-wood with the True Temper Bimatrix shaft; "I'm thinking it came out in 2001. Remember that shaft? It's three-fourths graphite and the last fourth steel," he says.
The obsolete prize on our staff goes to Cliff Schrock, who uses a whole set of Ping Karsten I irons circa 1978. "They cost about $380 new," says Schrock, who is known as The Terminator for his death-grip in company matches. "I bought them for $200 from a friend a year after he bought them. I still haven't found anything I like looking down at better than these irons. I like the topline look. But the newer Ping models are awfully close, and if I have the spare money, I'd like to get a new set of Pings. So look, and lack of funds, are my main reasons for not changing."
Senior Editor of Equipment Mike Stachura is a hard man, as the industry has come to realize in his unswervingly fair evaluations since the Hot List began in 2004. There's no sentimentality in his bag. Everything he has is new and in a constant state of audition. "Most of my tees are older than most of my clubs," he says. So if you're looking for advice, Stachura and his fellow equipment editors -- Mike Johnson, Stina Sternberg and Max Adler -- are the best in the business. Exhibit A is this month's Hot List, and just wait till you see Exhibit B in May.