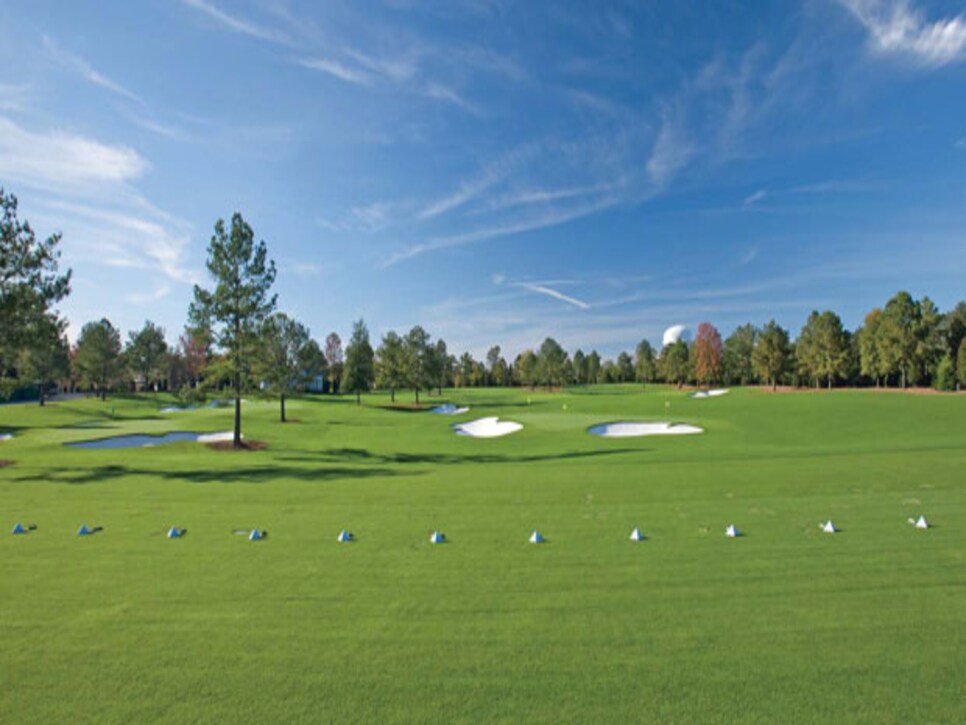 The new practice range at Augusta National is on the site of one of the old parking lots for the Masters.
We once calculated the millions of practice balls Vijay Singh hit in his lifetime and concluded it was the weight of almost 10 elephants. He's probably up to 12 or 13 by now.
I figure I've hit the weight of two Thanksgiving turkeys, so admittedly I'm no Vijay on this subject, but as our Writer-at-Large Dan Jenkins likes to say, "I have the keyboard."
Practice balls come to mind this month because we're headed to the Masters to see Augusta National's newly unveiled state-of-the art practice range. It will no doubt be magnificent, but will it be the best?
I think I'll end up preferring the old range to the new (as I hear Augusta's members still do) because you need to take a cart to the new one, and the old one is right out the front door of the clubhouse. Any range you have to get in motorized transportation to find can't be the best, even if it's at Augusta or Pine Valley.
Augusta's new range was added because the old one required ugly fencing to keep John Daly's drives off Washington Road. It will be huge, but not the biggest. I've seen the circular Sky 72 range near the Seoul airport in Korea, largest in captivity, as attested by the Guinness Book of World Records.
Augusta's practice balls will not be automatically teed up, like the ones they have at the CrackerJax range in Scottsdale. And Augusta won't have balls with embedded computer chips and target greens with slots that allow you to keep track of your shots and compete against friends, the way you can at TopGolf ranges in Dallas and Chicago.
This month, Contributing Editor David Owen writes about an indoor facility in Connecticut called Maggie McFly's, where you can hit balls on a simulator while drinking beer and eating pizza. David and I were wondering if Augusta will allow that popular practice-range game known as Hit the Picker. "I played once," says David, "when the picker was moving so fast, we had to change clubs on almost every shot. Very good for getting your brain out of your swing." (Note to irate letter writers: Try this at home only if pickers are protected in steel cages.)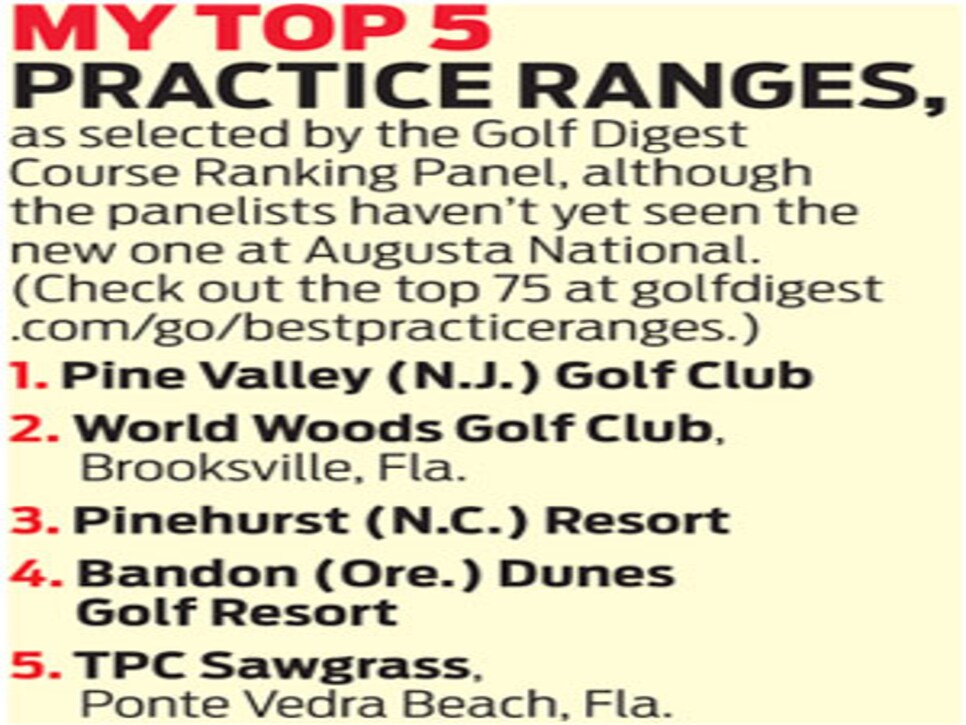 The Digest Editor Ron Kaspriske says his favorite range is at World Woods in Brooksville, Fla., which has three full-size practice holes designed by Tom Fazio you can play for $4. Architecture Editor Ron Whitten makes a strong case that the best is Stanford University's Siebel Varsity Golf Training Complex on 30 acres with six practice greens designed in the styles of six architects the Stanford team would have occasion to tackle each season: Trent Jones Sr., Pete Dye, Tom Fazio, Alister Mackenzie, A.W. Tillinghast and Robert Trent Jones Jr.
But to me, the fun of practice ranges -- like the fun of golf -- has more to do with who's hitting balls beside you, kibitzing, trading tips and dollar bets. Senior Editor Matt Ginella frequents the Randall's Island driving range tucked under the Triborough Bridge in New York. One cold day he noticed a short guy in a puffy coat in the stall beside him. Who could swing in such a big coat? "Mayor Mike Bloomberg, it turned out: The richest man in Manhattan wasn't too good to hit balls with the rest of us," says Ginella.
On that score, if who's beside you is the ultimate test, I guess it's pretty hard to beat Augusta National for one week a year, when everybody in golf, in spirit at least, will be there on the range, including you and me.