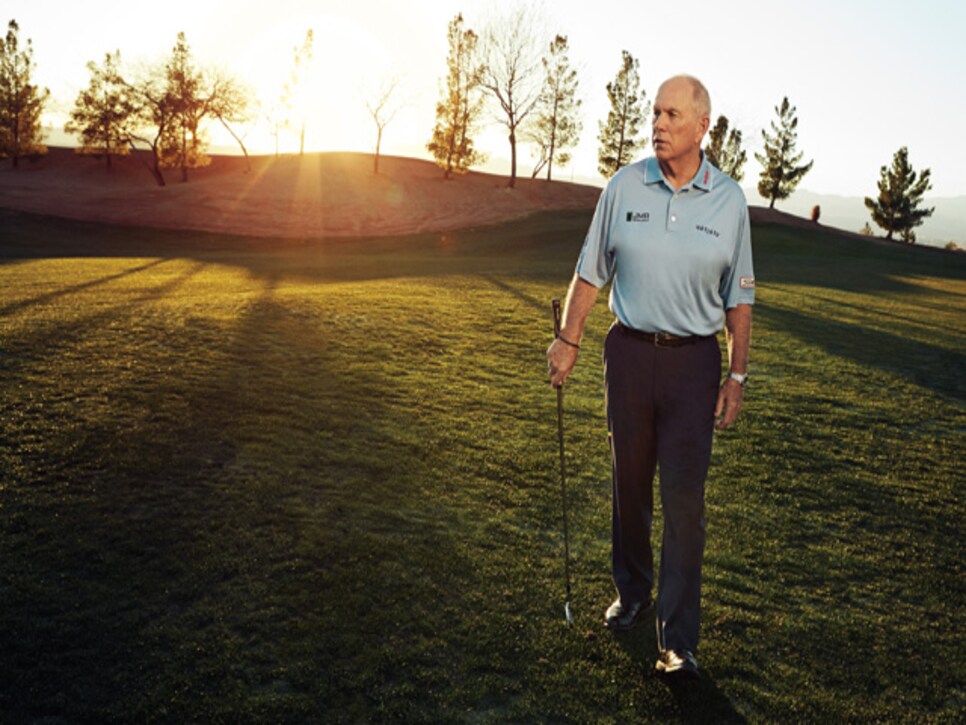 Butch Harmon belongs in the World Golf Hall of Fame, as do A.W. Tillinghast and Vinny Giles.
I've been thinking about the World Golf Hall Of Fame ever since Dan Jenkins and Peter Alliss got inducted last year, and the crystal palace in St. Augustine shook with approval. Grown men laughed and cried as these two ancient mariners of literature and broadcasting reminded us that golf's greatness goes beyond hitting par 5s in two with 9-irons.
The message, to me at least, was clear: We need more Dans and Peters, and better to do it while they can still stand up there and tell Hogan stories. Maybe we need to learn a lesson from the Hockey Hall of Fame, which has a wing devoted to builders of the game.
Some builders are already in golf's pantheon—mostly commissioners, businessmen and the odd U.S. president—but the list is spotty and incomplete. Golf architects are underrepresented. Their work is both the art and the museum, with the greatest of them influencing how golf is played well after Hogan's Five Lessons is out of print. We'll have long forgotten the Vardon grip or the Tiger stinger while we're still confounded by one of Seth Raynor's redans.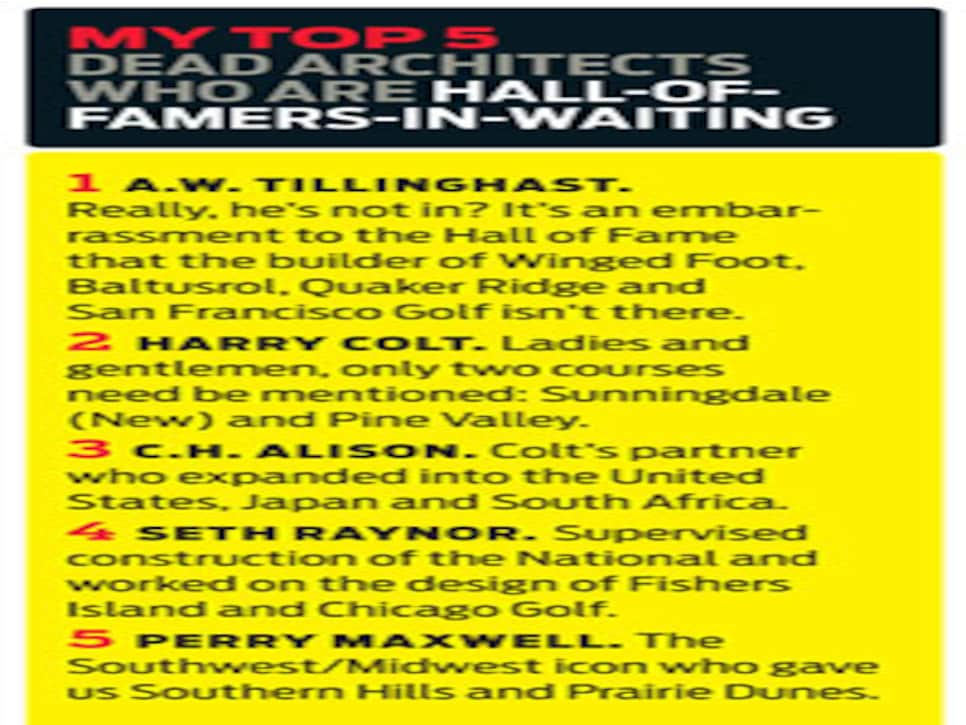 St. Augustine has a few pure architects (not counting the touring pros)—C.B. Macdonald, Donald Ross, Alister Mackenzie, Robert Trent Jones and Pete Dye—but missing are some historical no-brainers (See Top 5 right). The Hall's management needs to recognize this failure and induct one dead architect a year starting with A.W. Tillinghast to get us to the point where Tom Fazio can take his rightful place with the Jones Brothers. (This year, Willie Park Jr. is getting in, and he designed courses, but his fame, like Old Tom Morris', derives from winning British Opens.)
Another overlooked category is teachers. Aside from a couple of great players who went on to immortality as coaches, like Tommy Armour and Paul Runyan, there are only two pure teaching pros in the hall: John Jacobs and Harvey Penick. You could name many other great teacher candidates, but the three that stand apart are Bob Toski, David Leadbetter and Butch Harmon, and I'd vote for Butch first.
Invoking the Dan and Peter Rule, Butch would be the most entertaining. I think that's half the reason he's been the personal coach of Fred Couples, Greg Norman, Seve Ballesteros, Tiger Woods and President Obama. There's no better guy to hang out with, and he doesn't take himself too solemnly (see his My Shot
). "I'm just passing stuff along," he says. "It isn't like I invented the wheel." Maybe so, but Butch is a true golf genius, voted by his peers as America's No. 1 teaching pro in every Golf Digest ranking since 2001.
And you'd get a twofer with Butch because he'll get to tell stories about his dad, Claude Harmon, the 1948 Masters champion, who holds four all-time course records on America's 100 Greatest Courses
—61 at Winged Foot West, 61 at Winged Foot East, 63 at Fishers Island and 60 at Seminole.
We've also forgotten about career amateurs, perhaps because there are hardly any of them with sterling records who never turn pro. Vinny Giles, winner of the U.S. and British Amateurs, is the exception. His career stretches from finishing as low amateur in the 1968 Masters to winning the 2009 USGA Senior Amateur at 66, and that's him hitting balls on the range at Seminole and still competing at the highest levels today at 70. Come to think of it, Vinny might become the last career amateur to get into the Hall of Fame.
So that's the ballot for next year's inductees: Tillinghast, Harmon, Giles, plus a couple of tour pros with logos crawling up their shirts and a TPC on their résumé. I'll settle for that.