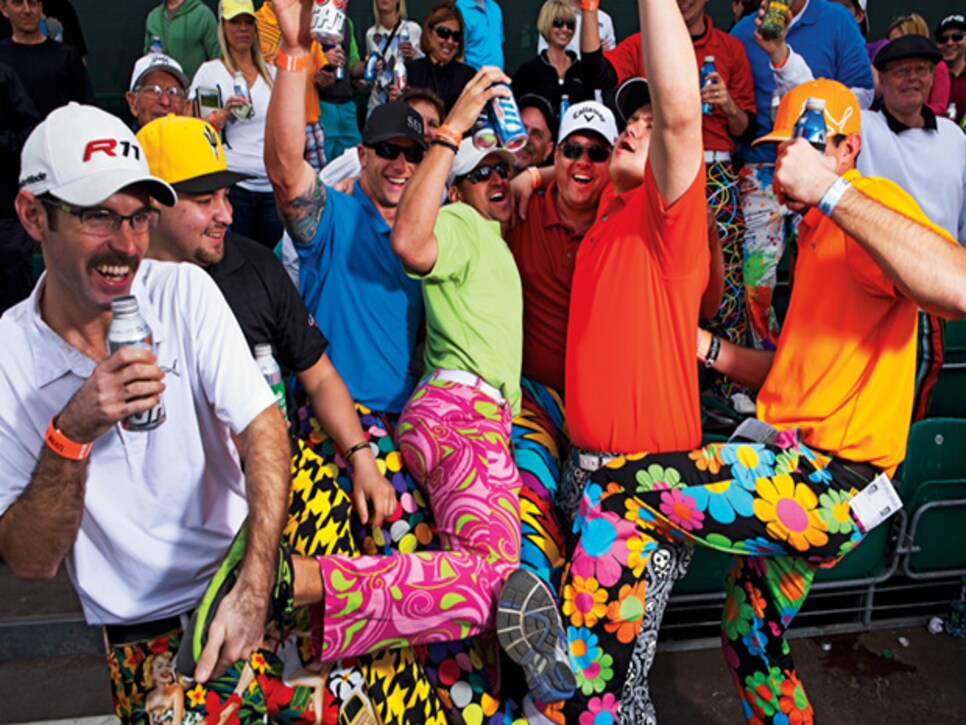 Here's a golf crowd that knows how to get loud.
Two friends offered ideas this fall that would have been unthinkable a year ago. Over breakfast with his business partners, Tom Watson said he'd like to see two holes cut on every green—one standard size and another oversize for beginners and kids and anybody who wants to have more fun. (He's also a huge supporter of Tee It Forward. We played two rounds from the white tees, including him.)
Then consider the email I got from my old swing coach Shelby Futch, who was arguing the case that golf needs more noise to attract a wider audience. "I have season tickets for the Suns and Cardinals, and I pass them out to employees. Their kids like to go and shout for the home team.
They have a great time yelling at players to miss a free throw or yelling to keep the quarterback from hearing the signals. We get tickets for golf tournaments, but the kids don't want to go. I would like to see one tournament a year where you could yell not only at a good shot but on backswings and for missed putts, just like any other sport where kids are eager to attend. We need something new and fun to shake up the game."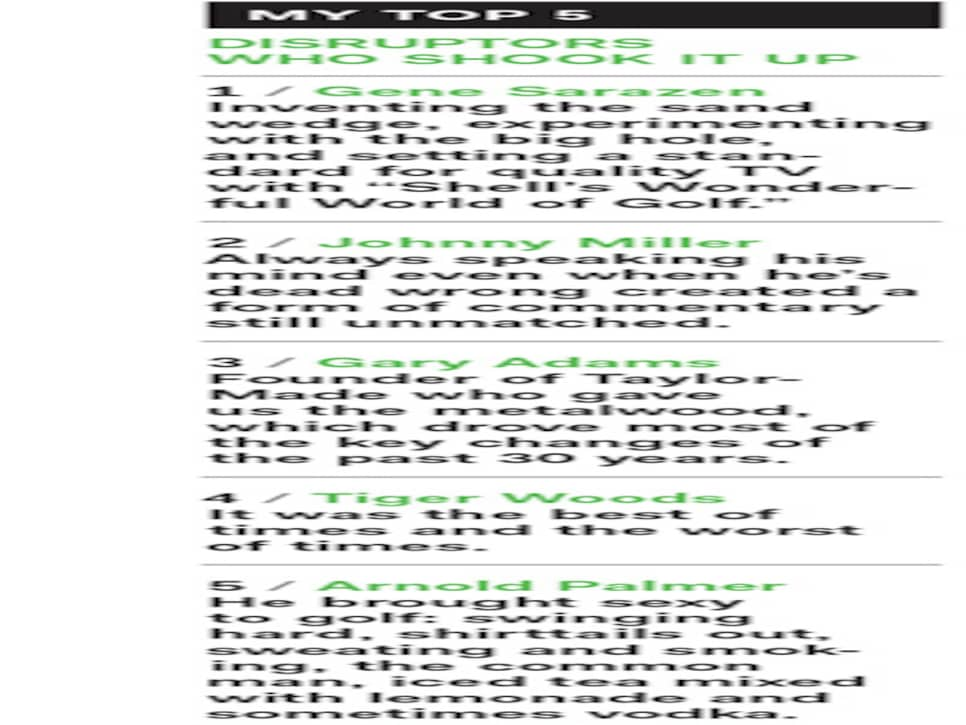 "Disruptive innovation," to use the term coined by business guru Clayton Christensen, just might create a new market and value network with this kind of transformational change. The effect is not always comfortable for purists—think what snowboarding did to skiing—but it might be a shock to the system that golf needs.
to Bill Murray dancing with an elderly woman who fell in a bunker at the 1993 AT&T Pebble Beach National Pro-Am. Then-commissioner Deane Beman threatened to ban him from the tournament. Unrepentant, Murray explained: "Just another screwhead who's too big for his britches." (Not clear whether he meant himself or the commissioner.)
Seve Ballesteros was a disruptor who agitated for opening up play on the PGA Tour to nonmember European stars—not a bad thing, as it turned out.
If you go way back, Gene Sarazen was always running against the grain, whether inventing the thick-flanged sand wedge that obsoleted the niblick or, like Watson, advocating for the hole size to be increased to eight inches (only to find out that it gave good putters an even greater advantage).
There's no single bullet to grow the game, but we need to try things that will make golf more relevant today and tomorrow.
The National Golf Foundation reports 25 million golfers in the United States and another 29 million others who say they're interested in taking up golf. Name another real sport with that kind of adult participation and potential. And golf's decline among young people has been consistently exaggerated in the media and marketplace. The millennial golf population (ages 18-34) is a robust 6.3 million, playing more than 93 million rounds in 2013. That's an average of 15 rounds per millennial—25 percent of the total golfers and nearly 20 percent of the rounds played.
There's no form of recreation like golf that can drive your lifestyle, determine your friends, decide where you live and retire to, and, as medical reports prove, help you live longer. We need to appreciate the game we have as we embrace the changes needed to pass it on to the next generation.