Anchored Putting, And What's Next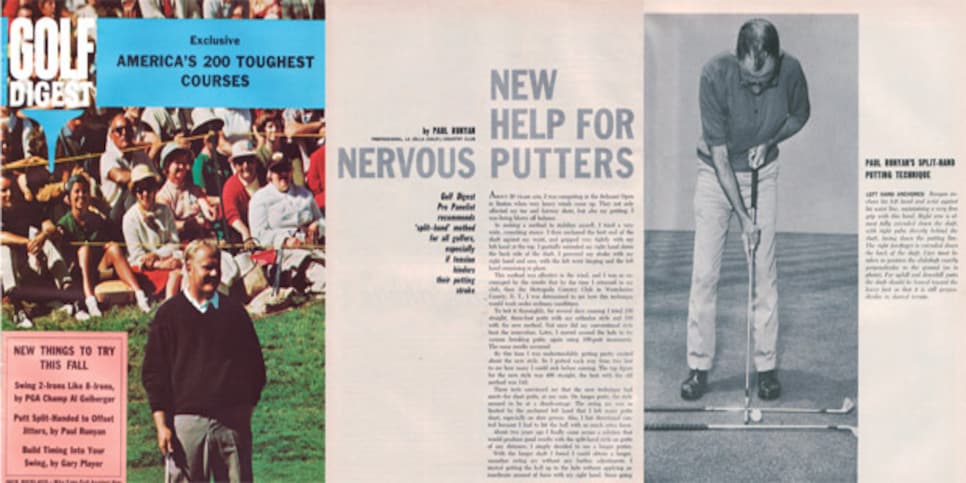 Golf Digest's October 1966 issue introduced our first ranking of courses and the benefits of belly putting.
One of my early heroes was Joe Dey, head of the USGA, first commissioner of the pro tour, and later columnist for Golf Digest. While Joe was the chief rules-maker, Sam Snead started putting croquet style. Bobby Jones supposedly observed him at the 1966 or '67 Masters and said something derogatory to Joe. Shortly thereafter, putting between your legs got banned. Joe explained: "The game of golf was becoming bizarre. It was some other game, part croquet, part shuffleboard and part the posture of...prayer."
Suburban legend holds that Joe really didn't like Snead, and if it had been Ben Hogan in question we'd all be putting croquet style today. Only a handful of people reverted to sidesaddle putting like Snead, and the rules-makers ignored them because they couldn't legislate how open your stance may be at address. Then broom-handle putters became semi-popular on the senior tour in the 1980s, leading to belly putters today. Both were used as last resorts for whiskey fingers and nervous twitches until young players on the PGA Tour embraced them as "first resorts" and maybe even superior mechanically. When anchored putters grew to as much as 20-25 percent of pro fields and three of four consecutive majors were won by them, the governing bodies reacted this year to ban the stroke, once again citing its goofiness and "the long-standing character of our sport, blah-blah." See Joe Dey above.
I can't help but find amusing the article by Paul Runyan pictured here from Golf Digest in October 1966 advocating the belly putter, which predates both rulings. Runyan believed it produced better results on short putts. From two feet, he said he could make 400 putts in a row by anchoring, but never more than 143 conventionally. However, rules-makers were careful not to cite science or equipment as the basis for either ban, preferring the Goofiness Argument on the grounds that it will hold up to a court challenge. After all, who is a better judge of goofiness than the USGA and the R&A?
I think that's the takeaway point here. If the rules-makers ever act against modern equipment in a rollback of distance, it will not be based on performance data. A more likely argument would be water conservation, as cited in the USGA's recent sustainability conference. Longer courses require more maintenance, more cost and more water--none of which we can afford these days.
That appears to be the end game as golf's governing bodies shadowbox around anchored putters and grooves on wedges, but actually are readying themselves to fight distance off the driver. It will all come to a head this summer when the U.S. Open returns to Merion of sainted memory (No. 6 on America's 100 Greatest), which many lament has been outmoded by modern distance.
In the meantime, we will watch as everyday golfers react to the USGA and R&A's harder line. In an ongoing survey, almost 40 percent of respondents are indicating that golfers who use the anchored method will continue putting that way past the 2016 rules change, and almost half favor a different set of rules for amateurs than for pros. We saw this ambivalence in a statement from the PGA of America that uncharacteristically pushed back and questioned how the ban would affect enjoyment and growth of golf. Even purists like Tom Watson have "mixed emotions," hinting that bifurcation--two sets of rules--might be acceptable.
I don't hit it far enough to want my ball rolled back, and my pals who anchor say they'll give up the game before giving up the long putter. Bifurcation is the imperfect answer we're looking for, and 2013 might be the year we decide.