In Search Of Boney's Pulpit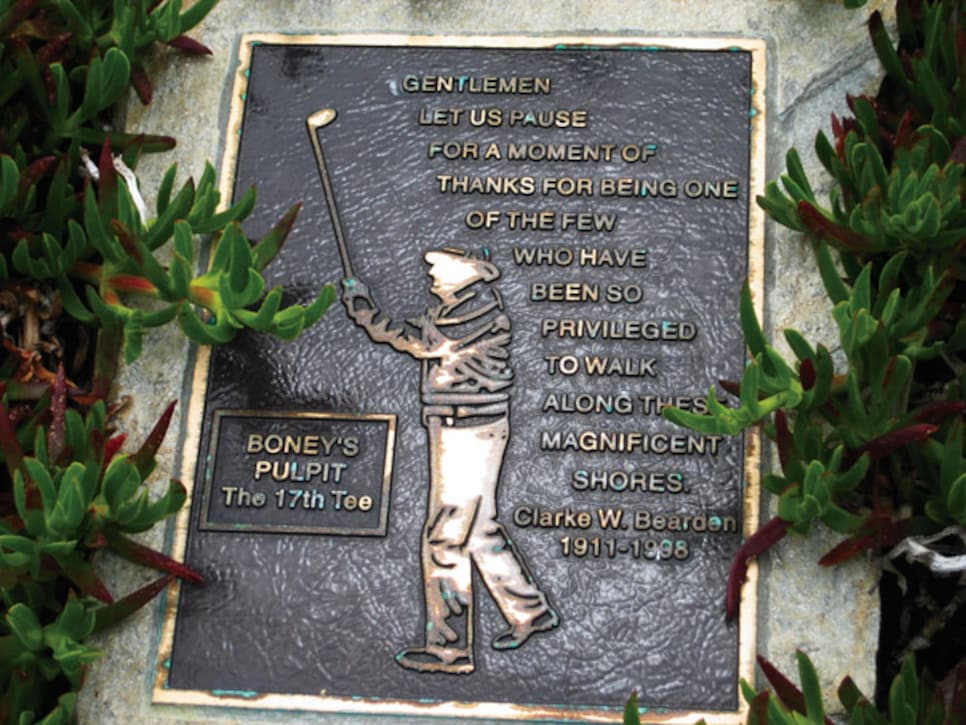 The message found on Cypress' 17th tee.
To the best of my knowledge I am neither sick nor old but have reached the middle age when I increasingly think about red sports cars and/or where I want my ashes scattered. As the bidding is surveyed, it seems to lean decidedly toward short par 4s on courses that are a lot of fun to play.
What first comes to mind nostalgically is the sixth green at Juniata, the muny of a misspent youth, two blocks from my parents' old redbrick row home in Philadelphia. The hole's a dandy 360-yarder that required an ice pick to plant the tee in hard-baked dirt, the superintendent being ahead of his time for water conservation. I think it was Hogan who said, once the peg is in the ground, the shot's 90 percent over. An ideal drive flew blindly over a hill into the fifth fairway with the hope you didn't bean someone walking off the fifth tee. Then you'd wedge to a blind green running away and frequently causing your first putt to be played from a maintenance road. The green holds many good memories if not approach shots, like the time I chipped in from the water fountain to go 5 up, 3 up and 1 up in $2 presses against Tombstone Paul, Al the Baker and Long Hair with Chollie Binoculars watching.
Having lived a bit more now, I'm kind of partial to a hole 40 minutes away and a world apart at the great Pine Valley. My departed friend Doc Dyson had himself dispersed on the second green there because in life he could never get on in two. I'm thinking more about the eighth, just 326 yards into a wide driving area that leaves you facing a murderous pitch to a dodgy green, rewarding and punishing in equal measure. I can't imagine a hole where it would be more fun to watch your friends play into eternity.
Unless, of course, you consider the 17th tee at Cypress Point on the crashing coast of the Pacific, where only if you're looking for it will you find a small bronze plaque that says, "Boney's Pulpit," in honor of a gentleman who always asked his fellow golfers to pause and reflect on their good fortune to pass that way. I don't know if Boney's ashes are there beneath the ice plant, but I like to think he is.
I'm tempted to say the 18th green on the Old Course at St. Andrews or the 16th at Bandon Dunes, but neither hole do I feel I can claim as my own. What I do consider mine is the 14th tee at Ekwanok in Manchester, Vt., a beautifully pleasant two-shotter from the highest point on the course looking out to the Green Mountains panoramically."I think this is the place," I said to my daughter Sam while playing a twilight round over the summer.
"Yeah," she said, "that would be great!"
"You sound a bit too enthusiastic for the outcome," I said.
"Downhill par 4, a drive and a pitch--the ideal hole."
"Why is that ideal?" she asked.
"Peter Thomson told me once, it's playable for both Jack Nicklaus and his dear old granny."
"Who's Peter Thomson?" she said.
That's another story. Peter was actually referring not only to individual holes but entire courses that deliver maximum enjoyment. In this issue we have such a ranking of the Most Fun Courses. The exercise caused me to think about what is indeed fun and where I like to spend my time. Here were my marching orders:
• To qualify, the course has to make you feel like the pace of play is fast even when it isn't. A round is over before you know it, and you savor the closing holes not wanting it to end.
• It never grows old, but it's the kind of course you could grow old on. You'd like to play it every day.
• There's a welcoming sense to the place. It makes you feel comfortable. The course doesn't beat you up.
• There are minimal to no forced carries, severe uphill climbs or lost balls.
• The walks from greens to tees are short.
• Getting up the 18th to the clubhouse is not a killer.
• You're more likely to shoot a good score than a bad one, but there is that risk/reward.
• You don't feel ripped off. It doesn't have to be cheap, but the cost of play is reasonable.
As you play through the list, give some thought to finding your own Boney's Pulpit and send what we missed to editors@golfdigest.com.