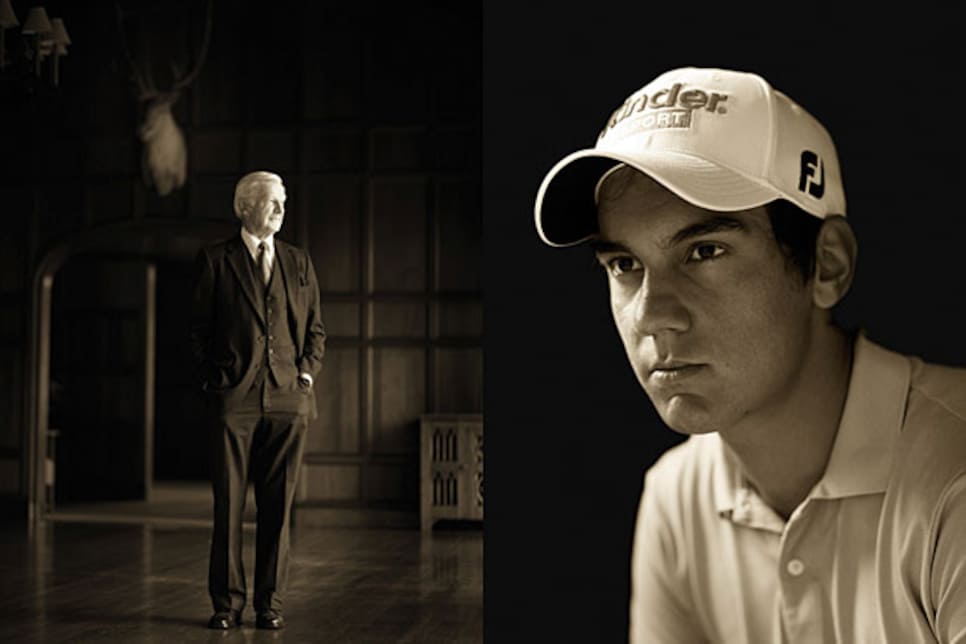 Sandy Tatum, 91, and Matteo Manassero, 18, share a passion for the game.
The smallest headline on our cover this month is the biggest story in golf, and now we've taken it as Golf Digest's mantra: THINK YOUNG, PLAY HARD. It's not just about age or swing speed; it's a way of life that's embraced, shaken and stirred.
We launch the theme with a portfolio of images taken by our renowned Photographer-at-Large, Walter Iooss Jr. (page 70), who traveled the tours for eight months with a focus on rising international stars. He took Charl Schwartzel's picture in mid-March. "Maybe you'll win the Masters," Walter kidded him, and three weeks later Schwartzel did. Each victory by Rory McIlroy, Martin Kaymer and Matteo Manassero confirmed our theme. Twenty-something Americans like Keegan Bradley, Webb Simpson and Rickie Fowler joined the movement. And how about Yani Tseng, Lexi Thompson and Ryann O'Toole (page 46) in women's golf? As Tiger turns 36 in December, the game is feeling decidedly younger.
And did I say it's not only about age? The best example of THINK YOUNG, PLAY HARD found me at Pine Valley in late October when an anonymous friend came grumbling into the grillroom and announced, "I've just been beaten by a 91-year-old who walked 18 holes and kicked my ass with a 5 at the last." (The 18th is uphill, and see page 84 for confirmation that Pine Valley ranks second only to Kiawah as the toughest course in America.)
A moment later, said 91-year-old came sauntering in, holding a tumbler of gin that nearly caused my tablemates to swoon. If God played golf--and there's anecdotal evidence to support the proposition--He would look like Sandy Tatum.
It was the first round of the annual East-West, a tournament pitting Pine Valley vs. Cypress Point. Though Tatum belongs to both, he flew in from San Francisco and was playing for Cypress--the course he immortalized as "the Sistine Chapel of golf." It was also Tatum who said of the U.S. Open: "We're not trying to humiliate the best players in the world; we're simply trying to identify them."
But on this autumnal day, he didn't want to talk of his past accomplishments (for example, the only man ever to win the national collegiate championship in the U.S. and captain the Oxford team in Great Britain), his presidency of the USGA (1978-'80), or even the victory he enjoyed moments ago, pish posh. Tatum launched into a homily about his beloved First Tee program benefiting high-risk kids in the Bay Area, getting his old friend Tom Watson onboard to resuscitate again the public course Harding Park and, well, you get the idea: Tatum thinks young and plays hard.
I was telling Senior Writer Jaime Diaz about the scene when he recalled a similar conversation he had: "Some of these kids come from a world that can be legitimately characterized as awful," Tatum said of the neighborhood where the dropout and murder rates are tragically high. "But to see them light up and be transformed by the values and structure and enjoyment that our game offers has been the ultimate affirmation of what I've long believed. If I had one piece of advice for a young person, it would be to make a careful evaluation of the circumstances in which they find themselves, and locate in that setting whatever they can possibly locate that gives them a positive attitude about the life they have to live."
"Not exactly pithy," says Diaz, "but Sandy doesn't do pith. Like his golf swing, his sentences work."
I always thought Sandy defied the principle that life is, for most people, a series of ever-narrowing circles, until one's travels don't extend beyond a single room. Tatum travels incessantly, coast to coast, and all over. When he plays, he walks. And he plays with a passion marked distinctly by a backswing that comes to a prolonged stop at the top. There are those who say you could recite the Lord's Prayer before he starts the downswing. Like the man, it's a marvel.
The way Sandy thinks, the way he plays, we all could learn from that.