Hot List
The Secret I'm Not Talking About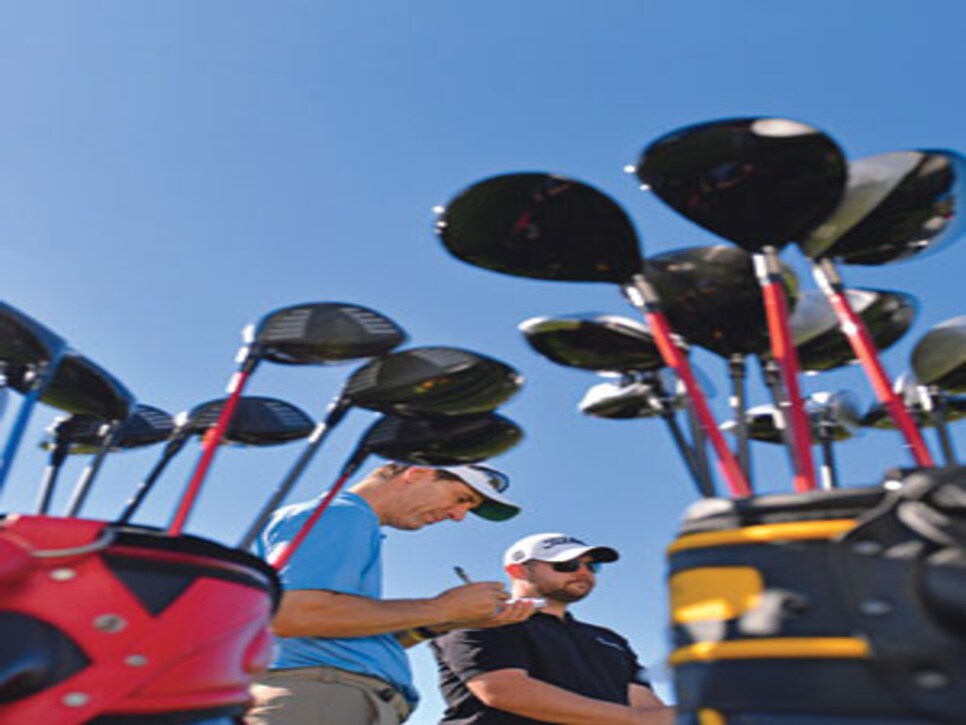 Mike Stachura helped oversee Year 11 of the Hot List, which features 106 clubs.
This year marks the start of our Hot List's second decade of evaluating golf's best and most innovative equipment, so I thought I'd ask our equipment judges Mike Stachura and Mike Johnson about what's new for 2014. I'm purposely avoiding the subject of customization, because we already know the Mikes think you're crazy if you don't get your clubs custom-fit. They've convinced me, as in clothing, it's more important to get clubs that fit than which brand or model you get. Titleist has 46 players on its PGA Tour staff. Not one of those players has the same set of Titleist clubs as any other player, and all those custom options are available to you and me. Custom-fitting is the secret of the Hot List, and I'm not talking about it with the judges because that's all they'd talk about.
Drivers are always the sexiest clubs. Is there a big trend this year?
STACHURA: For the first time, all the drivers on the Hot List are adjustable. We don't believe there's a place anymore for non-adjustable drivers.
TaylorMade is on a bit of an island with its movement toward a center-of-gravity position that is low and forward. It's a complicated bit of physics, but the idea is intriguing: change the paradigm for maximizing distance by pushing all golfers closer toward a theoretically optimal launch condition. TaylorMade drivers will generally require higher-than-traditional lofts to get most average golfers fit properly. When we made the right adjustments, most of our testers liked the already established TaylorMade SLDR very much. The JetSpeed is the more affordable TaylorMade option and emphasizes a lighter, longer shaft and a nifty sole slot that seems even more important for its fairway woods and hybrids.
Callaway is launching its most aggressive and interesting set of drivers ever (at $330, $400 and $500). There are two Big Berthas, plus the next generation X2 Hot. All have an eight-way adjustable hosel, with the Big Bertha offering a sliding weight (toward the rear, unlike TaylorMade's sliding weight, which is toward the front), and the Big Bertha Alpha, the first driver to feature movable weights that independently change the center of gravity horizontally (draw or fade bias) and vertically (medium-low and ultra-low). That's potentially as revolutionary as anything we've seen.
What about the other major driver Gold-medal winners?
STACHURA: Nike has made important improvements in its VRS Covert 2.0 drivers, which make them more forgiving and higher launching. Cobra's Bio Cell and Bio Cell+ drivers offer the most striking color combinations, but they mask some pretty solid technology in the crown and face. Companies are taking advantage of casting technology that gets the crown as thin as 0.45 millimeters (about the thickness of a business card). Ping has a slight departure from its Bauhausian design principles in the i25 (racing stripe on the crown), but its G25 still remains one of our testers' favorites. The same is true for the Titleist 913 drivers, which also are Gold medalists, for the second year in a row.
Game-improvement irons are trending toward enhanced distance without looking like wrenches. True?
JOHNSON: Manufacturers are able to use different and stronger materials to make the face thinner, producing more ball speed. Callaway Apex, Nike VRS Covert Forged and TaylorMade's SpeedBlade come to mind as examples of clubs seeking distance gains. Tungsten weights are used to move the center of gravity in the Titleist AP1 714, and others use elastomer badges to dampen vibration.
What's new in players irons?
JOHNSON: It used to be one of our smallest categories, and now it's one of our largest. Designers now produce clubs with more forgiveness that still allow you to "work the ball," and they have toplines and sole widths thin enough to appeal to better players. Most of these irons continue to be forged from a soft metal such as 1025 carbon steel (Mizuno MP-54 and MP-64 and Titleist AP2 714), although some are still cast (Ping i25, Ping S55 and Callaway X2 Hot Pro). Even better players need some help with long irons, leading some companies to use tungsten (Callaway Apex Pro) or other means in the long irons to lower the center of gravity for an easier launch. Better players don't want to hit their short irons too high, so they add weight to the topline or take it out of the sole area to raise the center of gravity. Some sets also incorporate more than one design in the set. TaylorMade's CB and MC, for example, have "speed pockets" in the long irons but not in the short irons.
Every year I think about making the leap from game-improvement to super game-improvement irons. If this is the year, what should I consider?
JOHNSON: High-handicappers need a lot of help, and these clubs are designed with that in mind. With few exceptions, these clubs feature hybrids as standard for the long irons (Cobra Baffler XL and Ping Karsten). In the mid-irons some go with conventional super game-improvement irons with thick toplines and wide soles, but some, such as Adams' New Idea set, feature hollow-back irons that are a combination of hybrid and super game-improvement irons. Lighter shafts, whether in steel or graphite, also are found because most players in this category lack the ability to generate significant clubhead speed, and the light shafts help in that area.
Is the promise of more distance still the story with fairway woods?
STACHURA: After starting with the TaylorMade RocketBallz line in 2012, the push for higher-speed faces (specialty steels like Carpenter 455 are being used more often) that benefit from a lower and slightly forward CG location continues. The change this year is to make it in a more playable form (shallower faces, for example). That's the thinking behind TaylorMade's JetSpeed, which the company is billing as its longest, most playable fairway wood ever. It has a leaner but more efficient slot than previous RocketBallz versions.
Callaway will look to build on the impressive success of the X Hot with X2 Hot, which comes in 13 heads (six lofts in standard, four in Pro and three in Deep, which is based somewhat on the Mickelson Phrankenwood idea). Adams has introduced a redo of its Tight Lies, and the technology, with a huge opening for a slot in the crown, is probably the most ambitious and elaborate way to get the entire face to flex (slots in crown and sole). Though we're not sure that adjustable fairway woods are everyone's cup of tea, Cobra's Bio Cell/Bio Cell+ does it in an easy-to-decipher form, and TaylorMade SLDR puts it in a better-player-friendly shape (and it's got the slot technology in the sole, too).
Would you say hybrids now are using the same technology as fairway woods?
__STACHURA:__Much the same story here with lower CGs, special metals for flexible faces and unique slot constructions. TaylorMade SLDR and JetSpeed use sole slots. Adams has a new Pro hybrid that features a thinner crown slot that it expects to be the No. 1 hybrid on tour. Callaway has two versions of the X2 Hot that come in a total of eight lofts. A lot of our players like the update of the Nike VRS Covert 2.0 hybrid, which gets more compact the higher the loft goes (up to 26 degrees). Again, adjustability is less appealing here (although Nike, Cobra and Titleist do it fairly unobtrusively). All of the entries here are moving to lower-profile designs as they figure out how to get the same face flexibility and ball speeds from what amounts to a smaller trampoline.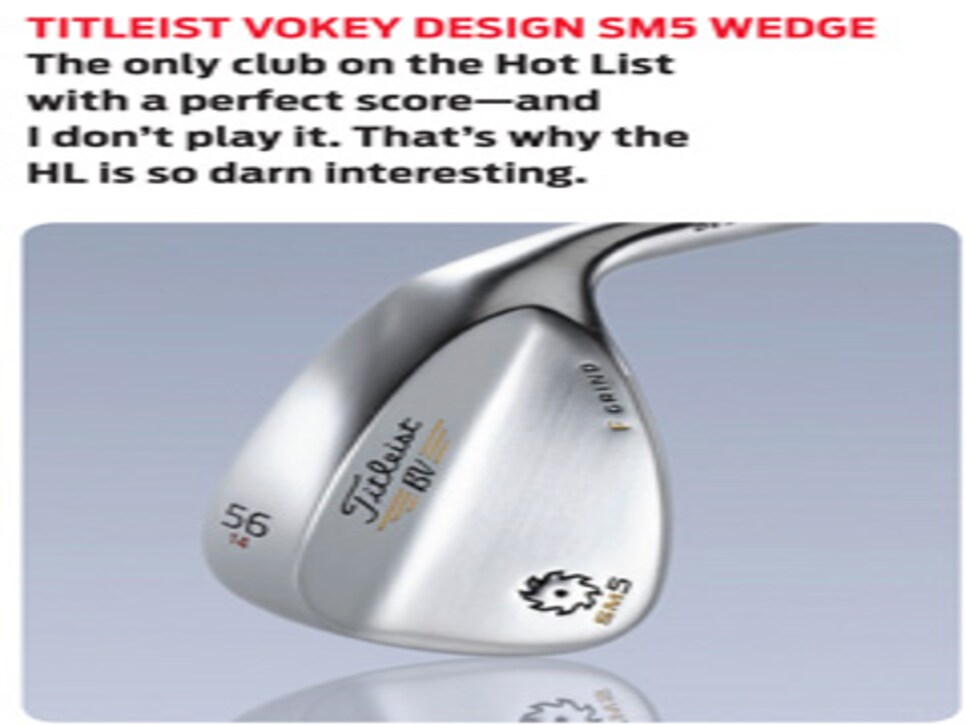 For anybody who plays frequently, I recommend buying new wedges every two years. So this is a purchase year for me. What should I be considering?
STACHURA: More companies are offering more options in their lines, but the big push overall has been to get grooves a little bigger than they've been able to manufacture. They're still not quite as effective as the pre-groove-rule grooves. But it's getting close. The key has been spacing the grooves wider, making them fractionally bigger and, most important, trying to rough up the flat areas between the grooves for extra friction on clean shots. Cleveland started these "micro-texture" patterns, and they continue with the carryover 588 RTX line. Titleist's Vokey line will be set for a big year with the introduction of the next generation of the popular "Spin Milled" wedges, the SM5. It again will be far and away the No. 1 wedge on the PGA Tour. The upgrades are impressive, with 21 loft/bounce options, three new finishes and six sole grinds (including the K grind that was used by Adam Scott and Jason Dufner to win their majors last year).
A key advancement for Vokey has been changing the grooves based on the loft. We saw this idea from Mizuno's wedges the past few years, whereby the lower-lofted wedges have different grooves than higher-lofted wedges. Why? Because lower-lofted wedges are generally full swing shots and benefit from narrower grooves that prevent flyers, and higher-lofted wedges are shorter swings often played from the rough, where wider grooves are better at channeling away grass and moisture to get more spin.
Also employing the matching of groove design to loft, Callaway has its broadest wedge line with 16 options, all of which have a distinctive micro-texture between grooves. TaylorMade's got a new wedge coming in April (Tour Preferred) that has done impressive work in this area, too. Cobra has made its best effort here with Tour Trusty, which also features a special face-milling pattern to improve surface roughness. Even Ping is milling its grooves one club at a time with special tools it developed at the Phoenix headquarters, and it has three sole options, something it has never done before. If there's a sleeper, it's the new Nike VR X3X wedge, which has a groove story but also a unique, exaggerated toe-sweep look that is even more effective than it looks.
I haven't used a blade putter since somebody stole one of those green-shafted Tommy Armours out of my bag in college. But if I were looking for a blade, what's new?
JOHNSON: Although blades come in several different forms, one things remains constant in their design: Virtually everyone has in their line the equivalent of the Ping Anser style. That's not to say, however, that some have not tried to differentiate those models from others. Nike's Method Mod line, for example, is based on modern updates of other classics as well such as the Bulls Eye and Zebra while adding their polymetal face insert. Odyssey's Metal-X Milled line uses a chemical etching process to get its oval-shape dimples on the face. The Ping Karsten TR and Scottsdale TR utilize a variable-depth groove (milled into the face on the Karsten and on an insert for the Scottsdale) to try to achieve the same speed a putt comes off the face on a good or mis-hit. In short, face treatments, whether they be inserts or milled directly into the face, are a big story in blades.
I'm a mallet guy. If I ever gave up my Dave Pelz Three-ball, what would I be looking at this year?
JOHNSON: Perhaps the most important story in putters for 2014 will be counterbalanced putters. (It's a way of taking all the positive stability effects of anchoring and not anchoring.) Though some companies are making such models in blades, more are doing so with mallets (such as TaylorMade's Spider Mallet and Daddy Long Legs or Odyssey's Versa Tank). Many companies also are using weights to add heft to the head, whether they be factory-installed or adjustable (Nickent Omen Tour TeCu, Titleist's Scotty Cameron GoLo 5, Nike Method Mod). As has been the case with mallets for some time, alignment features in many varieties abound from the stripes on Odyssey's Versa to the RifleScope technology on the SeeMore x3 Milled to the simple T-shape alignment aid on the Cameron GoLo 5.