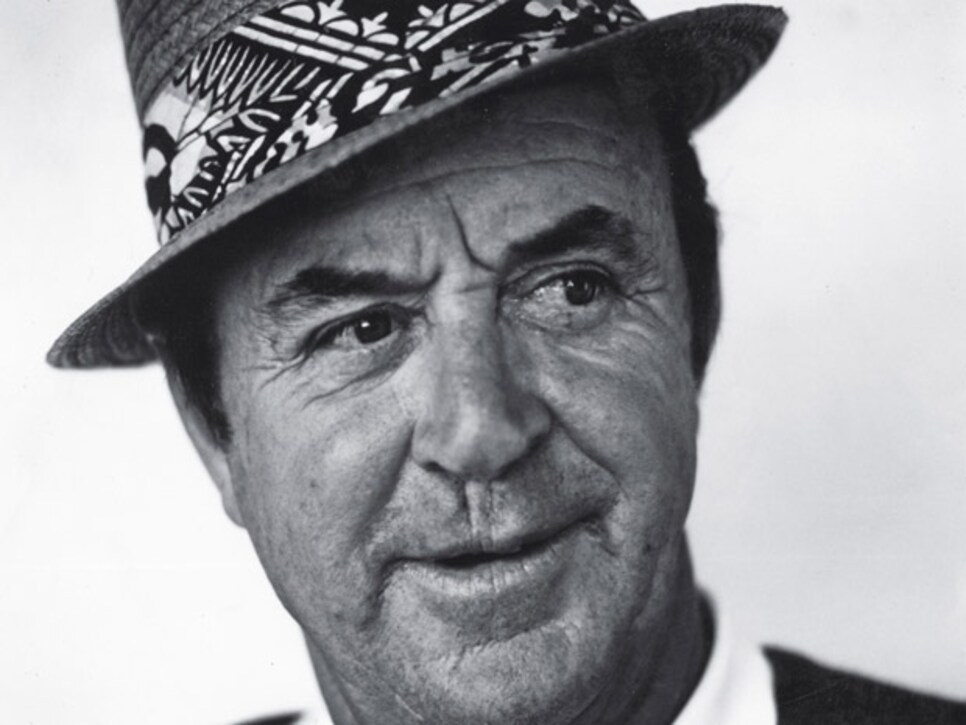 Almost 20 years ago at the Homestead in Hot Springs, Va., I was having dinner with Sam Snead. My daughter Sam—not named for the Slammer—had just been born a few months earlier. When Snead heard her name, he took the white linen napkin off his lap and began folding and twisting it in tight concentric knots that eventually formed a doll. He borrowed a pen and wrote, "To Sam. Sam Snead," and handed it to me as a gift that my Sam thinks is pretty cool.
Years later, Phil Mickelson got down on his knees to talk to my kids eye to eye, and they have never forgotten it. I once played in a pro-am with our cover pro this month, Jason Day, and besides shooting 63 to help the team, he was courteous all the way around. I played with Nick Watney another time when he gathered all the little kids by the 18th green and took balls out of his golf bag and signed one for each. These little acts of human decency by public figures shouldn't seem so rare, but with today's world rushing by, they're treasured moments.
of tournament directors, locker-room attendants, media types, courtesy-car drivers, rules officials, volunteers, fellow players and assorted cognoscenti.
"Phil Mickelson told me he usually leaves a $1,000 tip for the housekeeper when he leaves a hotel room after a tournament," says Writer-at-Large Dan Jenkins. "He's not bragging. He says, 'I can afford it, and I know how much it will mean to the person.' "
Senior Writer Guy Yocom remembers the time Lee Trevino packed a classic Wilson 8802 putter all the way to Florida from his home in Texas because he knew Guy coveted one. "Gary Player wrote me a thank-you note for a story I did," Yocom says. "You have no idea how rare that is."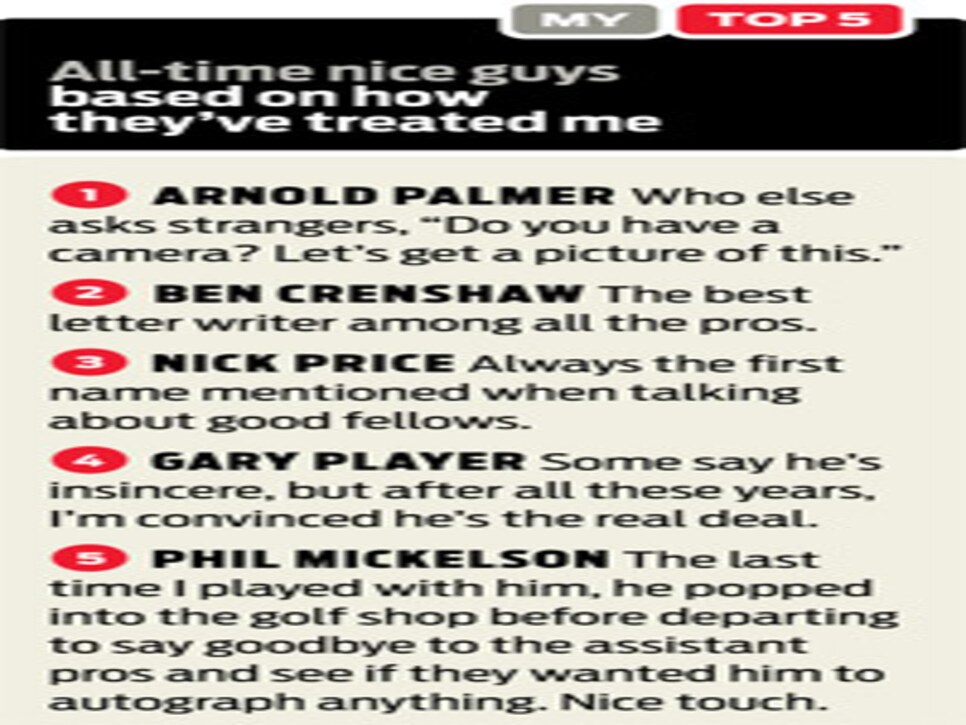 Thank-you notes are the art form of Barbara Nicklaus, who has made Jack look good for half a century. The Nicklaus Christmas card, picturing all their grandchildren, must have a mailing list longer than the White House's.
Sometimes Jack scores points on his own. When contributor Bill Fields' mother was getting a first hip replacement, Bill asked Nicklaus, who had recently gotten his hip replaced, if he could send her a note of encouragement. "He did," Bill says, "and it's something my mother, who just turned 90, still has." So often what we remember are these family kindnesses.
"In 1997, at the AT&T Pebble Beach in February, I was chatting with Tom Lehman on the putting green late in the day, and we got around to talking about family," says Senior Writer Ron Sirak. "I mentioned that my mother had just had a stroke. I didn't cross paths with Tom again until the Memorial in late May. The first thing he asked when he saw me was how my mother was doing. I said she had passed, and he told me she had been in his prayers and would continue to be. It was a small thing but a very human thing. It meant a lot to me."
My all-time favorite gesture bringing this subject into perspective came from the personal assistant of Sir Nick Faldo back before he was knighted but already exhibiting signs of royalty.
"I'm writing to thank you for the laminated cover that you sent," she typed. "Mr. Faldo would have written himself, but he had no stationery in his Orlando home." That poor lady is long gone.