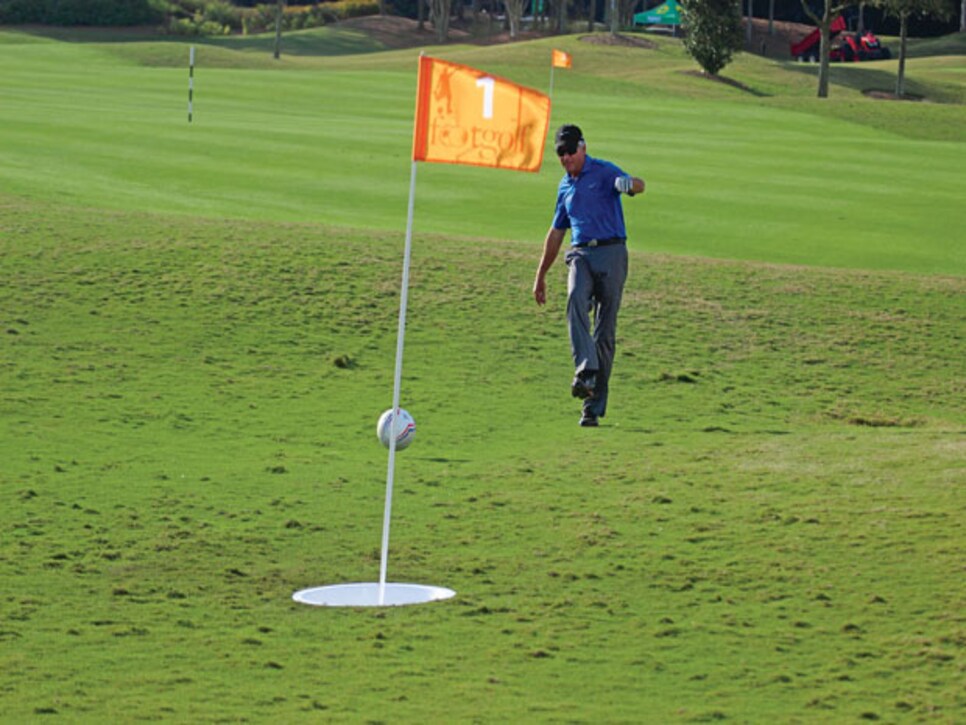 KICK-IN: Former PGA of America president Jim Remy tries FootGolf.
I need to catch you up on some things that have happened behind the scenes in golf since the start of the year. The big PGA Merchandise Show that brings together the industry every January had a different vibe this year. Since the economic downturn in 2008, golf people have simply hunkered down and waited for the bounce back that has never come. We thought it was Clinton's 1990s, but it turned out to be Japan's malaise. This January, for the first time, we felt a realization that the game needs to change fundamentally or follow the baby-boomer generation into the grave.
One of the industry's most divisive figures, Mark King, the CEO of TaylorMade, who invented the six-month product cycle in golf, launched a non-denominational effort called Hackgolf.org to "crowd source" ideas from outside the sport. We're the ski industry in search of alternatives like snowboarding. I told Mark his competitors will find him a tough pied piper to follow, and he said he was yielding the lead to the PGA of America because that's the organization with troops on the ground and because the USGA folks, bless them, are out of touch.
A couple of weeks after the PGA Show was the USGA Annual Meeting. An infusion of a billion dollars from the new FOX-TV deal had clearly given the blue coats a hop in their get-along. Outgoing president Glen Nager admirably urged the USGA to change, and incoming president Tom O'Toole promised a more welcoming game. But really, will they embrace a new generation with less money, less time and less inclination to join old-line clubs? Asked if the USGA supports alternative forms of golf—larger holes and such—O'Toole said yes, but "we're not going to call them golf."
I don't know about that. More than half the golf in Korea is played on simulators and ranges. As my colleague Bob Carney writes on GolfDigest.com: "If I play hoops in the back yard, I call it basketball. And so does the NBA, I'm quite sure. [The NBA] promotes the heck out of 'the city game' and yet is quite happy to include suburban kids playing on adjustable hoops in their driveways. 'Oh, I'm sorry. You can't call that basketball until you've raised the rim to 10 feet and played on sides of five.' "
Anything played on a golf course or with a golf club in your hands (or maybe even a Wii remote), we have to be willing to call golf. PGA of America president and iconoclast Ted Bishop has even championed something called FootGolf, which is played on 54 courses alongside traditional golf at a cut-rate green fee with a soccer ball and a 21-inch hole carved into the fairway near each green. Your son or daughter or buddy can play FootGolf simultaneously to your USGA version. (Your course can buy the entire kit from footgolf.net for $3,000.)
There were snickers and eye rolls when Bishop presented the concept to the USGA Executive Committee, but multiple land use is one of the answers for a more welcoming game.
Bishop said, "There are 25 million soccer players in the U.S. and another 25 million who used to play—that's a lot of potential FootGolfers." And no telling how many will become golfers once they get a taste of our game.
"It sounds radical," says PGA of America CEO Pete Bevacqua, "but multiple land use really harkens back to the origins of the game. At St. Andrews it's not unusual to see families with baby buggies taking a Sunday walk or guys throwing a ball around or kids playing soccer on the Old Course."
You might say the third governing body, Augusta National Golf Club, is taking the lead with this year's inaugural Drive, Chip & Putt Championship on the Sunday before the Masters (live on Golf Channel). Junior golfers from 110 qualifying sites will compete in driving and chipping competitions on the tournament practice range, and one of the putts will be the 20-footer on the 18th green from the same spot where Adam Scott made that clutch putt in the 2013 Masters. Every kid grows up dreaming of hitting the putt to win on the last green at Augusta. Now they can. And I'm pretty sure we'll call it golf.
Postscript: May 3 has been designated National FootGolf Day.