Chasing the American Dream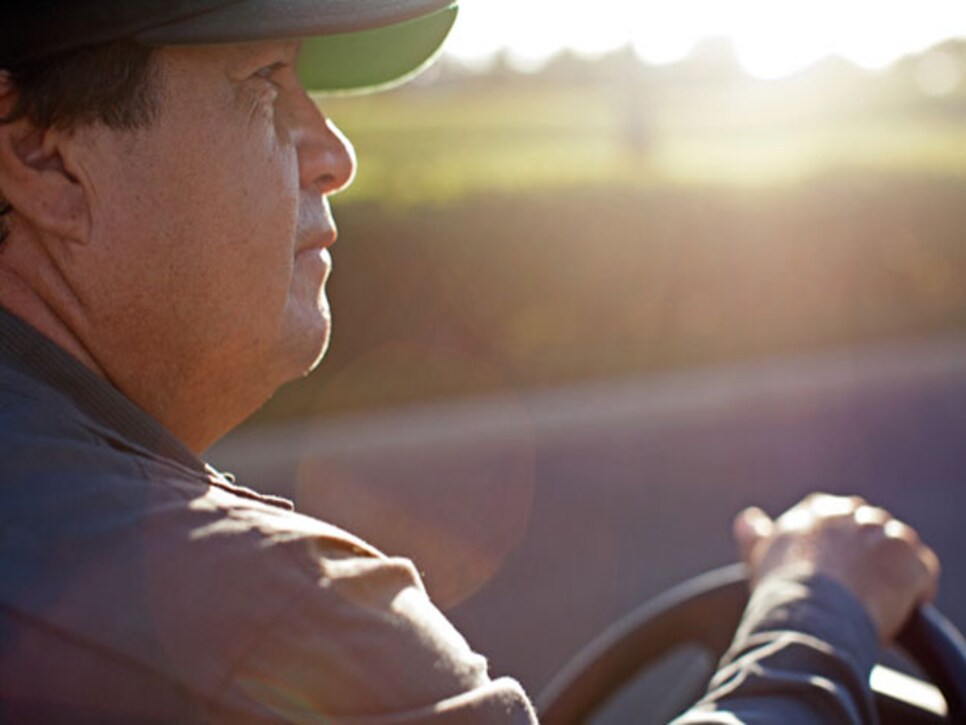 Francisco Mora is part of "Golf's Emerging Force."
At this month's cover shoot, in the ballroom of Latrobe Country Club, Arnold Palmer's knuckles were bleeding.
"How'd you cut yourself?" the writer asked, as blood dripped down Arnold's fingers.
"I got in a fight," he said. "Can somebody get me a band-aid?"
"Yeah, I was fighting with somebody in a dream. I went to punch him, and I fell out of bed. I must have hit the nightstand."
At 84, Arnie is that rare combination of fighter and lover. It's why his appeal is still universal.
His manager for the past 36 years, Alastair Johnston, was spreading out a collection of magazine advertisements with Arnie and beautiful women—models and starlets promoting automobiles and fashion lines. "Kate Upton's not the first supermodel you've been photographed with," said Alastair, whose company, IMG, also represents Upton.
Just then Arnie's wife, Kit, came in holding a fashion magazine with Kate on the cover that she wanted her to sign. The Palmers asking anybody for an autograph is kind of funny.
Upton has been around golf since she was a kid but has played the game only once a year, in family tournaments at Christmastime. Now 21 and looking for some lessons, she took a crash course from Arnie at his home club. "My parents were wrapped around golf constantly. It's how my father and grandfather bonded. But I'm a rookie—everything is challenging."
When I Googled "Arnold Palmer," three of the first six citations referred to a drink of equal portions iced tea and lemonade—a thirst-quenching concoction he popularized, if not invented. (Arizona Beverage executives happened to be swarming Latrobe on the day I visited, and with good reason: They contributed to this best income year of his lucrative career—somewhere north of $35 million annually.)
Two of the six Google searches refer to the man—it's odd to think his legend is being overtaken by a drink consumed by a generation of people who one day will not even know "Arnold Palmer" was a real person, in the pantheon of Betty Crocker and Aunt Jemima.
And one of the top-six citations refers to the Arnold Palmer Hospital for Children supported by the Arnold Palmer Medical Center Foundation. It's fitting that Arnie appears on this month's issue dedicated to "Golfers Who Give Back."
As the PGA Tour reaches $2 billion in all-time charitable fundraising this December, and all of golf in America raises almost $4 billion every year through thousands of grass-roots events, Golf Digest honors individuals, including some surprises like skateboarder Ryan Sheckler
who give back to the community in countless ways through golf.
But I think the real surprise of this issue is the package of articles on "Golf's Emerging Force"—immigrants from Spanish-speaking countries who dominate the workforce maintaining our courses and who are essential to the future of the game as players themselves.
Golf as we know it would collapse if we lost the employment of Latinos—both documented and undocumented—who make up an estimated two-thirds of maintenance workers at American courses. To tell this story, we turned to Gabriel Thompson, an award-winning journalist whose book title summarizes the challenge: Working in the Shadows: A Year of Doing the Jobs [Most] Americans Won't Do. Thompson went undercover laboring alongside the "invisible" Latinos who cut greens, weed fairways and tend to the gardens of golf. Thompson focuses on one immigrant, Francisco Mora, who tried crossing the border from Mexico illegally more than a dozen times before finally making it, finding a job as a golf-course worker, raising a family and eventually becoming a legal resident. His journey explains the hard life and good luck it requires for an immigrant to chase the American dream.