News
Jerry Kelly 'disappointed,' but retains U.S. Senior Open lead by one over Miguel Angel Jimenez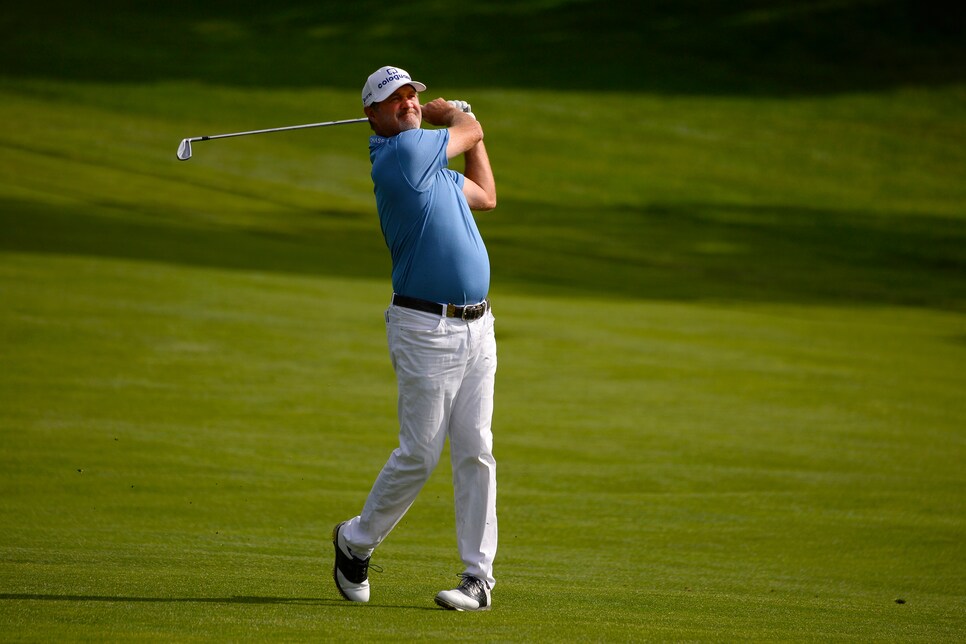 It might bode poorly for the rest of the field to learn that Jerry Kelly was "disappointed" with his round on Friday while still retaining the lead in the U.S. Senior Open.
Kelly, who entered the second round with a two-stroke lead, shot a one-under par 69 on the East Course at the Broadmoor in Colorado Springs, Colo., and will take a one-stroke lead into the third round on Saturday.
Miguel Angel Jimenez, his playing partner in the first two rounds, shot a two-under par 68 and is in second, one stroke behind Kelly, while Kelly's college teammate, Tim Petrovic, is two back after posting the best round of the day, a five-under 65. Davis Love III, playing in his first U.S. Senior Open, shot a 68 and is four off the lead, as is 64-year-old Jay Haas.
"You now, I'm fairly disappointed," Kelly said. "That front side, two par-5s, I was right there thinking eagle. Next thing you know I'm making pars. [But] I'm encouraged about the way I hit it again, solid. I hit a lot of good putts, even though the ones that didn't go in were good putts. Maybe a little too firm sometimes. But that's not usually my M.O.
"Solid play again. I hit the fairways. I hit the greens. I hit a lot of good putts. Good chip-in on 18. It was a solid day."
Kelly, 51, will be riding momentum into the weekend. He finished second in the American Family Insurance Championship last week in his hometown of Madison, Wis., on Sunday, and has had two sub-par rounds on a Broadmoor course that isn't yielding many of them.
Petrovic, meanwhile, had the best round of the championship by playing his back nine (the front on the East Course) in six-under 30.
"Today I just needed to drive the ball better," Petrovic said. Petrovic, who along with Kelly played college golf at the University of Hartford, shot a two-over 72 in the first round. "I needed to hit the ball in the fairway. Yesterday, it seemed like I was playing out of the rough half the day. And this course, if you're playing out of the rough and you're hitting long approach shots, it's going to be a long day.
"So I drove the ball better today. That would equate to me hitting better iron shots closer to the hole. And just give myself some more opportunities."
Petrovic threatened to win the KitchenAid Senior PGA Championship last month before finishing second to Paul Broadhurst.
Baseball Hall of Famer John Smoltz, meanwhile, improved upon his opening 85 with a seven-over 77 and missed the cut.