News
Jerry Kelly capitalizes on Colin Montgomerie's last-hole mistakes to win the Mitsubishi Electric Championship at Hualalai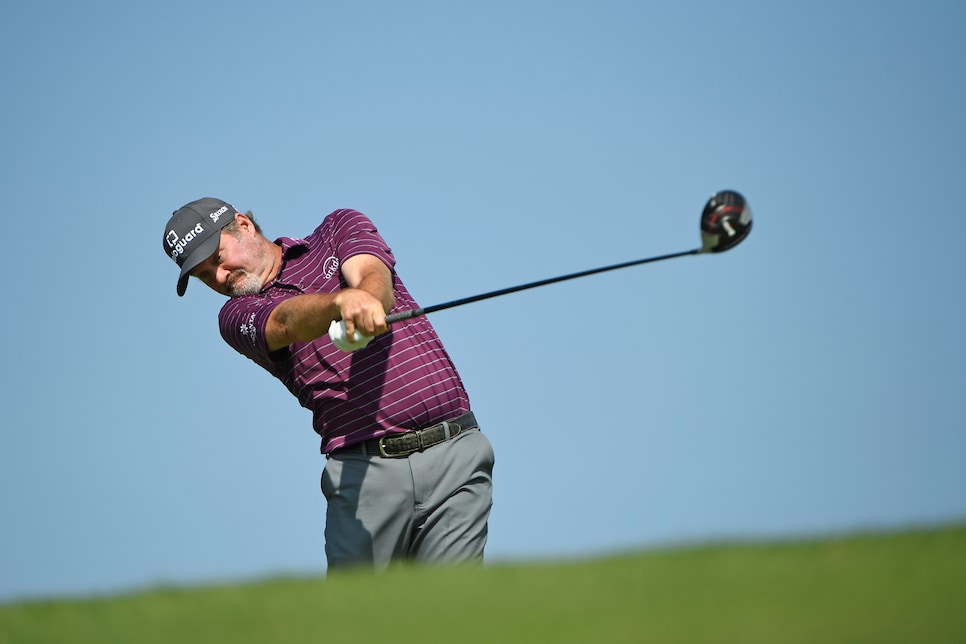 One of the widest fairways on the PGA Tour Champions was not wide enough to contain Jerry Kelly's tee shot on the 16th hole on Sunday, which threatened to undermine his bid to win the Mitsubishi Electric Championship at Hualalai during Saturday's final round.
But a benevolent Colin Montgomerie reciprocated with his own wild error off the tee on the 18th hole at Hualalai Resort that assisted Kelly in winning for the third time on the PGA Tour Champions.
Kelly, 51, was tied with Montgomerie when his misguided tee shot on the 16th hole landed on a lava bed well right of the fairway. He was forced to take an unplayable lie that led to a bogey that dropped him from a share of the lead.
Kelly had gone 24 consecutive holes without a bogey before the miscue on the 52nd hole of the tournament.
"I'm not expecting to drive it out of play," Kelly said. "I went for the over-swing. I tried to clear it [a bunkers just right of the fairway] and left it out."
On the 18th tee, up by a stroke, Montgomerie chose driver and pulled his shot into a fairway bunker. His second shot went over the green, leaving a a difficult chip that he left eight feet from the hole.
Kelly, meanwhile, hit his approach from the middle of the fairway to 16 feet left of the hole and made the birdie putt, forcing Montgomerie to make his par putt to send it to overtime. Montgomerie missed, powering the ball past the hole.
"I love the islands," Kelly said, recalling his victory in the Sony Open in Hawaii in 2002. "I appreciate Hawaii so much. To have another win here since 2002, that's what feels best."
Montgomerie, who took a two-stroke lead into the final round, shot a three-under-par 69 to finish 54 holes in 17-under-par 199. Kelly shot a six-under 66 to finish at 198.
Reigning player of the year Bernhard Langer, meanwhile, was never a factor. Langer, the defending champion who won seven times last year, tied for 16th, his worst performance since tying for 37th at the Allianz Championship nearly a year ago.
Langer, 60, finished eight shots behind Kelly.