News
Jerry Kelly a wire-to-wire leader for his first PGA Tour Champions victory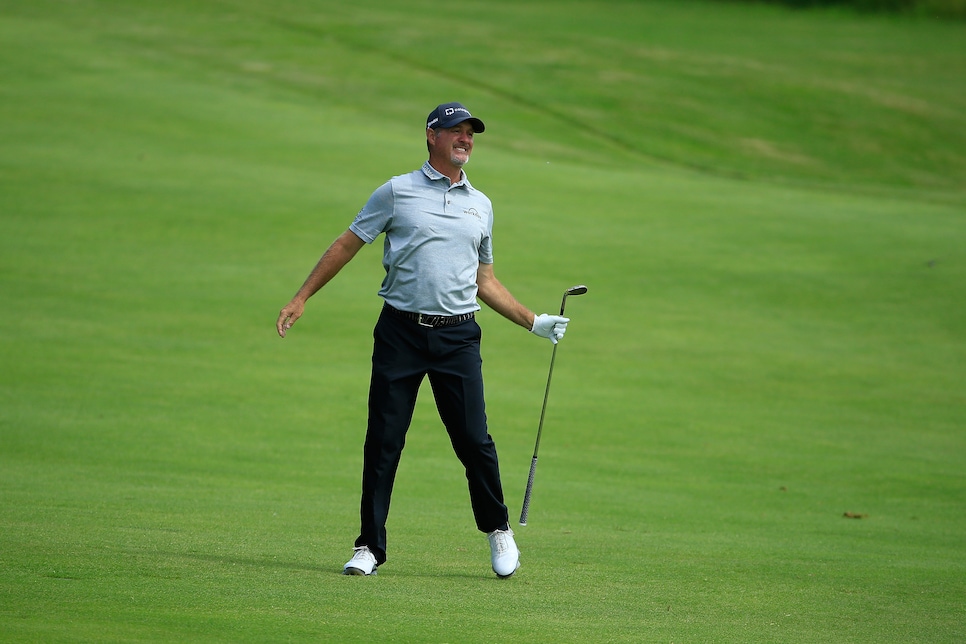 Jerry Kelly was a moderately successful PGA Tour player better known as a tour leader in body English. His gyrations were on full display in the Boeing Classic, where on Sunday he recorded his first PGA Tour Champions victory.
Kelly, 50, who won three times and earned nearly $30 million on the PGA Tour, shot a final-round six-under-par 66 at the Club at Snoqualmie Ridge outside Seattle to defeat Jerry Smith by one stroke.
It was never easy. He and playing partners Smith and Billy Mayfair combined for 20 birdies and zero bogeys. Smith shot an eight-under-par 64 to put up the greatest challenge, but ultimately was defeated by Kelly's birdies at 16 and 17.
"It was crazy," Kelly said. "It has shocked me to no end the quality of play. These guys are shooting these numbers every single week."
Kelly, whose best finish in 12 prior PGA Tour Champions starts was a third, in his debut at the Chubb Classic, was a wire-to-wire winner at the Boeing, posting a 65 in the opening round followed by a pair of 66s to finish at 19-under-par 197.
"I finally got off to a good start and kept things going," Kelly said. "The game plan again was to try to keep it on the gas. I missed three or four opportunities early, but I did make two good par saves which kept things going."
The par saves came at the fifth and ninth holes and were important, if not critical, in his quest to win for the first time.
"I did not want them to smell blood," he said.
Bernhard Langer, meanwhile, shot a seven-under 65 and tied for third on his 60th birthday. He, too, played a bogey-free round. In fact, none of the top five players on the leader board made a bogey on Sunday.