American Family Insurance Championship
Jerry Kelly 'over the moon' after second straight home victory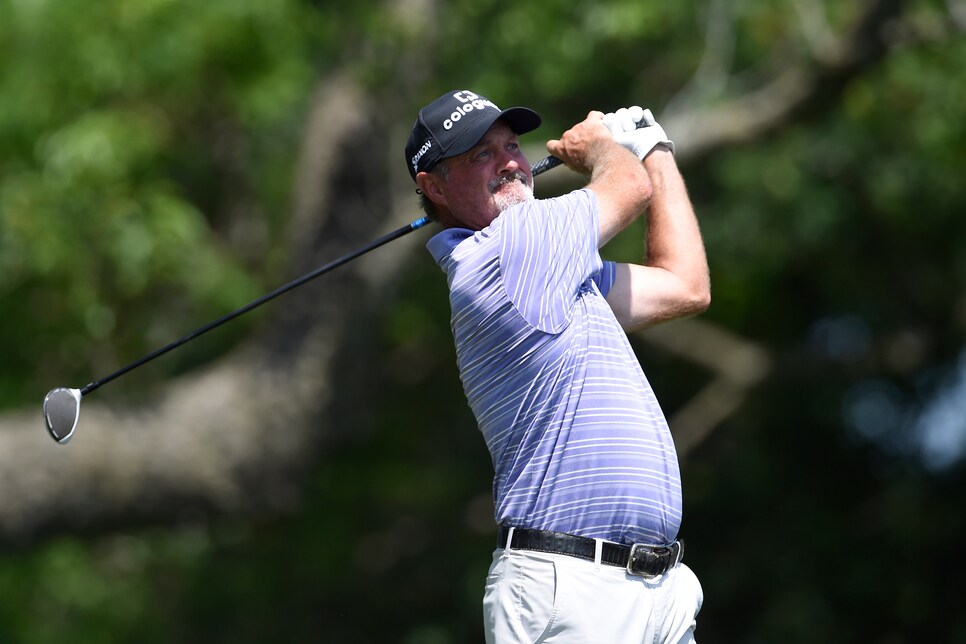 There aren't many home games in professional golf, but for Jerry Kelly, the American Family Insurance Championship in Madison, Wis., is one of them, and his comfort level again paid off on Sunday.
Kelly, a Madison native, resident and fan favorite, won the tournament for the second straight time, prevailing at University Ridge Golf Course when Fred Couples, whose own popularity seemingly makes every tournament a home game, bogeyed the 18th hole.
"It can't get any better than this," Kelly said, moments after Couples' par-saving attempt at 18 just slid past the hole on the right. "It means so much for me to win around here. I'm over the moon."
Kelly, 54, shot a six-under par 66 for a 54-hole score of 14-under par 202. None of it was easy, however. He double-bogeyed the 18th hole on Saturday to fall two behind through 36 holes, then bogeyed the first hole on Sunday.
"After doubling the 18th yesterday and a bogey today at the first hole, I was reeling a little bit," he said. "Those two birdies [at the second and third holes] settled me down and I was just trying to grind as hard as I could."
Late in the final round, Kelly held a two-stroke lead over Couples, who was playing in the group behind. Couples, 61, birdied the 16th and 17th holes to tie. Meanwhile, at 18, Kelly hit a perfect tee shot and what seemed like a perfect second shot that took a hard bounce and rolled into the fringe behind the hole.
"I probably hit the best shot of the day for me on the second shot," he said. "It was a little cut 5-iron and it just didn't stop there for anybody."
His third went 10 feet past the hole, but he holed his par putt, then went into wait mode.
Couples, who shot a four-under 68, missed the fairway with his tee shot at 18 and hit what looked to be a respectable second that also bounded over the green. His chip rolled eight feet past the hole, and his right-to-left par putt to tie narrowly missed, dropping him into a tie for second with Miguel Angel Jimenez.
The victory was the eighth of Kelly's PGA Tour Champions career and it continued an extended roll that he will attempt to carry over in two weeks in the Bridgestone Senior Players, which he won last year. In his nine starts in 2021, he has finished in the top eight in seven of them.
For Couples, it was his best since tying for second in the Hoag Classic in early March, 2020.