LPGA
Jennifer Kupcho confesses to being 'burned out' in 2022, suggests a remedy that began with her co-leading the Honda LPGA Thailand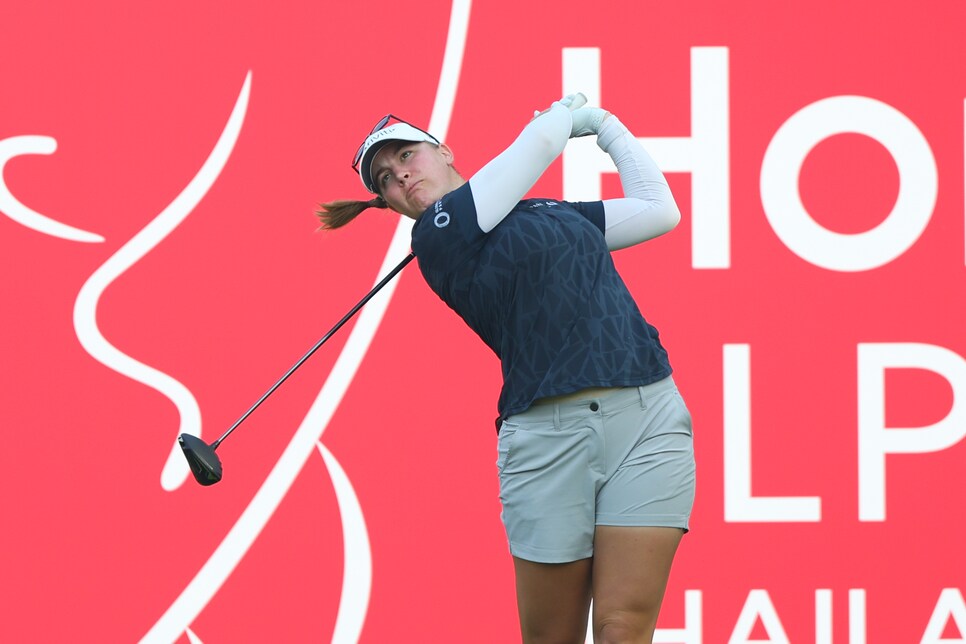 Jennifer Kupcho opened the Honda LPGA Thailand on Thursday with a balanced, bogey-free 65. She posted a 33 on the front and a 32 on the back to sit in a five-way tie for the lead at Siam Country Club.
That balance is something Kupcho has been working to find after a 2022 season that included three wins, including a major, but a second-half swoon as the 25-year-old admittedly got worn down.
"I was really burned out at the end of last season," Kupcho said following the first round, "so kind of struggling and [I was needing] to love the game again."
Recentering herself began with an extended offseason. First, Kupcho took a month off to reset before the Hilton Grand Vacations Tournament of Champions. She finished T-16 in a 29-player field. Then, Kupcho only practiced for 10 days after the season opener to work to rediscover her enjoyment of the game.
"The last half of the season, I wasn't winning. I mean, you're not going to win all the time out here, but it was just really hard for me," Kupcho said. "I wasn't playing like I wanted to, so I really was just struggling to have fun out on the golf course, so that's what I really was trying to bring into this year."
The American started 2022 with steady top results. She finished in the top 25 nine times in her first 15 starts of 2022, including three wins and a breakthrough major championship victory at the Chevron Championship.
Kupcho's consistency became challenging to find over the remainder of the season. In her final 11 tournaments, she had just one top-25 finish, a T-24 at the Ascendant LPGA Volunteers of America in October.
Kupcho first shared the initial insights of her burnout struggles at the 2022 NW Arkansas Championship. Following a second-round bogey-free six-under 65, the American sat T-4 heading into the final day.
Dealing with her downturn in play on top of the recognition Kupcho earned from her three victories proved challenging.
"I think it's hard," Kupcho said last fall, "especially being in the spotlight after getting a lot of attention this year. Coming off a couple bad weeks, it's hard. I mean, golf is a hard game. It's mental already. Then to not have confidence going into a week is really hard."
Her lengthy break from the game ahead of a tournament might not inspire confidence going into the event. But Kupcho is relying on her comfort at Siam Country Club instead of her preparation. Fifteenth in the Rolex Women's World Rankings, she finished T-6 last year, shooting 67 or better in all four rounds.
"I think if it was any other golf course maybe it [confidence] wouldn't be there," Kupcho said, "but I think I'm really comfortable with this place. I played really well last year. It's fairly short, so I don't really have to hit long clubs and that's definitely where I struggle if I have to hit those after not practicing.
Even still, Kupcho's best shot of the day came from a hybrid. On the par 5 10th, she almost holed an albatross, setting up a tap-in eagle. The easing into the year approach put her in a position to contend for her fourth victory over the last 11 months.