News
Blurry vision couldn't stop Jennifer Kupcho from winning at Augusta, a victory that 19 months later clearly remains inspirational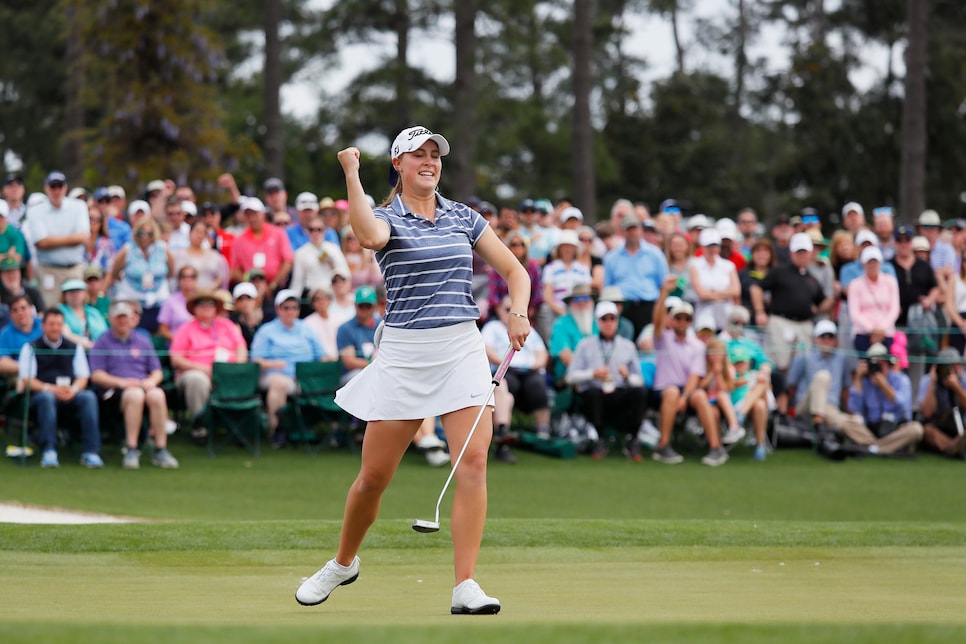 My ball, my wedge, the undulations of the green—it was tough to see any of them. On the most important day of my life, at a crucial moment when a birdie at the par-5 eighth could shift the momentum of the Augusta Women's National Amateur, my vision started to go fuzzy.
I went into shock. To this point, all the hours spent fine-tuning my game had paid off: I was tied for the lead at the first women's tournament in the club's history. The Augusta crowds, the Augusta roars, the Augusta pressure—Jennifer Kupcho from small-town Colorado was staring down Maria Fassi for the championship. I was living a dream.
But as my vision worsened, the day quickly turned into the worst-case scenario. My mind raced as I approached my ball next to the eighth green.
No, not now. Please, not now. Why? Whyyyy?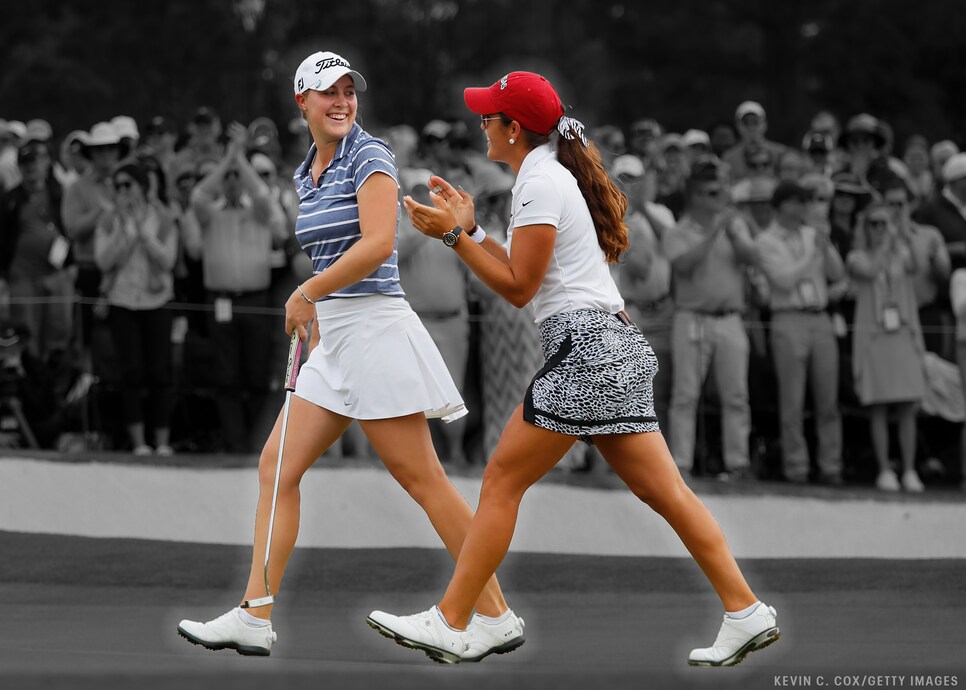 I occasionally suffer from migraines that impair my ability to see clearly. During one of these migraine attacks, my vision gets progressively fuzzier over the course of 30 minutes until I'm hit with a throbbing headache. The best way to describe it? It's like looking at a cotton ball through Tupperware.
I hadn't gotten a migraine for years. And suddenly I was in the throes of a severe one. Frustration didn't begin to describe my feelings. But I knew this wasn't the end. I needed to compose myself. I had worked too hard to let this freak incident ruin my chances.
Trying to judge the spin, lie and release of a 20-yard pitch at Augusta is tricky, but I was determined to get the ball as close to the hole as possible. I had hit thousands of chips in my life, but never dealt with one under these circumstances. I was relying on pure instinct. So I did the only thing I could do:

Click to watch Jennifer's chip on the 8th hole.
My pitch came up around 15 feet short. I tried to get a line for my putt but couldn't read the nuances of the break. I made par. Maria birdied, and I lost the lead.
I had my dad on my bag for the first two rounds of the tournament, which were held 30 minutes up the road at Champions Retreat. After arriving at Augusta for the final round, I switched to a local caddie named Brian McKinley. Brian has been a caddie at Augusta for many years and knows every subtle break in their greens. I quickly realized that I would be leaning on him for reads. Given my condition, I was beyond grateful to have him by my side.
I found the fairway on the ninth, and my approach shot left me with a long birdie putt. As I walked up the hill to the green, with my sight getting foggier by the minute, I knew I would have to rely on Brian even more. I turned to him and said, "You're going to have to tell me where to hit my putts because my vision is getting worse."

Click to watch Jennifer try to cope with her migraine.
I'm very much a feel player, so I was also having trouble accurately gauging my speed. Even if I had the perfect line, I couldn't get a confident feel for how uphill a putt was. Because of that, I sent my birdie putt racing by the hole, leaving me with a three-footer coming back. Brian came in to give me a line. I trusted it. I hit the putt, looked up and heard claps.
Somehow I was in for par.
I hit the 10th fairway and 10th green and took a close look at my birdie putt with the help of Brian. I was confident about my line but again put too much pace on it. I faced another tester, this time about two feet. The last thing you want at Augusta is a sliding two-footer, and you definitely don't want one when it's impossible to gauge the speed of your putts.

Click to watch Jennifer's par putt on the 10th hole.
I missed it. Luckily, I turned around and made the putt coming back. But the damage was done. With a bogey, I fell two shots back of Maria.
In my mind, it was now or never. Eight holes left to declare a champion. Was I really going to let it all come down to this? Did I really want to look back and have an excuse for why I lost my lead—and the entire tournament—at Augusta?
I was just hoping the blurriness was going to end soon. If I stayed patient and positive, I could maybe give myself one last shot at winning the tournament.
And then it happened. On my walk to the 11th tee, suddenly everything cleared. I could see. I could see! I looked down at my golf ball: The dimples were clear as day. I turned around to Brian: He was right there in front of me.
At that moment, I knew nothing could stop me. I wasn't going to squander this chance. I hit the best hybrid of my life to eagle 13. I birdied 15, 16 and 18.
I had survived one of the toughest tests I've experienced on a golf course. At the end of it all, I was the inaugural Augusta National Women's Amateur champion.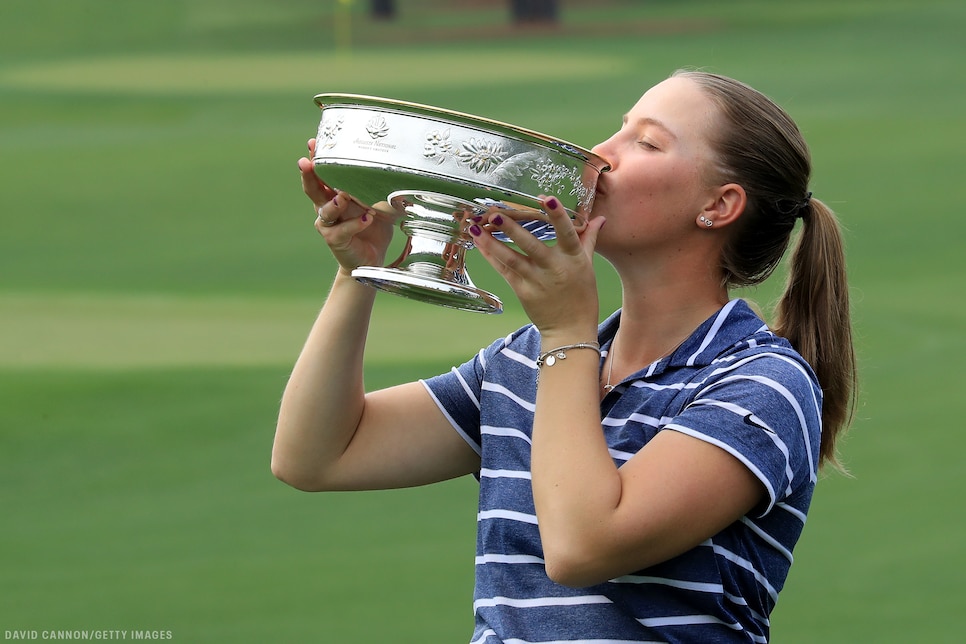 Jennifer Kupcho, first female champion at Augusta National. I mean, it still sounds crazy to me. It's kind of funny … when I first heard Augusta was hosting a women's event, I didn't think I had a chance to be in the field. Seriously. I was a junior at Wake Forest with the school's best scoring average in history at 70.6, I had finished in the top five six times, I was the No. 1 female amateur in the world and, yeah … for some reason, I was sitting in my dorm room at Wake Forest, scrolling through all these different articles about the tournament and thought, Oh, that'll be cool. Hopefully I can play in that.
I was so proud to bring the trophy back with me to Wake Forest, and I feel so lucky to have been a part of such a storied program. I made some of the most incredible memories throughout my four years at Wake, but I'd be lying if I said it was all rosy. One of the most difficult times for me was when I lost my two-stroke lead with two holes to play at the 2017 NCAA Championship. I was a sophomore and knew I had my entire career ahead of me. But that one stung for a long time. I promised myself to never quit on my dream. I was bound and determined to make a comeback and finish on top.
As a junior—almost one year after I blew that two-stroke lead—I left the NCAA Championship with the trophy. I also claimed the first National Player of the Year award in program history. As a senior, I finished as the ACC Co-Player of the Year. One of the defining moments from my final year in college came when we made a run for the team title at that year's national championship. I'll always cherish those moments I shared with my teammates and coaches, and I'm incredibly proud of everything we accomplished.
And to think—I hadn't even heard of Wake Forest until junior year of high school.
I realize that sounds a little crazy, but I can explain. I never really thought about playing college golf outside my home state of Colorado. The truth is, the Colorado golf scene was all I knew. It was always my goal to play college golf, but I didn't look at any big-name programs outside of Colorado throughout the majority of high school.
One day, that changed with a phone call.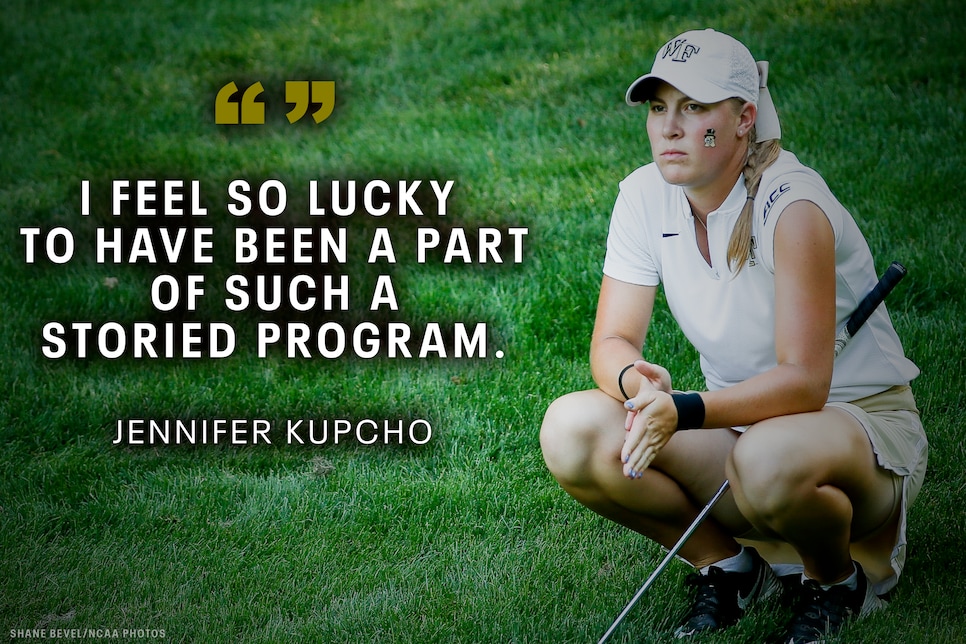 I'll never forget what happened after arriving home from the 2013 U.S. Girls' Junior Amateur in Indiana. I was sitting on my bed when my dad walked into my room.
"Jen," he said. "The head coach at Wake Forest just called Ed." (Editor's note: Ed Oldham is Jen's swing coach).
"They saw your scores at the tournament. They want to recruit you."
I still remember my first thought:
I know, I know. I'm shaking my head right now just thinking about it. I had no idea what or who or where Wake Forest was. I looked up at my dad.
"Dad, um … where is Wake Forest?"
He had this excited look in his eyes.
"It's in North Carolina. It's an incredible program. You know, Arnold Palmer went there!"
I may not have known where Wake Forest was, but I sure as heck knew Arnold Palmer. And in just a few months' time, I was making my way to some North Carolina town named Winston-Salem as a Demon Deacon.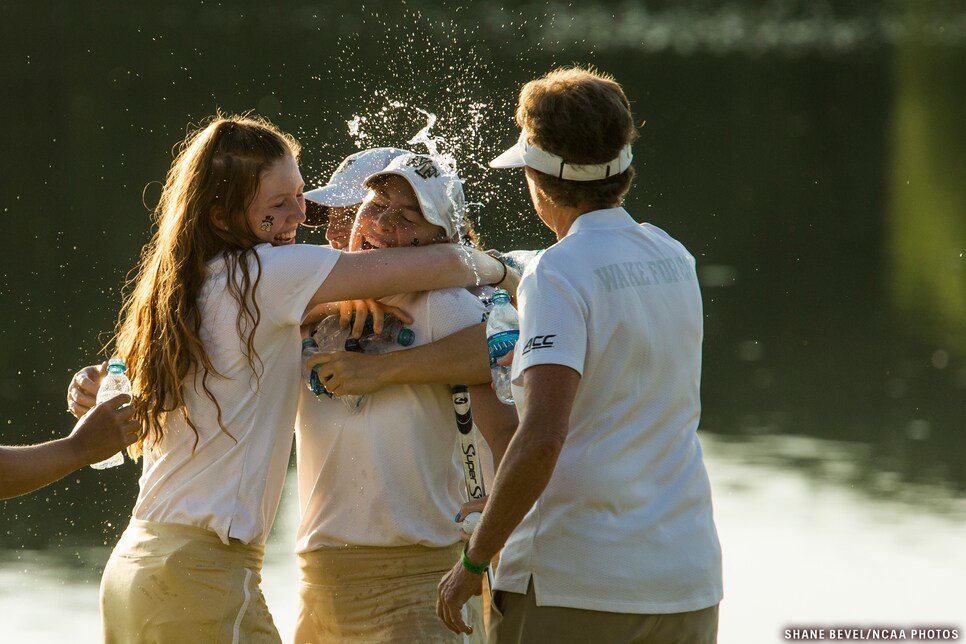 I sometimes think back to how I got to where I am today. I think back to my childhood when I'd have putting contests with my brother. We'd stay out at our local course until it was nearly pitch black and freezing cold. On those chilly spring nights in Colorado when I could barely feel my hands, I learned what it takes to succeed.
I think back to some of the teams we put together at Wake, like the one we had during my junior and senior years—a mish-mosh of walk-ons, transfers and call-ups from the club team. On paper, that team was never supposed to make its way to nationals, but we did. I will always be inspired by what we did as a group while everyone else doubted us.
I think back to when I turned professional just a month or so after winning at Augusta and making my first start in the U.S. Women's Open at the Country Club of Charleston. That player—that Jen—still has a lot more to prove. While it's obviously an incredible honor, I'm not just the Augusta Women's National Amateur champ. I'm the player grinding on the LPGA Tour trying to become the No. 1 player in the world.
There might be some adversity on the way. But I'm more motivated than ever to prove that I can do it. My only hope?
Those migraines aren't my good luck charm.