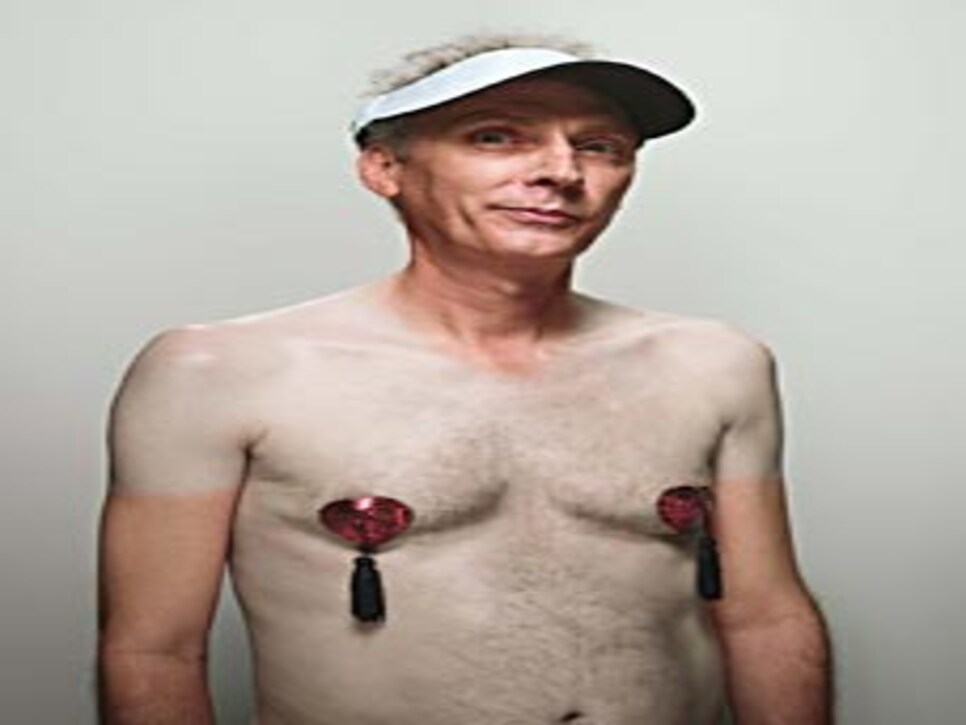 This is not Dan Jenkins, above, in appropriate attire for the infamous water-hazard swing. Tell us what you think is the right gear and technique for the one-foot-in-the-drink shot. Better yet, email us a PG-rated photo.
It was back in 1993 that Ian Baker-Finch stripped down to his boxer shorts at the 13th hole during the Colonial tournament and stepped into a lake halfway up his calf to hit a shot. Then a while back this year it was Henrik Stenson who got down to his skivvies on the third hole at Doral to hit a shot out of a soggy patch of mud. This is my idea of a good plan: Every so often a pro does a striptease to liven up the PGA Tour.
Baker-Finch, it's recalled, wore blue boxer shorts. He removed his shoes and socks but kept his shirt and cap on. A press wit renamed him "Ian Boxer-Finch."
Upon Ian's arrival for the tournament a year later, the Colonial committee presented him with a pair of crimson plaid boxer shorts to match the dizzily crimson plaid blazer that's annually forced on the Colonial tournament winner.
Stenson, a Swede, almost went the naked distance at Doral. He shucked down to his white knitwear briefs to take his stance, or as he put it, he had nothing on but "my jocks and my golf glove."
They each made a bogey, incidentally, Boxer-Finch and Knitwear-Stenson.
When Stenson finished the round at Doral, his wife sternly told him never to do that again, ever.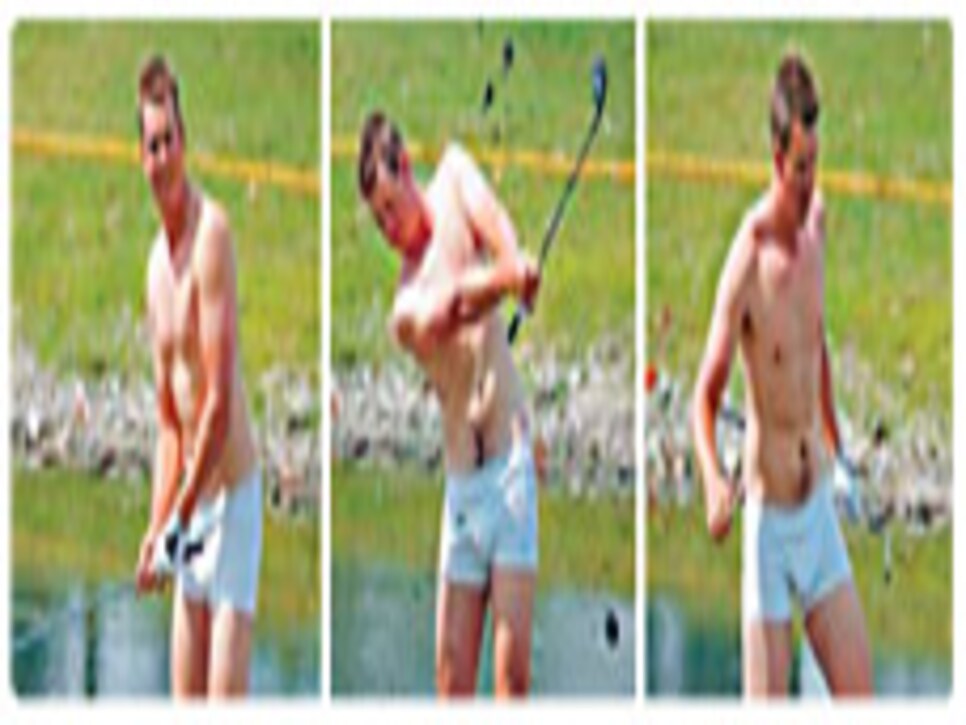 Photo: Kyle Auclair/Getty Images
Commissioner Tim Finchem, making a rare public utterance, recognized her statement as "sound advice."
All of this has started me thinking about how sad it is for pro golf's followers that it's always the humdrum player who does the strip-tease. It's never a Tiger Woods, a Phil Mickelson, or, more preferably -- to be wildly hilarious about it -- a Natalie Gulbis.
I also think of how difficult it would have been for the old immortals.
Ben Hogan was too reserved, too elegantly attired, to risk a thread out of place. He'd rather hit a screaming hook than turn up somewhere in public in a pair of wrinkled slacks.
The closest Ben came to exposure was when it became urgently necessary for him to remove his shoe and sock and roll up a trouser leg to splash that shot out of the pond at the 71st hole in the 1960 U.S. Open at Cherry Hills.
As for Bobby Jones, it would never have made sense for him to disrobe before trying to hit a shot out of water in a U.S. Open. First, Jones would need to slip out of his sweater and hand it to O.B. Keeler to hold for him.
Then Jones would be compelled to undo the necktie and unbutton his dress shirt and get out of it. Next he would have to wriggle free of the knickers and the long, patterned socks and his wingtip golf shoes.
And by the time he was down to his BVDs, he would have incurred a two-stroke penalty for slow play and lost what would have been his 14th major championship.
Speaking of nudity and majors, the British Open has been a convenient place for streakers. The Open streaker has become so commonplace that people in the gallery and members of the press are numb to the occasion and generally turn to a friend and remark, "Here comes this year's idiot."
Actually, this does a disservice to the nude gentleman, who is usually deathly thin, has chalk-white skin and wears his hair in the long pony-tailed fashion of the 1960s.
These streakers bare no grudge against golf, I submit. They're merely protesting the fact that their tortured poems have been rejected by a literary quarterly edited by a distant cousin of Vladimir Lenin.
As a longtime observer of good taste in golf fashion, I can think of numerous cases in which I'd rather see a touring pro in his skivvies than in the following:
The first corporate logo. There was once a mercenary Amana cult on the tour.
One day a player's wife said to me, "Why do you make fun of Amana? They're very good to us." I said, "Good. Let your husband go sell refrigerators."
The low-riding bell-bottoms and white belt.
Not in my tournament. Not unless you're one of Charlie's Angels standing in the gallery.
And the floral ones. They were always a crime against nature. Even when Jack Nicklaus wore them. Now a company called Loudmouth Golf is trying to bring them back. John Daly wore them this spring. Need I say more?
The flat, lay-down, slimpy collared shirt.
I thought this was golf, not tennis.
Whatever Camilo Villegas is wearing today.