The kids are alright
New Euro Tour winner has his 6-year-old to thank for saving him from disastrously unlucky break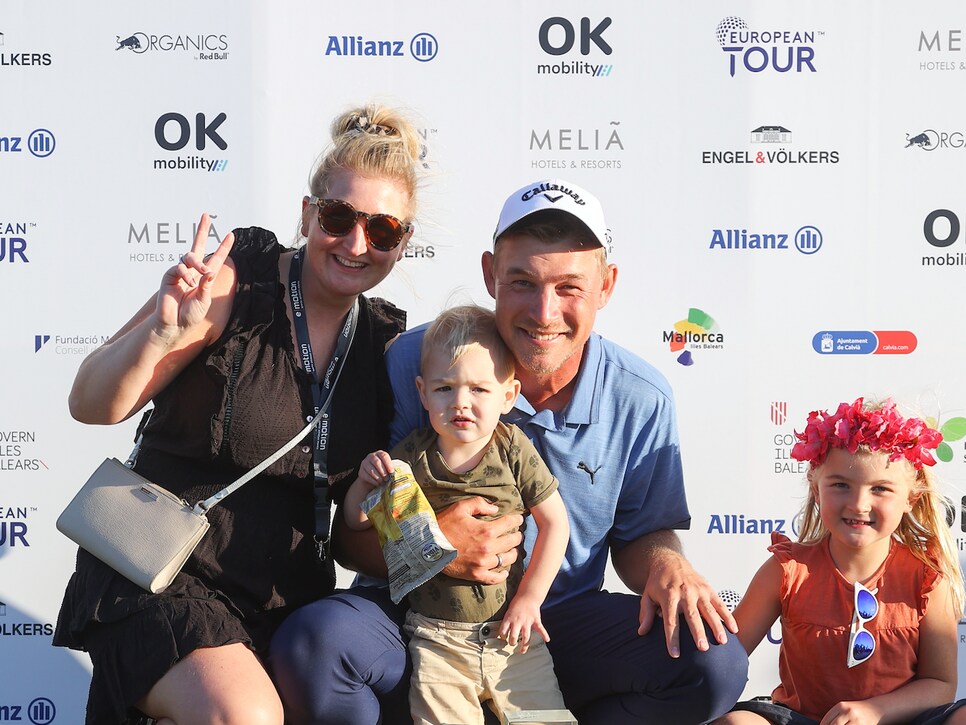 Jeff Winther celebrates with his family after winning the Mallorca Golf Open, his first European Tour title, on Sunday.
A source on the ground at the European Tour's Mallorca Golf Open called Sunday's winner, Jeff Winther, a "great bloke" whose victory would be quite popular among the rank-and-file members. Fellow Danish golfers Søren Kjeldsen and Joachim B. Hansen were there to celebrate with their countryman Winther on the 18th green, dousing him for his first career title on the Old World circuit.
Winther's family was there as well, and it turns out they may have played as critical a role in his victory than any shot that the veteran hit in Sunday's final round. We're told the beautiful Spanish resort island setting of Mallorca was a popular one for the families to tag along this week, and Winther had his wife and his 6-year-old and 2-year-old kids there. For Winther, it was 6-year-old Nora who came through in the clutch when he and his wife got trapped in the bathroom earlier in the day.
"After breakfast I went to have a shower and my wife came in to use the bathroom as well," the newly-crowned Winther said. "The door closed, and there's no lock, but we locked ourselves in. There's no lock on the door, but the handle didn't work.
"Our little girl Nora, 6 years old, had to go and find guys at reception to break down the door. We were in there for 45 minutes, I think. I thought, 'Geez not today, not Sunday, you're leading the freaking event. Might not get there for your tee time'. What a morning."
So what cut of the winner's check is Nora due? Is there a monetary equivalent in toys or candy her dad owes her? Without the child, it may have been another missed opportunity at a victory and via the most unfortunate, frustrating and embarrassing breaks one could endure. That seems like cause to shower the 6-year-old with whatever she wants for the rest of the year.
Winther went on to post a final-round even-par 71 to win by a shot and escape the traffic at the top of a leader board that incldued Sebastian Soderberg, Pep Angles and Jorge Campillo. The day included this miraclous switch-hitting par save early in the round to maintain his lead.
As it turns out, the stressful ordeal in the bathroom seemed to center Winther for the round that was to come.
"I think it probably settled the nerves because I thought I might miss my tee time and thought I might not get out. The kids are in the living room, 6 and 2 years old, what can you do?
"It's unbelievable [to win with his family here], it's not sinking in. I couldn't have a better week. I said at the start of the week that this was going to be like a holiday and apparently holidays work out for me."
As someone with four kids, this feels like a strong endorsement for having some kids around, you know, aside from the love, pride, responsibility and emotional fulfillment parts, all that. Congrats to both Nora and Jeff on a legendary and happy day.