The Loop
Jeff Maggert's new Players memory
Jeff Maggert has nine-year-old twins at home in Houston and a 70-year-old mother who followed him around the TPC Sawgrass Stadium Course over the weekend hoping to see an unlikely victory in the Players. The footnote was that Vicki Benzel, his mom, underwent breast cancer surgery last June. "She's a trouper still," Maggert said.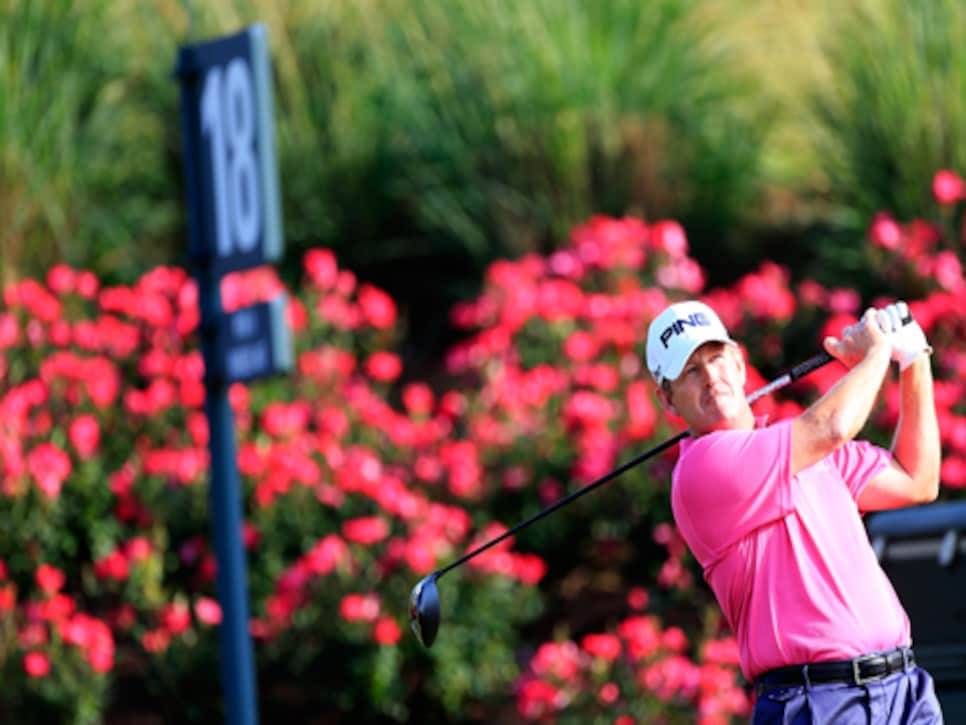 Jeff Maggert on the 18th tee during the final round of The Players Championship at TPC Sawgrass. Photo: Sam Greenwood/Getty Images
At 49, Maggert is a trouper as well. He was attempting to nudge Fred Funk aside as oldest winner in Players history. The last of his three PGA Tour wins was in 2006. He is staring the Champions Tour dead in the eye, but is not ready to go there yet.
"I'd like to extend it maybe a year or two," he said when we spoke Sunday night. "But I'd like to get out there with the old boys."
Besides the breast-cancer-awareness Pink Out on Mother's Day at the Players, there was an undercurrent to the Maggert story that was the inspiration for his revival. Coming off the course after the opening round in 2008, he received a dreadful message. His brother had been killed in a single-engine plane in Gilpin County, Colo.
Barry Maggert, who owned an engineering business in Carbondale, Colo., was flying to Boulder to attend the graduation of his son Lee from the University of Colorado. Barry, 47, was an experienced pilot who was an avid golfer and also coached Little League baseball.
Jeff Maggert withdrew from that Players to be with his family, but the memory will last a lifetime and becomes more vivid every time he travels to the tour's home course. One of the notes he received after the 2008 tournament was from playing partner Sergio Garcia, who went on to win the tournament.
"For sure it was kind of a rough time for all of us in the family," said Jeff. "Just coming back it always brings it back to mind. It would be great to pull it off this week to put a good memory in my brain about this tournament instead of thinking about that."
As much as a Mother's Day, this was a Brother's Day for Maggert, whose biggest moment in 23 years as a tour pro was his victory in the 1999 WGC-Accenture Match Play Championship, where one of his victims was Tiger Woods.
"The details are still kind of sketchy," Maggert said of the crash. "Flying was Barry's hobby. He just loved it. He knew he was taking some risk, but he was a good pilot, very thorough. I can't get angry about the outcome of that, but we miss him."
Maggert nearly pulled it off. He was tied for the lead with Woods, Sergio Garcia and David Lingmerth standing on the 17th tee, but rinsed his tee shot and made double bogey before closing with a birdie to add a T-2 to two third-place finishes in 20 Players appearances.
Vicki was there when her son came off the course, and in a way so was Barry. These made for better memories.