The Loop
J.B. Holmes takes another positive step in his comeback
After failing to reach the top tier of the putting surface from only 116 yards on the third hole of last week's Waste Management Phoenix Open, J.B. Holmes threw his club.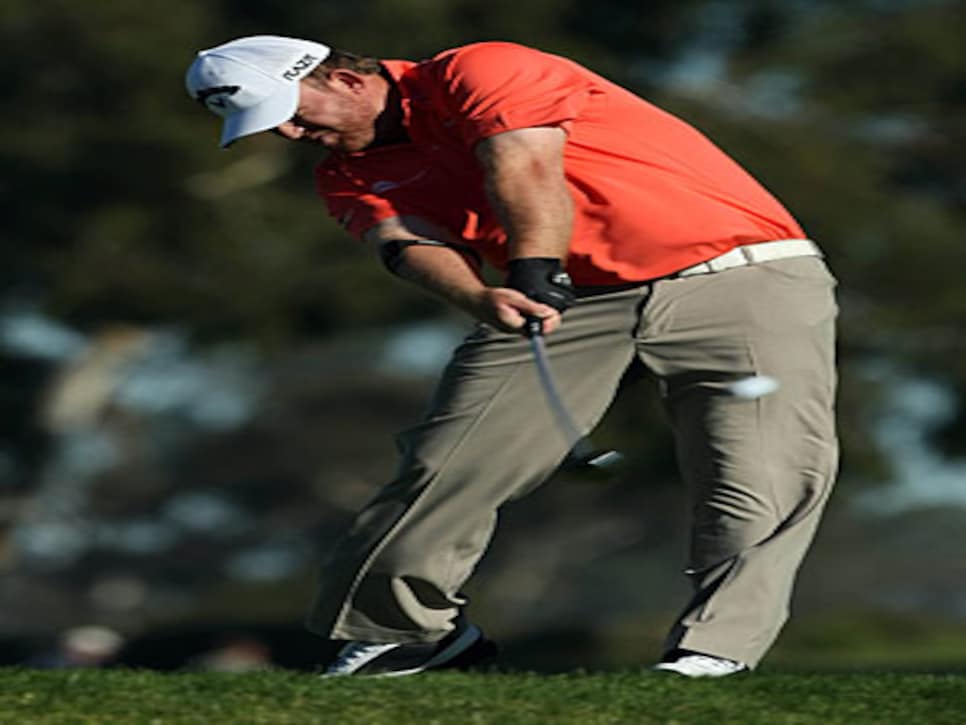 It was a sign of great frustration, obviously, and who could blame the guy? Here, after all, was the kind of vulnerable par 5 the long-hitting Holmes, a two-time winner of this tournament, usually tames with little difficulty. Now he'd have to struggle to make par, which he didn't.
Yet the reaction was also a sign of great encouragement -- a sign that Holmes, five months after brain surgery to repair defects in his cerebellum, is inching his way back toward normal. Forget all the talk about the surgery lending him a new perspective on life. Holmes gets all that. He also gets that he is a professional, a proud one at that, which means he is focused on returning to the player he was before, and as quickly as possible.
"It's no fun playing bad," said Holmes, 29, who tied for 45th in his first 72-hole finish since last July. "I'm not hitting the shots I normally hit."
One clear indication is the force of his drives. When Holmes, who made his season debut at Torrey Pines two weeks ago, where he missed the cut, is on, there are few who come close to matching his length. So far, in six rounds, he ranks 11th in driving distance at 305.5 yards. Most of his peers would be thrilled with such numbers. Not Holmes. He has to go by another standard, his own. He led the tour last year with 318.4 yards.
"I am probably five or six miles off my swing speed on average," he said.
Another indicator is his health. He has been experiencing some pain in his neck when he swings, the result of exercising muscles that had been unused for months. After undergoing the surgery on Sept. 1, Holmes did not start practicing in earnest until early January, and he still has to be wary of overdoing it. "I've got a whole year to play," he explains.
Sunday's final round at TPC Scottsdale showed glimpses of the old Holmes. He fired a three-under 68, his second round this year in the 60s.
There was no need to throw a club at No. 3 this time. After striping it down the left side of the fairway, Holmes put himself in position for a routine birdie. Then, at No. 8, one hole after missing a 4-footer for birdie, he canned one from 89 feet, raising his arm in triumph.
"He is on the right path," said Brandt Snedeker, his playing partner on Saturday. "He just needs some more reps out here."
This is a pivotal year for Holmes, a member of the 2008 U.S. Ryder Cup team. He turns 30 in April. He was surely on the right path in 2011 with five top-10 finishes in his first 11 events before he began to experience vertigo symptoms. The defects that were found in his cerebellum are known as Chiara malformations. He says he'll go back to the doctors and get an MRI before too long.
"I think everything is okay, but we'll see," he says.
Holmes, who plans to tee it up at both Pebble Beach and Riviera, recognizes the surgery should probably make him slightly adjust his goals for 2012. It won't. He is too competitive.
"I was close to playing pretty good this week," he said after the final round.
As for how long it might take him to be back at full strength, he offers no predictions.
"First time for brain surgery," he says.
(Photo: Donald Miralle/Getty Images)