The Loop
J.B. Holmes 'close to 100 percent' after split day results in a 62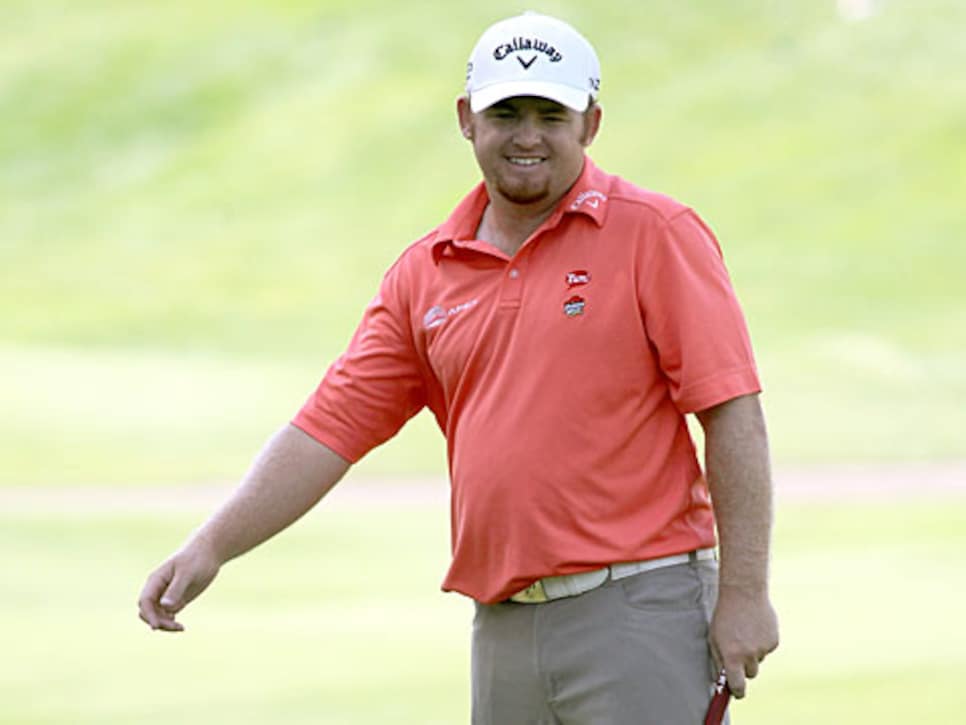 (Photo by: Jim Rogash/Getty Images)
CROMWELL, Conn. -- J.B. Holmes wasn't too pleased about having to stop mid-round Friday -- he was already four-under through eight, sitting in the middle of the ninth fairway when the lightning horn sounded. Then again, considering the year he's had, a rain delay barely registers on the adversity meter.
Only seven months removed from successful brain surgery to release pressure at the base of his skull, Holmes put together one of the most impressive rounds of his PGA Tour career with an eight-under 62 at the Travelers Championship -- leaving him one behind defending champ Frederik Jacobson, who he'll be paired with for the afternoon third round. An impressive feat without the history of major surgery; Holmes' Friday-Saturday dominance of the TPC River Highlands was amplified by the fact he played the second half of his round in considerably different conditions.
"It was a lot softer [today]," Holmes said. "The balls were backing up where yesterday it was just kid of holding, so it was a little bit different going in. You had long irons into the greens because your ball wasn't going as far."
While having to end his day in the middle of such a good round was definitely not preferred, Holmes' first shot on Saturday -- a wedge shot that landed three feet from the cup on the par-4 ninth -- started his day nicely. "[The rain] made it where you could really go at the pins a little bit more." A tap in birdie closed out his front nine with a 30, which he followed up with a four-birdie, one-bogey 32 on the back.
"I played well yesterday, and I came out today and... hit the ball really well. I've hit it well everyday," Homes admitted, before realizing he's only played two rounds in the three days. "Didn't score very well the first day, but I've been hitting the ball really well since."
As one would expect, Holmes' started his 2012 season slow coming off of the surgery. But with two top-20 finishes in his last two starts, and now in the final pairing for Saturday's third round, he feels his game is almost back to 100 percent. "I'd say I'm pretty much there. Stiff neck when I wake up in the morning, stuff like that, but for the most part I feel comfortable."
With only a couple hours to reflect on the 62 before starting his third round, Holmes wasn't too concerned about the layoff. "This is my seventh year out here. I've done this before." Adding that he expects the course to be "a little bit better in the afternoon."
He then put it in perspective.
"I'm just happy to be out here."