Remembrance
Jay FitzGerald, legendary publisher of Golf Digest, dies at 84
New golfers and younger ones might not be familiar with the late James Walter FitzGerald, who went by "Fitzy" to close friends and "Jay" to a legion of acquaintances in golf. His passing on May 23 at age 84 led to a period of mourning remarkable for its persistence. He'll be reminisced well at a tribute this June 29 at Winged Foot Golf Club, where Jay was a member and for decades one of its best players. Memories of him will make the trees sway.
FitzGerald was President and CEO of Golf Digest and Golf World from 1982 to 1999, a heady period in which he brought those magazines (and several other print titles) to maturity and prosperity. His tenure coincided almost perfectly with golf's biggest boom period, when millions took up the game and every facet of it--pro tours, course construction, resort travel, equipment manufacturing and apparel--exploded. TV coverage expanded and print media grew tremendously. FitzGerald, whose publishing background was in sales, was the right man at the right time. His knowledge, energy, leadership and deep understanding of the game and its people fueled his shaping of Golf Digest's business.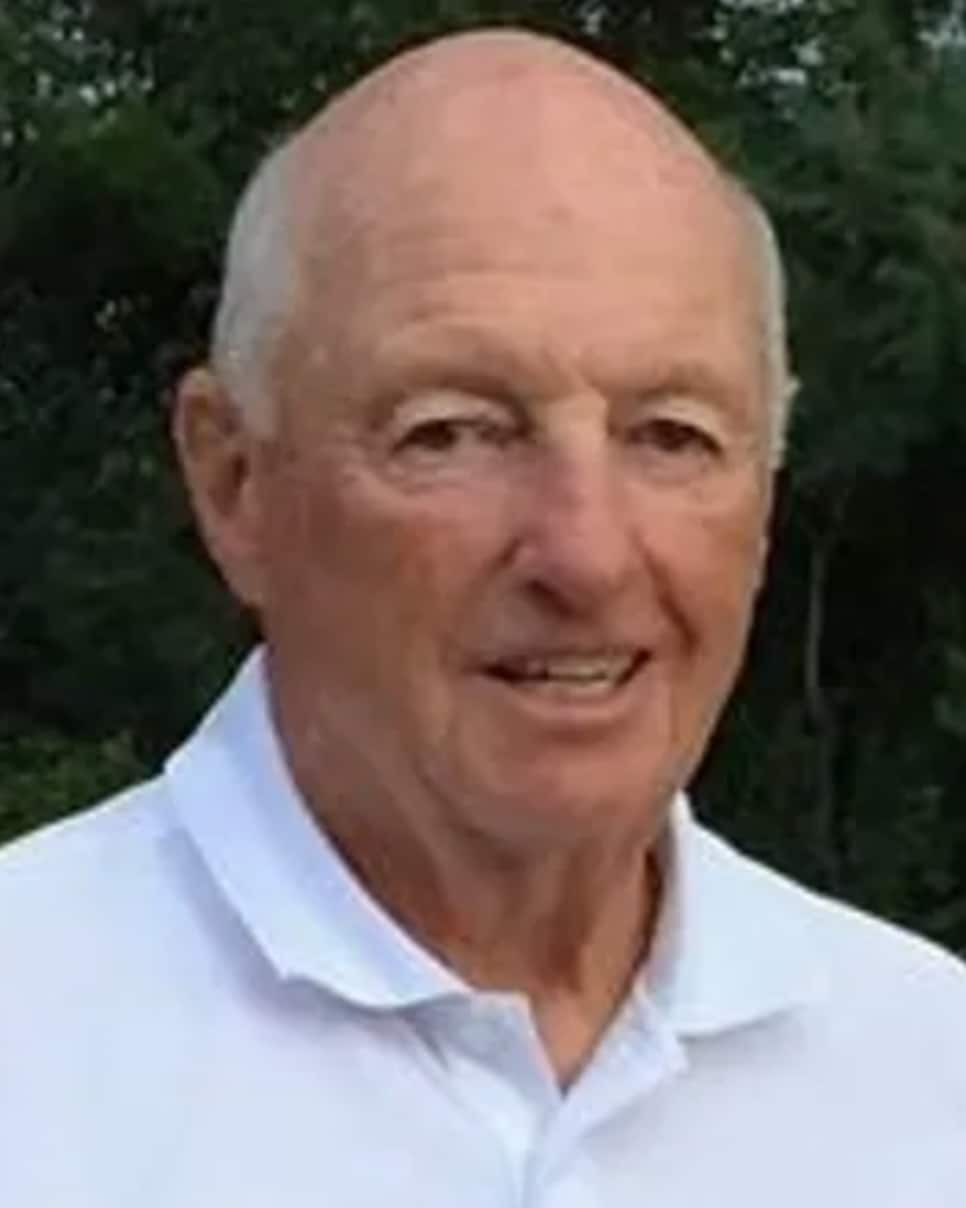 Jerry Tarde, Golf Digest's Editor-in-Chief who worked with FitzGerald from the time he arrived in 1977, sums him succinctly: "If Jay FitzGerald wasn't the best salesman ever to work in the golf industry, he made it into the sudden-death playoff. Jay had the unique ability to turn you upside down and shake every nickel from your pockets and still leave you laughing along with him. He was a publishing legend, not just in golf, at the height of the magazine business in America. He also was as good with the long putter as any pro I've ever seen." Max Adler, our Editorial Director, recently returned from playing the Country Club of Troy Invitational, a prestigious stroke play amateur event. "All the veteran members up there wanted to talk about was Jay FitzGerald, who competed in the Invitational many times and clearly left a strong impression."
An obituary penned by a family member recounts FitzGerald's life beautifully. He grew up in upstate New York and originally planned to follow in his father's footsteps as a lawyer. He attended Fordham University and played sports there, then enrolled at Albany Law School. But somewhere early on he began selling ads for the Democrat and Chronicle newspaper in Rochester, N.Y., where his business acumen and flair for selling took hold. In 1964 he moved to Chicago and in 1967 went to work for Golf Digest. It's worth noting that while in Chicago, he joined Olympia Fields Country Club and won the stroke-play championship there seven years in succession. His competitiveness at golf—and landing advertising accounts--was likened by Golf Digest's founder, Bill Davis, to that of another Fordham alumnus, Vince Lombardi.
Shortly after Golf Digest was purchased by the New York Times in 1969, FitzGerald and his burgeoning family (he had three children, daughters Suzanne and Meghan, and son, Jay), moved to Connecticut, where he eventually led the company's sports titles. He joined Winged Foot Golf Club and not only was one of the elite club's better players, but eventually served on the board there.
FitzGerald was an outsize and charismatic character. In repairing to the bar after golf, he never sat. He always chose the L-shaped corner of the bar nearest the entrance, where friends, colleagues and golf people would see him and instinctively crowd near him. There, Jay would hold court, left arm extended with palm flat on the wood. In his right hand he clutched a mug of beer with a certain Irish flourish. The stories he told were always compelling, often quirky and sometimes containing just the right amount of exaggeration. Among his best: How Richie Karl of En-Joie Golf Club in New York burst from the pro shop to win the 1974 B.C. Open—the last club pro to accomplish such a thing. And the time he was playing with a doctor and another man who accidentally swallowed a bee that was in mid-flight, and how the doctor charged to his side, seized a flask of gin from his bag and had the man chug it. The man immediately got sick and up came the gin and the bee. When the golfer complained, the doctor told him he was damned lucky he was there with the gin, because usually the bee stings when you swallow, and how your throat closes up and how it can be fatal because, in Jay's words—you…can't…breathe.
He was full of stories, but others told stories on Jay, too. A legendary one shared by our own John Barton is of the time The New York Times opted to sell its golf magazine in the United Kingdom, also called Golf World. They put the sale entirely in FitzGerald's hands and he soon attained a sale price so stupendous that when he reported the number to his bosses at corporate, they gulped and said, "Is that in dollars or pounds?" Jay's reply: "It doesn't matter."
My personal favorite FitzGerald moment was one scores of people witnessed. It became known as the Sermon on the Third Floor. There was a moment in the late 1990s when Golf Digest was close to being overtaken, both in circulation and profit, by its chief competitor. Rumors came that corporate wasn't all that upset about it, that there was an understandable ebb and flow to these things and being No. 2 wasn't the worst. A mandatory all-hands meeting was called and the conference room was packed. FitzGerald was last to enter and he strode to the front of the room with his barrel chest jutting forward and his ice-blue eyes blazing. Time has eroded the exact wording of the speech he gave, but went something very close to this:
I'm hearing talk that it's alright to be No. 2 and how nice we'll still feel when we stop doing what we've done the last 30 years, which is be No. 1. I'm here to tell you, it isn't all right. I have no interest in being No. 2. We've never operated that way and never will. We want to be the best, period. With all respect to our competitors, it will be a happy day for me when we put them out of business. When I was a kid delivering newspapers in Geneva, N.Y., I could tell business was bad when the morning paper was so small and light it fluttered when I threw it from my bike. It would go only halfway to the porch. One day I watered my batch of papers with the garden hose to give them more heft. Boy, did I get in trouble for that. Anyway, I want our competitor's magazine to be so skimpy, the mailman has to dunk it in a bucket of water just to throw it to the front door. I want our issues to be thick and so good, the mailman needs two hands to lift it. You all have it in you and you have the means and support to get it done, so let's get after it.
The applause was wild. Everyone was fired up. For weeks after, lunches were a little shorter. There were fewer hallway conversations. The sound of typing from the offices seemed louder. Prosperity followed. I always wondered if Jay didn't plant the rumor just to create the whole inspired thing.
His short, Doug Sanders-like swing produced killer accuracy and surprising power. He became especially dangerous when he switched to the long putter and could wear you out with advice on how to use it. After he retired from Golf Digest in 1999 and had time to work on his game, he became a beast. He was medalist at the U.S. Senior Amateur in 2000 and won the American Society of Seniors Championship the same year. He played in the British Senior Amateur several times and was a five-time senior club champ at Winged Foot.
For all his fierceness in golf, he had a self-deprecating manner that was charming. Once he was paired with a fine player in an important four-ball event. On the first hole, FitzGerald missed a four-footer for par that would have won the hole, then missed the two-footer coming back. He looked at his partner and said, "How do you like me so far?"
In retirement, Jay lived his best life in Florida with his wife, Karen. They glowed when they were together. Karen's family publicly thanked Jay for being good to her over the years. She in turn nurtured him during his long battle with the cancer that eventually took his life.
At the tribute to Jay Fitzgerald at Winged Foot, attendees no doubt will raise a glass to the unforgettable man. Elsewhere, friends will find a spot at the L-shaped corner of a bar and hoist a mug of beer toward the sky. I for one will be standing when I hoist mine.