The Loop
Jason Dufner makes a bid for his first major, leaves Merion with tough emotions
ARDMORE, Pa. -- Start the day at eight over, tee off more than two hours before the leaders, shoot 67 and backdoor into a tidy T-4 at the U.S. Open. Sounds nice, right? Don't be fooled by the box score. Jason Dufner left Merion Golf Club fighting back tears. In his mind he'd thrown away the tournament.
"This is going to hurt him," said wife, Amanda, waiting outside the scorer's tent.
"This isn't going to hurt him," quickly snapped his caddie, Kevin Baile. "He's going to win a major this year." But Baile bore an even sicker look than Dufner had as he walked into the tent.
Only in the most singular of circumstances does a golfer ever grow disgusted by how purely he's hitting the ball. This was the sad case of Dufner his final three holes. He had made just one bad swing on the day, a pulled tee shot that went out-of-bounds at the finicky 15th hole, leading to a triple bogey. Every perfect strike from thereon after was a stinging reminder of how costly that error was. It was his day. He'd woken up swinging well enough to shoot 64 or 63, easily.
"I had tons and tons of birdie putts inside 10 feet. I don't know the exact number," said Dufner, a playoff loser to Keegan Bradley at the 2011 PGA Championship, and a 36-hole leader at last year's Masters.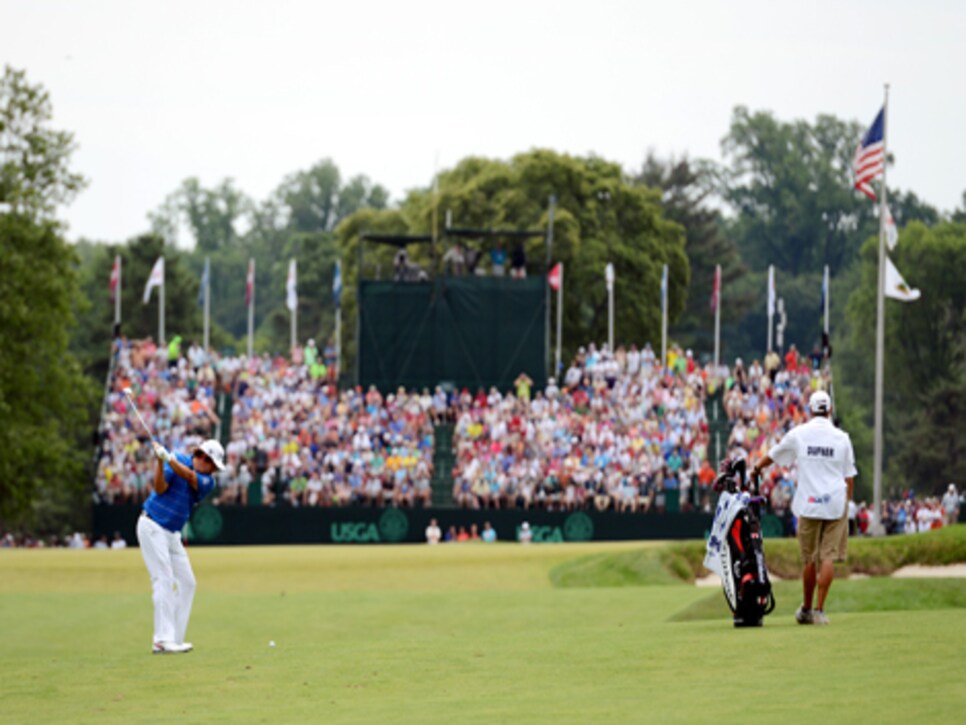 Dufner hits his approach to the 18th green. He just missed a birdie putt that would've been the only birdie of the day at Merion's home hole. Photo: David Cannon/Getty Images
After the triple, he immediately bounced back by holing a 20-foot putt for birdie at the 16th. Then his 12-foot birdie chip on the 17th grazed the cup and settled an inch from the hole. The normally deadpan Dufner raised his wedge in the air dramatically and gasped "Oh my God" when the ball didn't drop.
To finish, he didn't do anything more than rip a tee shot 310 yards down the center cut of the fairway and then connect a long iron to 12 feet. That birdie attempt would also just miss, but by then it was a little too late. He ended up finishing T-4, and four shots back of Rose's winning number.
"It's a tough tee shot," Dufner said of the 15th. "The wind is pushing the ball to the bunkers where you don't want to be. Then you've got out-of-bounds literally one pace from the fairway, which is a little unnerving. It's the kind of hole that you feel like you want to push at it off the tee, because the green is very severe and it could be one of your last realistic birdie chances. But as I learned today, you can definitely pay the price for pushing it."
The 15th produced 18 "other" scores, more than double the amount of any other hole. It's where Sergio Garcia hit three tee shots out-of-bounds en route to a 10 on Saturday when he played the rest of the course in one-under par.
After signing his card, Dufner kissed his wife and told her one word: "Media." Head down, he waited in complete silence for a technical difficulty with a TV camera to get sorted. Then he was led 10 feet in front of another camera. At this point the leaders were making the turn and bouncing around both sides of even par. But Dufner seemed to know better than any of the reporters what his total of five over meant.
With puffy eyes, he held it together for two last thoughts. "I've had some tough finishes in majors and I'd really like to win one. If you don't take the chances you never know."