The Loop
Jason Day's No. 1 goal is to remain No. 1 in 2017 and beyond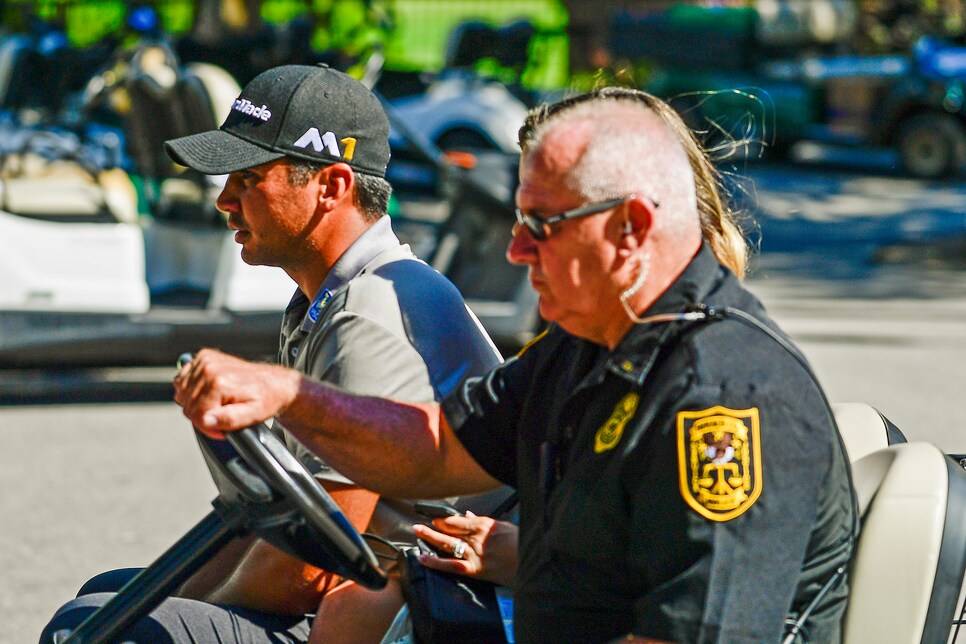 KAPALUA, Hawaii – One of the great things about great players is their ability to suppress any sense of satisfaction. It transmutes into complacency, and little can be accomplished when that germ invades the host.
Jason Day, the No. 1 player in the world the last 40 weeks, obviously has the tools to accomplish many things in 2017, and, more importantly, his time atop the golf pyramid hasn't diminished his desire to pursue them. Forty weeks is impressive in this latest era of parity. Day's 44 total weeks match the reign of Nick Price and is the second-highest total for an Australian behind Greg Norman. Among today's contenders, Rory McIlroy, currently No. 2, leads at 95 weeks. Jordan Spieth held the top spot for 26 weeks.
As he embarks on his first tournament since withdrawing from the Tour Championship more than three months ago, Day can think of nothing but extending his run. He tees it up Thursday in the SBS Tournament of Champions at Kapalua Resort not only refreshed but also famished. He hungers for achievement, not satisfied with 10 PGA Tour victories, including the 2015 PGA Championship.
And at the top of his list is remaining at the top of the list.
"I think the biggest thing for me, obviously it's great to see that you finished No. 1 at the end of the year. But I'd like to go a full year, not just go half a year and get to it and finish at No. 1," Day said Tuesday at the Plantation Course. "Even though it's great, I'd like to go a full year and then just slowly build on that.
"It's great that I went however many weeks from the middle of last year to keeping number one. But you've got to shoot for something bigger. When you reach a goal, you have got to re-evaluate things and try and shoot for something a lot tougher."
Tougher and bigger would be 331 weeks at No. 1, the duration of Norman's conquest of the golf world. And out there a long way off is the 683 weeks Tiger Woods ruled. Do the math and you comprehend the years necessary to surpass Norman, who is Day's primary target.
Staying healthy certainly would benefit the 29-year-old Aussie. A recurring back injury, among a number of maladies he has battled throughout his career, seized up again during last year's FedEx Cup Playoffs, and eventually Day had to shut down his season for rehab. He comes to Kapalua refreshed as well as rehabilitated.
Winning, of course, fuels status on the world rankings, and it's strange to think that Day hasn't won a tournament in seven months, since his impressive wire-to-wire victory at the Players.
"Yeah, seven months, it really is a long time," said Day, who hadn't thought about it until the subject was broached. "Once again, I'm just trying to get stuck back into the process, trying to get better. I feel better about my body, feel better about my game, feel better about my swing. I feel better mentally than I did the second half of last year, so I'm hoping for very good things this year."
Honestly, hope doesn't figure in the equation. Day is equipped with raw talent, knowhow and work ethic. He might have touched a club only twice in the last three months, but he crushed it in the gym at home in Columbus, Ohio. And he has a plan to stay healthy by shortening up a swing that had become too long and exacerbated his back problems and possibly, he thinks, contributed to a left thumb injury in 2014 that he feared could end his career.
In the main, Day used his three-month forced sabbatical to assess his vast arsenal. That had to feel good. But he also came to a realization: what he's accomplished thus far has required plenty of sacrifice. Perspective. That's a weapon, too.
"The three months was really about obviously to rehab the back but also kind of rehab the mind," he said. "Being No. 1 in the world is not easy. Winning and all that stuff is what we strive for, and to try and be the best. But I think over the last three months I really learned that I need to try to be open about things and how hard things can be as you're trying to be the best in your sport."
That he yearns to remain the best can only lead to better things.