The Loop
Jason Day's Masters statement, Britney Spears' backyard golf course, and a special guest stops by
Welcome to another edition of The Grind, where we're glad the golf event with the most March Madness-y feel is actually in March this year. With the WGC-Dell Match Play's move to this week, golf fans get a chance to atone for all those busted basketball brackets and to watch another two-hour selection show! OK, so that was a bit much, and the addition of pool play last year brought the end of filling out an entire bracket. . . but this is still one of the most fun tournaments of the year. Maybe we'll see two golfers nearly come to blows again! And when else do we get to hear the phrase, "the vagaries of match play"? But there are plenty of other things, vagaries included, to talk about first. Let's do it.
__Jason Day: __ With his wire-to-wire win at Bay Hill, Day went from "struggling" superstar to Masters favorite. Jordan Spieth may still be No. 1 in the world, but the Aussie was King for the Day.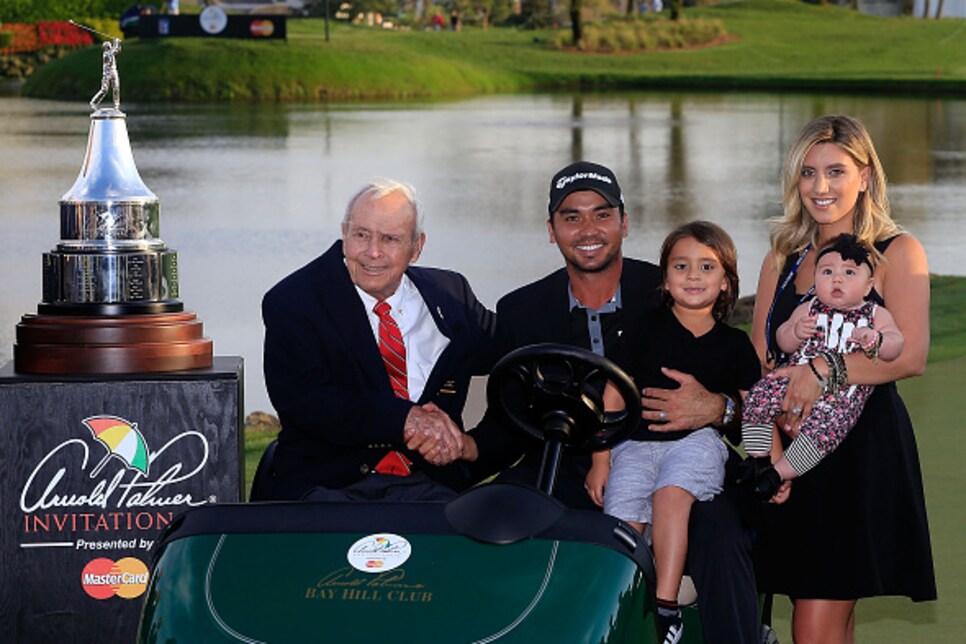 Get it? I thought of that myself! OK, maybe I should have kept that one to myself…
Wesley Bryan: We saw an even more sudden transition on the Web.com Tour, where Bryan went from trick-shot artist to likely PGA Tour pro with a win at the Chitimacha Louisiana Open. He and older brother George, the other half of the trick-shot tandem the Bryan Bros, then went out for a celebratory dinner at Taco Bell.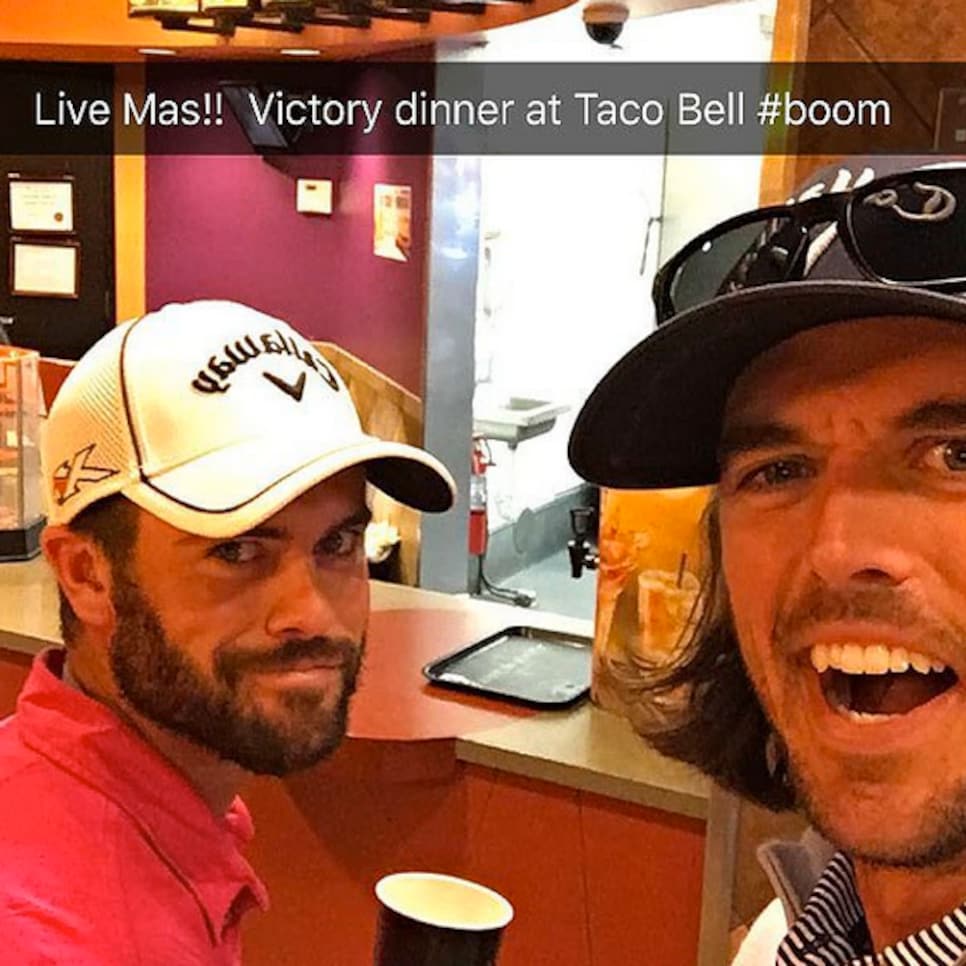 Sei Young Kim: The South Korean star shot a final-round 62 to win the JTBC Founders Cup and tied Annika Sorenstam's LPGA scoring record by finishing 27 under par for the tournament. Kim beat Lydia Ko by five shots and said this after: "I didn't know what I shot until I added my scorecard." Talk about being in the zone.
Rory McIlroy's puzzling: McIlroy was in a different type of zone at Bay Hill. He had another up-and-down performance on the course, but off it, we discovered that addition to being a golf phenom, he's also a puzzle prodigy. Check out the 1,000-piece one he completed in about a day:
__ Tim Hart's strategy: __ Northern Iowa's collapse against Texas A&M in the NCAA Tournament got all the attention, but there was an almost equally shocking finish on the PGA of Australasia. With a three-shot lead on the final hole and needing a par to shoot 58(!) or a bogey to shoot 59(!), Hart pulled driver – and pulled it OB. The Aussie made triple bogey for the most disappointing 61 in pro golf history and wound up losing in a playoff. Rough.
Ha Na Jang backlash: Apparently, many South Koreans are upset with the rising LPGA Tour star because of her Beyonce victory dance a few weeks ago. Now most of this stems from her exuberant celebration while the popular In Gee Chun sits out with an injury sustained in an airport accident that involved Jang's dad (Seriously, this is a true story). Still, it's funny that the country that brought you Psy's "Gangnam Style" dance has a problem with Jang shaking a leg on the course.
Pro golf high fives: Another week, another one butchered by a tour pro and his caddie. This time, it was Troy Merritt and Scott Sajtinac, who sullied this fantastic bunker hole out with a sloppy celebration.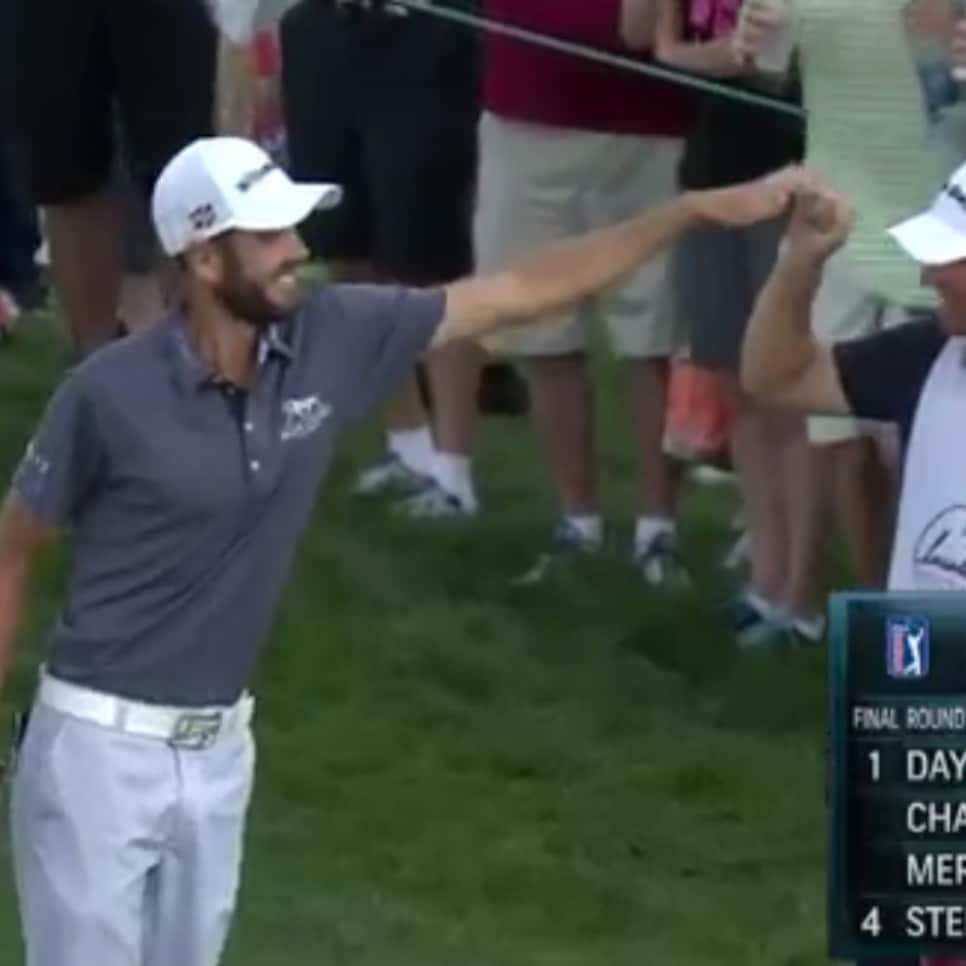 Bandanas: What's less cool than golfers looking silly doing high-fives? Golfers wearing bandanas. That's the look Tommy Fleetwood went with at the Hero Indian Open.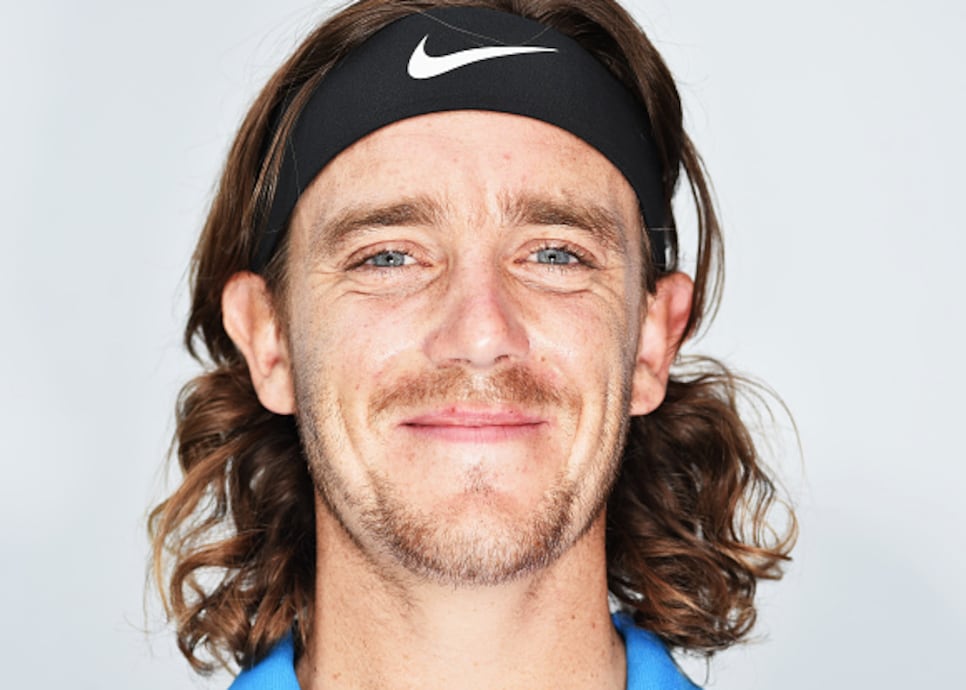 Did Fleetwood steal that from Rafael Nadal? Even worse, he went with a white bandana in the first round. Let's hope this fashion statement goes the way of the "Buff."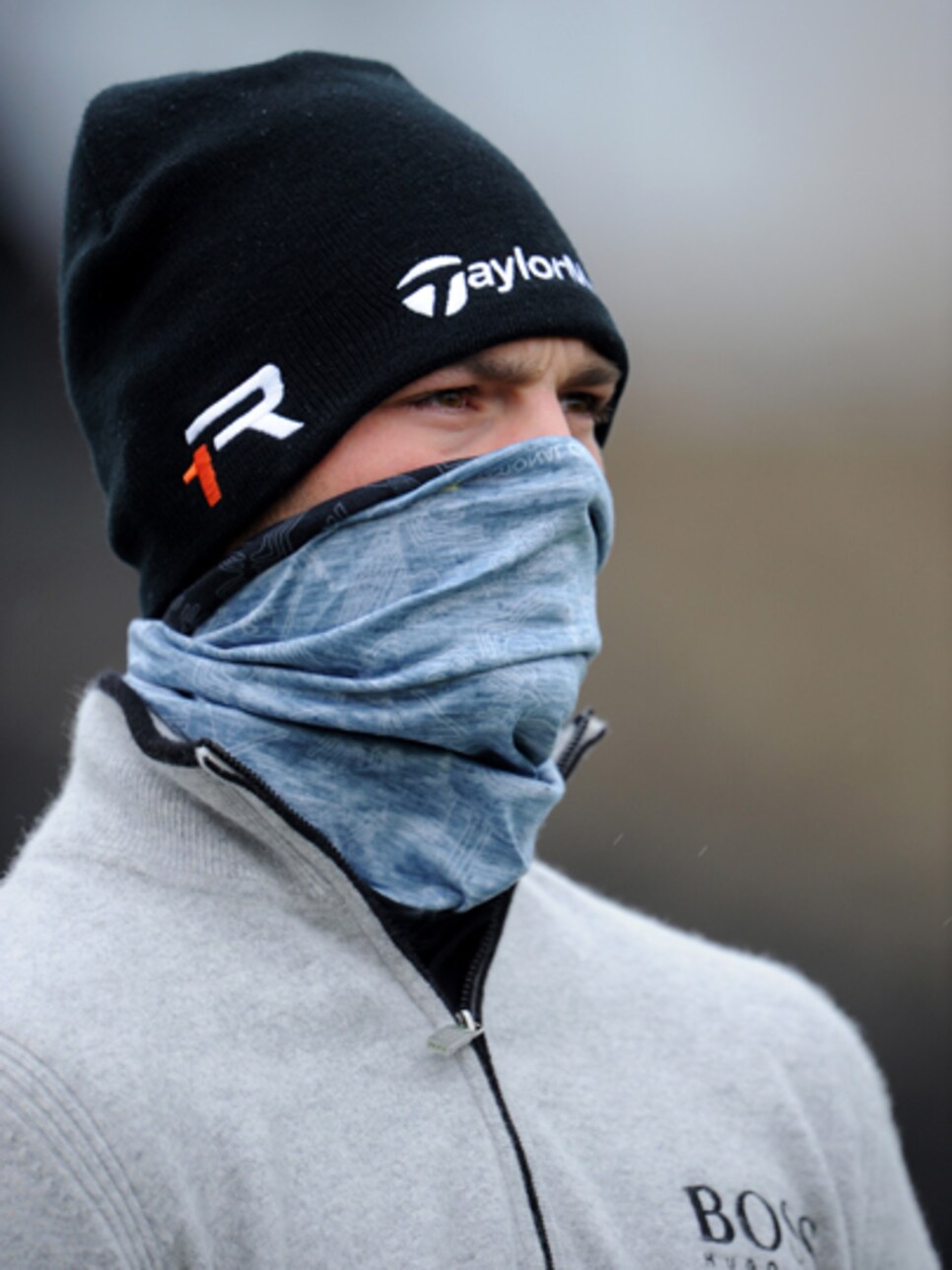 The PGA Tour's best head to Texas for the WGC-Dell Match Play. The PGA's rest head to the Puerto Rico Open. There are worse places to go play golf for money.
Random tournament fact: Austin Country Club, which will make its debut hosting a PGA Tour event at the match play, is located near the Percy V. Pennybacker Jr. Bridge (Actual name). You will see this bridge a LOT during TV coverage.
RANDOM PROP BETS OF THE WEEK
-- Phil Mickelson will wear a bandana: 1 MILLION-to-1 odds
-- We'll see all the No. 1 seeds advance: 100-to-1 odds
-- You will get sick of hearing about the "group of death": LOCK
Yep, that's Kid Rock and an unusually happy Bill Belichick hanging out. At Tiger Woods' restaurant. Good times.
Jordan Spieth's new commercial for ESPN SportsCenter that also features his caddie, Michael Greller, is pretty good:
What a team these two are, huh?
VIRAL VIDEO OF THE WEEK (NON-COMMERCIAL DIVISION)
Check out this kid's short game, and more importantly, his fantastic dance moves:
"It's a little different because for me I'm not as popular as those guys and I understand that. I'm kind of a boring person whereas Rory is really -- I mean Rory, Rickie are very popular. They're the popular kids in school. Jordan is getting that popular, starting to become a lot more popular, and I'm just a nerd in the back, which is fine (laughter)." – Jason Day. Yep, just a "nerd in the back" with a gorgeous golf swing, a more gorgeous wife and millions in the bank.
THIS WEEK IN CELEBRITY GOLFERS
OK, so calling Britney Spears a "golfer" is a bit of a stretch. But the pop star does own a mansion with three backyard greens, and she seems to be doing her part to grow the game:
Spears has been accused of touching up photos of herself lately, but as for her three backyard golf holes? They're real. And they're spectacular.
THIS WEEK IN PRO GOLFERS WHO ALSO DOUBLE AS MODELS
Or "this week in Sara Winter showing off her incredible balance." Check out the former finalist for Miss Universe Canada taking a full swing in full heels:
THIS WEEK IN TOUR PROS BEING TOUR PROS
Nothing to see here! Just the two best in the world in their respective sports hanging out:
We're with Steph, though, on the five shots. That sounds like him only spotting Jordan an "H" in a game of H-O-R-S-E.
Woody Austin won his first PGA Tour Champions event. More impressively, the victory comes less than three years after winning his last PGA Tour title at 49. . . . Last week, Jordan Spieth and Lexi Thompson went to NYC to promote the Drive, Chip and Putt Championship and this week, NBC/Golf Channel announced Michele Tafoya will announce the competition. This event just keeps getting bigger and bigger. . . . Bill Murray's son, Luke, an assistant coach at Xavier, says he's never watched "Caddyshack." That's just bad parenting right there. . . . You are not allowed (for now) to enter daily fantasy contests for money if you live in New York, which means I won't be able to go for the DraftKings $1 million prize for the Masters. Thanks a lot, government. You basically cost me a million bucks. . . . In happier news, I had the pleasure of being joined in Golf Digest's NYC office by Chelsea Pezzola, who I featured a couple weeks ago: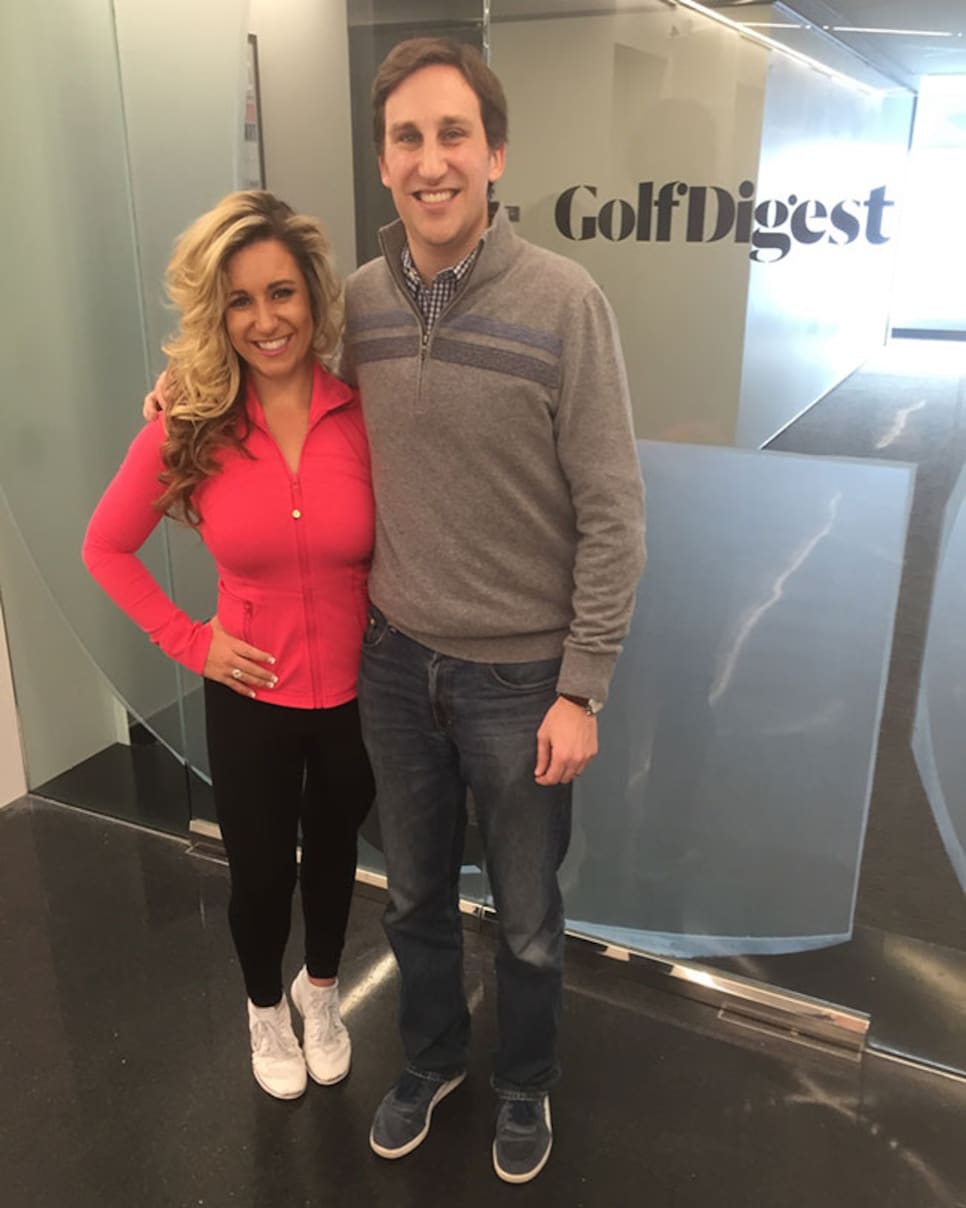 That's the kind of pull The Grind has.
RANDOM QUESTIONS TO PONDER
Who will stop by our office next?!
How did Northern Iowa lose to Texas A&M?
Does Stephen Curry need a caddie this summer?