The Loop
Jason Day's dominance, Patrick Reed's belt buckle, a cart girl dilemma, and the legend of Shooter McGavin
Welcome to another edition of The Grind, where we're honored to have witnessed true greatness last week. What a performance by an unstoppable force demolishing his bracket on the way to a title. Shooter McGavin won Barstool Sports' Tournament of Villains with a display of dominance that Tiger Woods or the UConn women's basketball team could only dream of.
Wait, did you think we were talking about Jason Day? Please. While Shooter cruised, Day actually had a couple tough matches. And did Day take down Ivan Drago, Jaws, or Hannibal Lecter in his tournament? Didn't think so. But in addition to Shooter's legend growing, there were a lot of other things that happened in golf. I guess we should get to those, too.
__Jason Day: __ What can we say? The guy is pretty good. With a second win in this event in three years, Day has now won six of his last 13 tournaments, including a major, a WGC and two FedEx Cup Playoff events. Back to No. 1 in the Official World Golf Ranking, the man who frequently gets advice from Tiger Woods is doing Tiger-like things. And he might not have taken down Drago, but he did end Rory McIlroy's 12-match winning streak to preserve his mentor's record.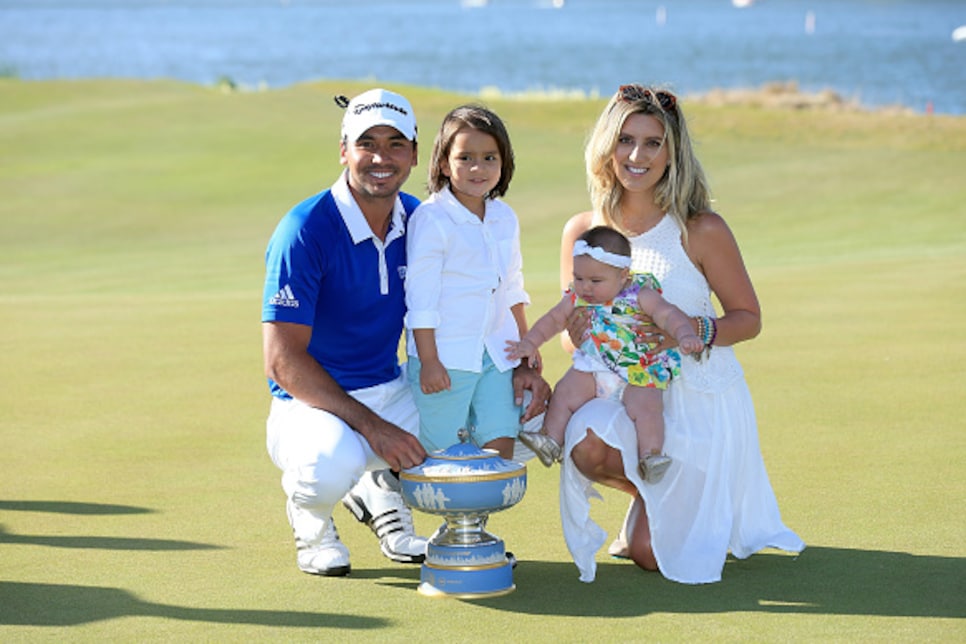 Tony Finau: Last week we talked about blown high-fives and bandanas bringing down golf's coolness factor. This week, we got a winner who can dunk. Congrats to Tony on capturing his first PGA Tour title – and take that, other sports.
Lydia Ko: In picking up her 11th career LPGA title at the Kia Classic, Ko now has as many wins as all other pre-19-year-olds in tour history. We can't even call her a phenom anymore. She deserves her own category.
"Snack" drones: Is there anything more annoying than being thirsty/hungry and having to hope you'll cross paths with the beverage cart girl? Well, a course in Japan is trying to solve that problem with drones that will deliver snacks on the course that have been ordered on your smartphone. Of course, this also means fewer beverage cart girls. So this might present conflicting emotions for some.
Patrick Reed: From a movie villain in Shooter McGavin to a real-life one in Reed. The brash tour pro is now wearing a belt buckle that commemorates his most controversial on-course moment, that "shush" to the crowd at the 2014 Ryder Cup.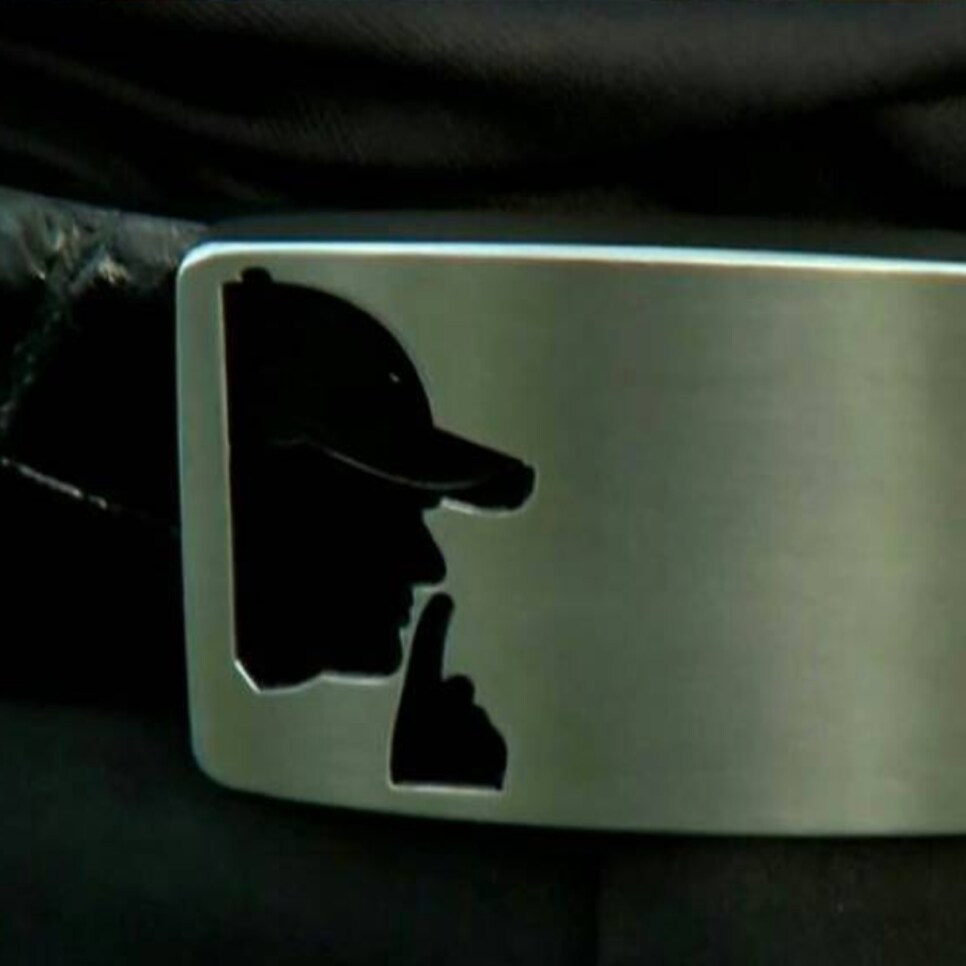 If you're going to wear that, you can't get dusted in the round of 16. Oh, who are we kidding? The belt buckle is awesome. Are there any extras?
__ Dangerous flop shots: __ And by "dangerous," I don't mean trying to pull one off with a tight-lie with water in play. I mean dangerous as in, someone could get hurt. Check out the amazing/terrifying shots these friends pulled off:
John Daly's claret jug: A chance to own John Daly's claret jug? This sounded incredible at first. Then you realize it was one of two replicas made for Daly after he won the 1995 Open Championship at St. Andrews. And that it's going to cost you $28,000(!) and counting. Not worth it.
Tim Herron's acting: This PSA from Minnesota golf to buy golf-themed license plates is just brutal:
Then again, if it wasn't so bad, we probably wouldn't be talking about it right now. Perhaps, this was Lumpy's plan all along? We take it back. Lumpy is an acting genius.
The PGA Tour heads to the Shell Houston Open, aka the last chance for someone to qualify for the Masters.
Random tournament fact: The winner has been 15 or 16 under par and won in a playoff or by one shot the past four years. Not sure what any of that means, but it certainly falls under the category of a random tournament fact.
RANDOM PROP BETS OF THE WEEK
-- I will let a friend hit a flop shot over my head: 1 MILLION-to-1 odds
-- Jason Day will win the Masters: 7-to-1 odds (actual odds, now a co-favorite with Jordan Spieth and Rory McIlroy)
-- The only full swings Tiger Woods takes at Augusta National this year will be on his simulator: LOCK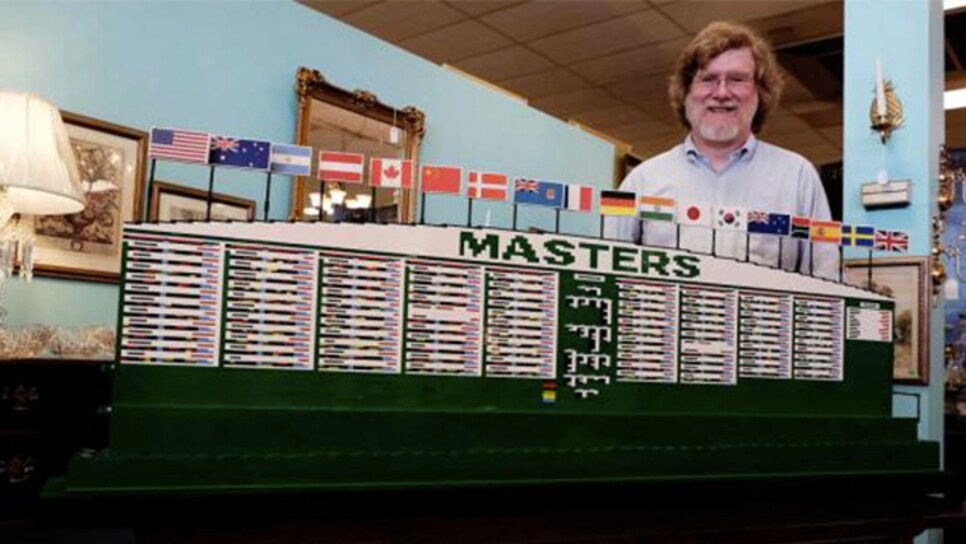 That's a replica of the Masters leader board. Made from 40 pounds of Legos. The same guy, Andy Duckett, also made this beauty a couple years ago: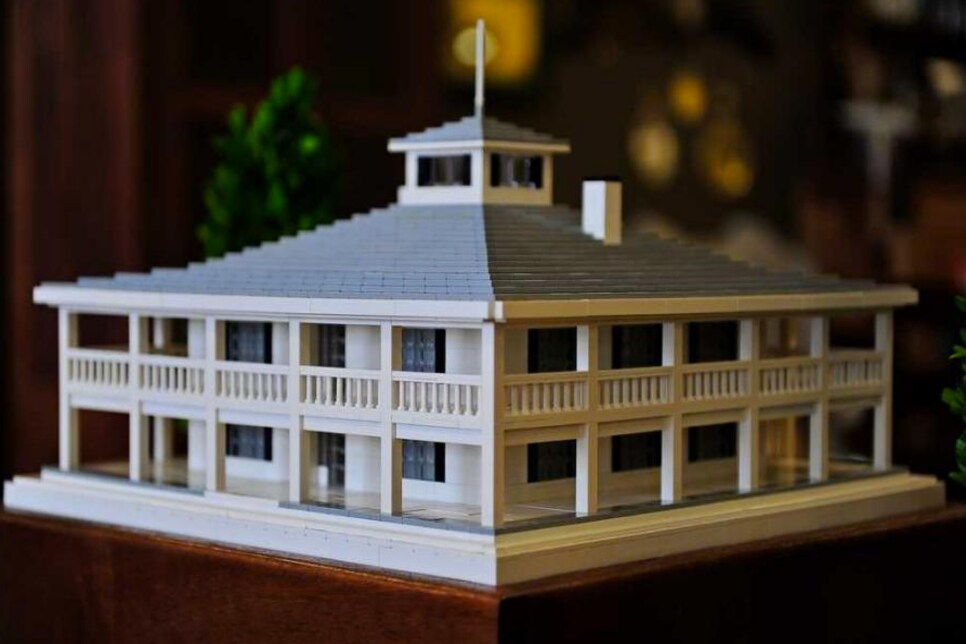 As someone who couldn't do anything other than stack Legos as a kid, this is extremely impressive.
Apparently, Hudson Sutler, a company that makes bags, is not happy about the garment bag that accompanies the green jacket. The company has offered to furnish any past or future Masters champ with one of their own, and as you can see from this video, they take this matter really seriously:
"I've been working very hard on that short game and on the greens I just felt like I could hole anything." – Jason Day. What size jacket does he wear?
THIS WEEK IN DUSTIN JOHNSON-PAULINA GRETZKY KEEGAN BRADLEY-JILLIAN STACEY PUBLIC DISPLAYS OF AFFECTION
Last year, Keegan Bradley nearly came to blows with Miguel Angel Jimenez at the WGC Match Play. This year, he spent the week lounging in a tropical paradise with his fiancé instead. Advantage: This year.
THIS WEEK IN CELEBRITY GOLFERS
Indianapolis Colts punter Pat McAfee told an incredible story from a golf trip he took with Peyton Manning. The legendary QB walked through the casino where they were staying one night, hinted to everyone sitting at McAfee's roulette table they should bet on 18, his number, then walked out and went to his hotel room. The number hit and the table cleaned up. As if that wasn't a good enough tale, McAfee said he told Manning the number hit when he saw him at the course the next morning and the legendary QB just responded, "I know." Here's the entire clip:
Peyton must be one heck of a poker player.
THIS WEEK IN PAIGE SPIRANAC BEING PAIGE SPIRANAC
Check out Paige learning how to hit a stinger with a 3-wood:
And getting very excited about pulling it off: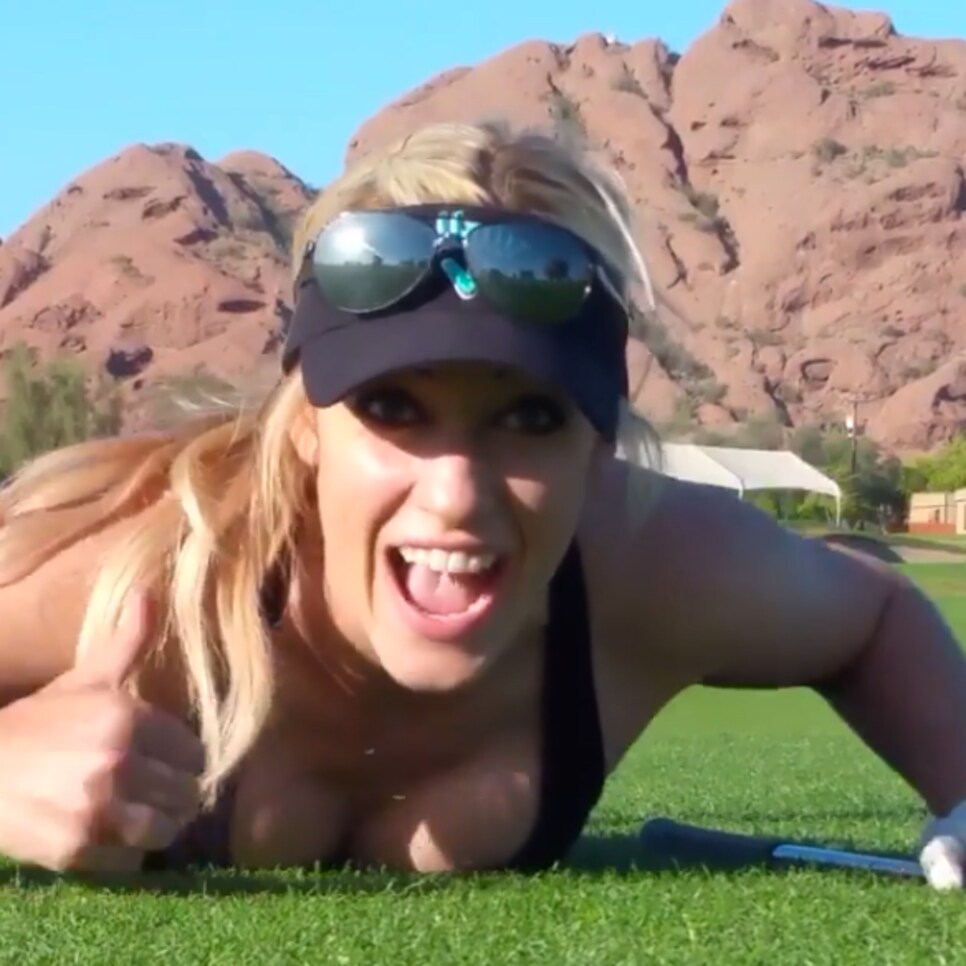 THIS WEEK IN TOUR PROS BEING TOUR PROS
Before the Match Play started, you had Sergio Garcia and Andy Roddick playing a different kind of match: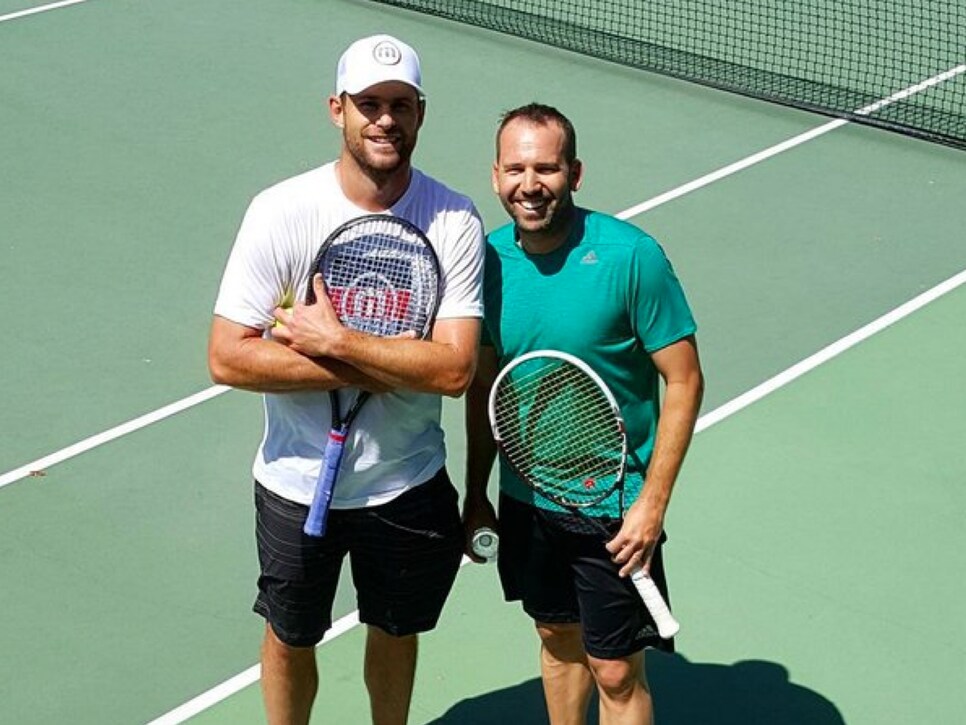 And that boat party Jordan Spieth and Rickie Fowler attended once they were eliminated looked pretty fun:
"Captain Rick" might stick as a nickname for Fowler.
Amateur Sam Johnston went quintuple-bogey, albatross on back-to-back holes during PGA Tour Canada Q School. The golf gods have a funny sense of humor, don't they? . . . And another guy made an albatross and a hole-in-one in the same round! OK, so it was the Golden Tee World Championship, but the feat still won Andy Haas the title and $10,000. . . . And in case you didn't know, the Masters is next week. That means golf's finest will compete at Augusta National during the day and by night, Golf Digest's finest will compete at ping-pong. And I've got a secret weapon this year. My own table: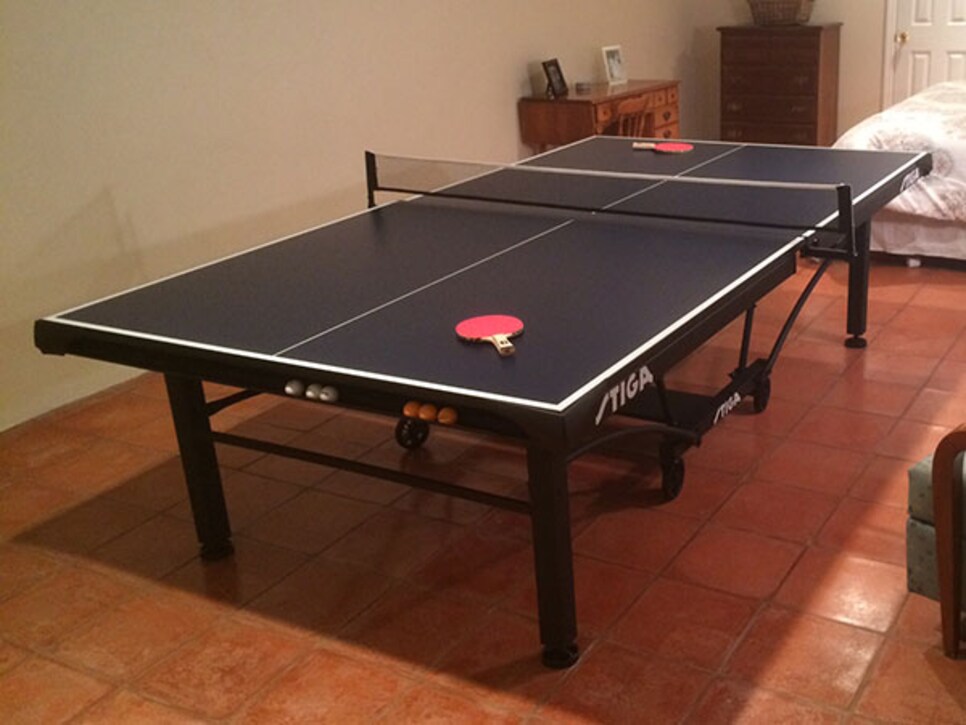 RANDOM QUESTIONS TO PONDER
How many points could I get off Matt Kuchar?
Who would win a PGA Tour dunk contest?
Is Peyton Manning free July 4th weekend?