The Loop
Jason Day talks Ohio State football on eve of Tournament of Champions
KAPALUA, Hawaii - Laura Jones said that she couldn't help herself; she just had to know if Jason Day was on top of his game. Or, maybe, THE GAME.
The wife of Mike Jones, the director of golf at Kapalua Resort, Laura happened to spot Day as he was making his way through the crowd at the Plantation Course during Thursday's Pro-Am for the Hyundai Tournament of Champions. So she shouted at him.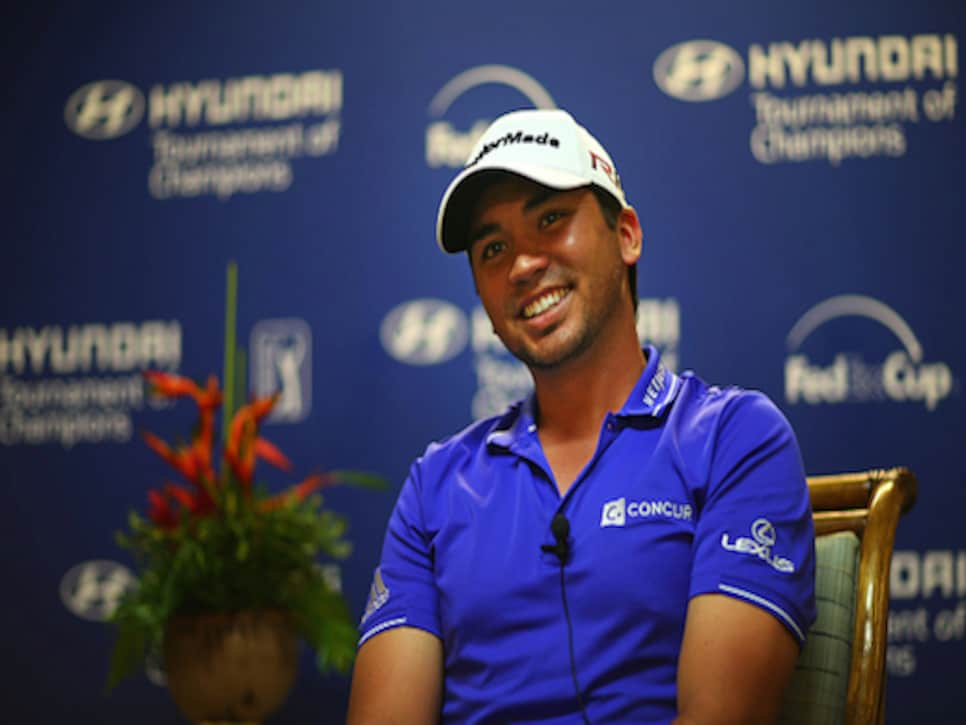 "I yelled O-H'," Jones said with a laugh, "and he turned around and shouted I-O.' So I knew he was a Buckeyes fan."
"O-H-I-O!" There might be a few of those shouts echoing across the fairways this weekend as the Buckeyes prepare to face Oregon in Monday night's college football National Championship Game. Matt Minister, who caddies for Sang-Moon Bae, is a Columbus, Ohio, native and OSU fan (and, full disclosure, your humble scribe lives in Ohio's capital city).
Obviously, Jones likes the Buckeyes, too, courtesy of her father, who is a longtime, passionate Ohio State follower. However, her mother is a Michigan fan, so she has to temper her enthusiasm for scarlet and gray each November.
Meanwhile, one of Day's fellow competitors this week, Ben Crane, is an Oregon native and attended the University of Oregon. Do we smell a side bet?
Day, 27, has only recently been introduced to the phenomenon of American college football. A native of Australia, the two-time PGA Tour winner moved from Dallas to Columbus, Ohio, a few years ago so that his wife, Ellie, could be closer to her family in Cleveland. Day practices out of Muirfield Village Golf Club, home of Jack Nicklaus' Memorial Tournament.
The final round of the Hyundai Tournament of Champions is scheduled to finish around 8 p.m. EST Monday, about a half-hour before the kickoff of Bucks vs. Ducks.
"That's going to be an exciting game," Day said of the upcoming showdown, which happens to be in Dallas. "I'm looking forward to catching a bit of it."
Day, who attended his first Buckeyes game in 2013, a 42-7 win over San Diego State, then proceeded to offer a short dissertation on the Buckeyes. It became apparent that he has become quite immersed in American sports, generally, in fact.
"… It's amazing what they have done with the team, especially with the injuries we've had."
"With Braxton and the second‑string quarterback we had [T.J. Barrett]. You know, it feels like we have about 85 quarterbacks on the team, which is nice. And you know, good running team that can beat on deep passes. So I think we're going to give Oregon a good run for their money, but Oregon is a tough team. Marcus [Mariota], the Heisman winner this year, is an unbelievable quarterback, and you know, very fast‑paced, quick Oregon team."
You're able to talk America football?
"Does it sound like I can talk?" Day asks, sounding rather proud of himself. "Because I was just talking bull crap. I just made that up in my head.
"If you are not aware of Columbus … you kind of have to be a Buckeyes fan. Great people, good area to grow up, good area to raise a family and unbelievable college, and I'm glad that they're winning, because we're struggling a little bit with our sports back home."
He doesn't mean back home in Australia.
"The [Cleveland] Cavs [in the NBA] are going to pick it up again, and the Browns ... I don't know what's going on with the Browns," he said. "We'll talk about that later. But I'm hoping the Browns can pick it up. The Bengals are a little bit better. So, anyways …  I can stay here and talk football all day if you want me to. I know more about American sports than I do back home in Australia."
Maybe he does. Or maybe he's, you know, making it up in his head.