The Loop
Jason Day struggles, but wins Arnold Palmer Invitational with late rally
ORLANDO – Jason Day shook the King's hand and picked Tiger's brain. We'd say he had himself a full week.   Fighting his golf swing and the attendant frustrations of losing a lead he had held since Thursday night, Day had to conjure a level of resourcefulness one would expect from a former No. 1 player in the world. He didn't disappoint. He charged like Arnold Palmer. He finished like Tiger Woods.   With a clutch birdie at the difficult par-3 17th followed by a sand-save par routed circuitously along Bay Hill Club's arduous 18th hole, Day captured the Arnold Palmer Invitational with considerably less than his best game. But he certainly displayed his best attribute – resiliency.   "Regardless if you win wire to wire or you win pretty or you win ugly, a win is a win," Day, 28, said after his closing two-under 70 was good enough to beat Kevin Chappell by a stroke for his eighth PGA Tour title. "It's a great feeling and nothing beats winning.   "It does a lot of confidence for me knowing that everyone was asking, 'What's wrong, what's going on, why aren't you playing well?' I just kept on saying to myself, kept on saying to the people, the fans, the media, 'Just be patient, I'm just going through the process, and I'm going to keep working hard.' Things take time."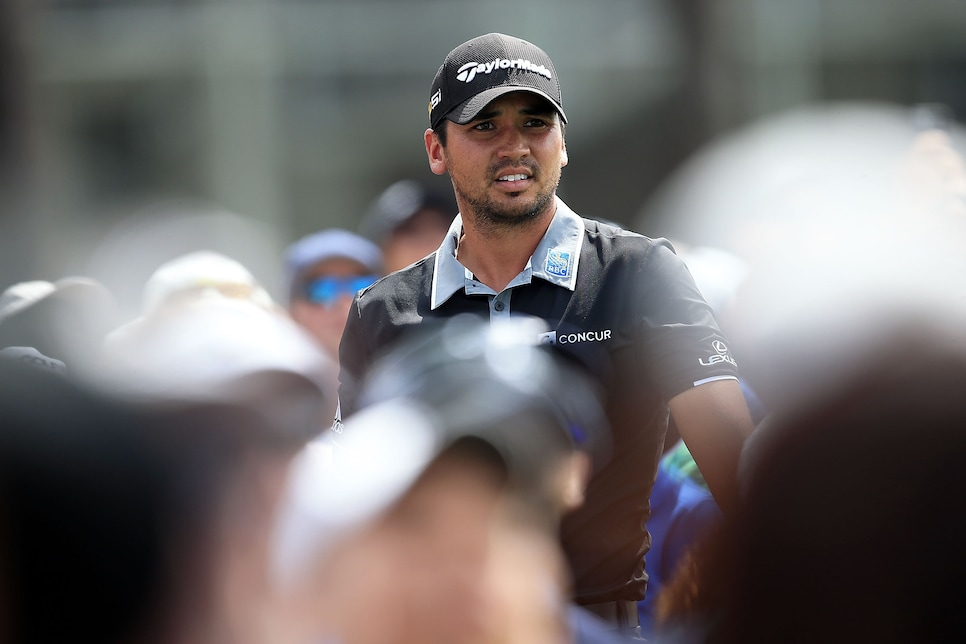 If Day's comments sound similar to those of a certain 14-time major winner and eight-time winner of this event, there's a good explanation for that. Day and Woods lately have become the equivalent of modern-day pen pals. Woods has been sidelined all year by a back injury, but he hasn't forgotten how to win. Day has been peppering his idol with all manner of inquiry. Including early Sunday morning.   "Obviously words of wisdom because he's played well here," explained the muscular Aussie, who moved past Rory McIlroy into the No. 2 slot in the World Rankings. "But to be able to hear what he has to say and his advice and how much he believes in me really means a lot especially coming from the best. And, yeah, I just saw a text from him just as I got out. I didn't get to read it but I know he just texted me and texted me this morning saying just be good."   Woods' advice doesn't sound particularly cerebral or groundbreaking. It doesn't have to for it to be effective. But the bottom line is simple. Don't. Give. In.
"For some reason when he sends the same stuff to me, 'Just be yourself' and, 'Stay in your world' I can finally concentrate. And for some reason it just means so much more, you know, that you can do this and start your own legacy here," Day said. "It gives me so much confidence that a person like that would believe in me, especially as I was idolizing him ever since I was a kid and watching him in '97 win the Masters for the first time and all of a sudden I'm playing the tour and I'm pretty close with him now."   By finishing with a 17-under 271 aggregate total, Day became just the fourth outright wire-to-wire winner of Palmer's tournament, joining Fred Couples, Paul Azinger and Mike Nicolette. Even Woods didn't do that in his eight romps at Bay Hill, though the 2002 edition was close; he shared the first round lead before winning by four.   "I never knew that and I will text him that tonight," Day said with a laugh.   A fifth win in his last 12 starts seems like a decent winning percentage, but Day hadn't triumphed since September's romp at the BMW Championship, when he coasted home after a 63-61 start. No. 3 in the world coming into Bay Hill, Day's apprehension about a drought lasting all of five starts galvanized his resolve.   But on the easiest scoring day of the week, after rains Saturday and early Sunday, Day lacked sharpness, letting not only Chappell into the picture, but also Troy Merritt, making his first start at Bay Hill, and world No. 7 Henrik Stenson, who was hungry after a runner-up finish last year. Each of them had a share of the lead on the back nine, but it came down to Day and Chappell, and Day dug deep to finish like a former world No. 1, a station he achieved briefly last year when he dominated the PGA Championship as part of four wins in six starts.   "It's obviously those things, one of many, why he's been the No. 1 player in the world, why I'm the 150th player in the world," said Chappell, who played exceedingly well despite a sinus infection. "You just can't bogey the last when you're in contention, and hats off to Jason. He played well, real clutch down the stretch."   Clutch indeed. Trailing Chappell by one, he laced a 5-iron to 12 feet and converted just the eighth birdie of the round at 17. Then came his grind-it-out par at 18 that earned him a congratulatory handshake from Palmer and an "atta boy" text from Woods.   Before those pleasantries, however, things got so uncomfortable for Day that he started to feel, well, comfortable.   "There were a lot of emotions and feelings I haven't dealt with ever since the BMW last year. That's a long time to take a lot of those, to miss those feelings and it was great to be able to be in contention, great to feel those competitive juices flowing. It was a very, very rewarding win today.   "I was just saying to myself sometimes … it's so uncomfortable you feel like I want to run away. It's really uncomfortable. Times like that where you go, I can't focus on running away. I have to face this straight on. I got to fight for this win and, you know, the uncomfortable feeling, I know going wire to wire is very, very difficult.
"It's great to win this tournament the way I did but winning this tournament and going forward will help me with my career and future tournaments to come just in the way how I stayed patient and aggressive and hit the clutch shots, and it's kind of a rollover from what I did the second half of last year and that experience that I had last year kind of popped in today and got the job done."   And that's all that matter. Tiger Woods would tell you that.