The Loop
Jason Day reveals he was also plagued by dizzy spell at St. Andrews
KAPALUA, Hawaii – The vertigo-like symptoms that scuttled Jason Day's title hopes at last year's U.S. Open at Chambers Bay returned at the Open Championship at St. Andrews, making his late-season push to his first major title and world No. 1 all the more surprising.
Day, 27, revealed Wednesday at the Hyundai Tournament of Champions that on Saturday at the Old Course last July he suffered another episode of dizziness, though the symptoms weren't quite as severe as those that seized him at Chambers Bay and sent him crashing to the turf at the end of the second round. Day managed to battle through dizziness and nausea to grab a share of the 54-hole lead at Chambers Bay before finishing T9. He got a break at St. Andrews, however, because high winds prevented the field from playing more than a handful of holes that Saturday. Day completed only seven.
The championship ended on Monday with Day finishing one stroke out of three-man playoff won by Zach Johnson.
"I didn't tell anyone about it because it would be a lot more questions that would happen, and it wasn't as severe," said Day, who will play his first competitive golf since the Presidents Cup paired with Rickie Fowler starting at 12:40 p.m. HST Thursday at Kapalua Resort's Plantation Course. "I just kept my mouth shut about it because I knew that it would open another can of worms and I didn't want to talk about it. But since then, I've been fine. I've been making sure that I'm staying on top of it and you can't control it. It will come back whenever it wants to."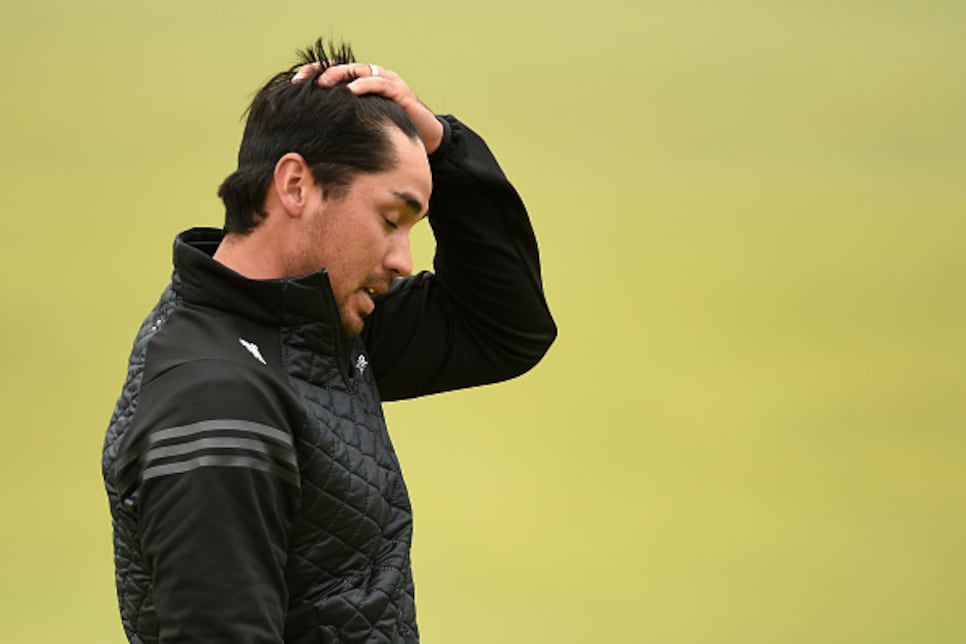 Fortunately, it didn't come back for the remainder of what turned out to be an amazing season for the Australian native.
The week following the British Open, Day captured the RBC Canadian Open to ignite a run of four wins in six starts, including the PGA Championship. He took over No. 1 after winning the BMW Championship, lost it to Jordan Spieth the following week, regained it again briefly and arrives in Maui again as world No. 2 behind the young Texan.
"It was kind of a surprise to me how well I played," said Day, who is still on medication for his condition until the end of this year. "I knew that I had the ability to do it but I didn't think I could have gone on a run like that, win my first major, get to No. 1 in the world; it all happened very quickly. It was a spark. But I felt like I handled it pretty good.
"Looking at what happened at Chambers and going forward, like I said, it's a surprise to me to really think about how the second half of the season unfolded. I was a little disappointed with how things panned out at the U.S. Open, had the vertigo issues going on; I wanted to win that event. And even going forward with the disappointment at the British Open, but after that, it was fantastic for me. Everything kind of fell together."
And this after that frightening fall. And, unfortunately, the issue is not fully resolved, even as he has worked himself into one of the most fit players in golf. "Yeah, it's an issue. I'm seeing the doctor at OSU, at Ohio State University Hospital in Columbus, Ohio, who is a fantastic doctor. He's helping me out big time with that. We did a bunch of tests this just in the off-season, a bunch of like these eye tests and vertigo tests and all that stuff. That seemed to come back for a pretty good, so we are on for another year [with medication] and then we're off."
"I went out twice," Day said, laughing. "I went to a Detroit Lions game, couldn't get away from the media, and then I went to a Cavs game and couldn't get away from the media. That was the only time I got out of the house in three months and it happened to be on TV."
Coverage should be more accommodating now that he's back to golf and intent on redoubling his efforts to return to No. 1 in the world. Pardon the expression, but he's ready to barrel into the new season like a runaway power forward chasing a loose ball.
"It would be great to keep playing the way I'm going like last year. But I've just got to put in the work," he said, smiling broadly. "That's kind of the mind-set – if I come to work, and everything has to be 100 percent full bore this year. I'm very motivated to get back to No. 1. I'm very motivated to win as many tournaments as I can this year, and to be a more dominant player. Whether it happens or not, you know, we'll see at the end of the year. But I'm going to give it a good shot. I'm going to work my tail off every single day to try and achieve that."