Jason Day looks forward to Memorial showdown with Jordan Spieth, Rory McIlroy
DUBLIN, Ohio – With his two nearest rivals in the World Ranking winning in recent weeks, Jason Day, the No. 1 player in the world, is feeling a little heat. Which isn't necessarily a bad thing.   He likes the action.   Day has not competed since his wire-to-wire victory at the Players. In the interim, Jordan Spieth and Rory McIlroy each have posted a meaningful victory. Spieth won Sunday at the Dean & DeLuca Invitational at Colonial, not far from his hometown of Dallas and just three tournaments since he lost the Masters. McIlroy registered an equally meaningful home win at the Irish Open three weeks ago.   "I extended my lead for a while, and now Jordan and Rory are both closing in on it," Day noted wryly on Tuesday at Muirfield Village Golf Club, where, after a well-deserved break, he is preparing to tee it up in the $8.5 million Memorial Tournament presented by Nationwide.   Spieth and McIlroy are in the field at Jack Nicklaus' long-running invitational and have a chance to further cut into Day's lead, though that's a tall order when the native Australian has been on such a tear. That it's also a home game for Day, a member at Muirfield Village, might be a further advantage, except that Day's best finish in the Memorial is T-27 in 2009. Last year he missed the cut, though he was dealing with health issues that caused him serious distress at the U.S. Open at Chambers Bay.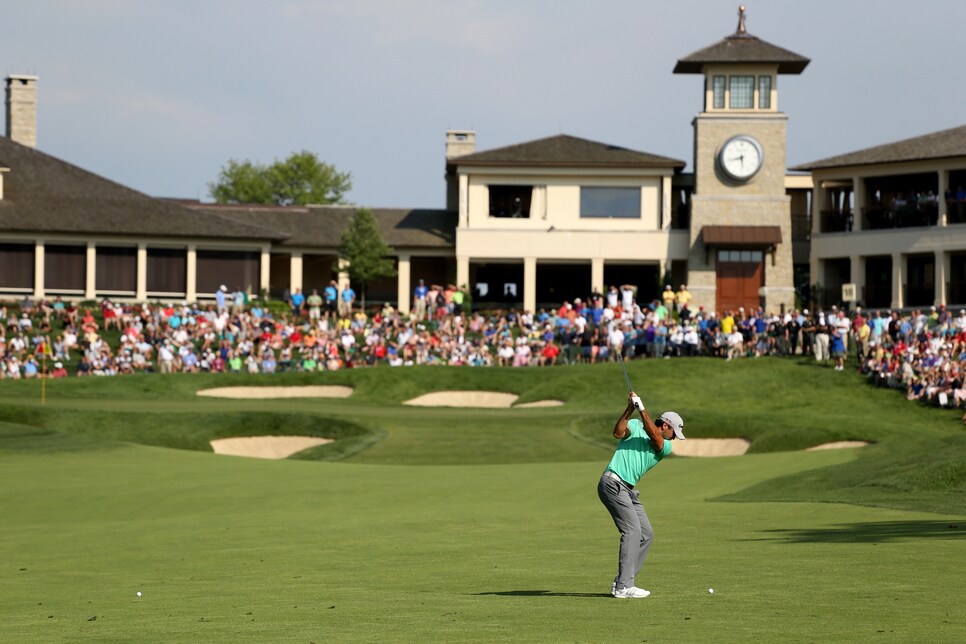 Day, 28, said his problems at Muirfield Village stem from taking his casual-round strategy into the tournament. Simply put, he plays aggressively when the course is much softer and the stakes are significantly more modest. "I play myself out of position," he admitted.   He hasn't been guilty of such mistakes elsewhere in the last 10 months, winning seven times since the RBC Canadian Open in July, including the PGA Championship at Whistling Straits in Wisconsin. He has three wins in his last six starts and no finish outside the top 25.   Day will have to beat a field much deeper than Spieth and McIlroy – 30 of the top 50 in the world are on hand – but he's aware that they are the main threats. Plus, each has enjoyed better moments at Muirfield Village. Spieth tied for third last year after a closing 65. McIlroy was fifth in 2011 and T-15 last year with an opening 63. This week could produce a real showdown, which Day welcomes.   "I heard a couple of weeks ago that it bothered Jordan that I was winning tournaments and have the number one spot in the world – and it should," Day said. "It should bother guys who are competitive and want to stay on top as well. There's nothing wrong with being bothered by that.   "I hope it motivates them just as much as it motivates me to see other guys on top of the world winning tournaments. That's just how some guys are pushed. I know I'm pushed that way as well when I see Rory or Jordan on top of the world. I want to do that as well. So it's great to see how they've responded so quickly."   Now it's Day's turn to respond. He plans to respond.   "Yeah, I'm expecting myself to play well each and every week now just from the sheer hard work I'm putting into it and the preparation I'm putting in each week before the tournament," he said. "So it comes as a little bit of a surprise if I play bad because I'm not expecting to do that."   He also expect to improve on his Muirfield Village performance. "I feel different this year, and I'm hoping for a better result," he said.   The surprise would be if he doesn't get it.