News
Jason Day looks for home-course advantage to turn his year around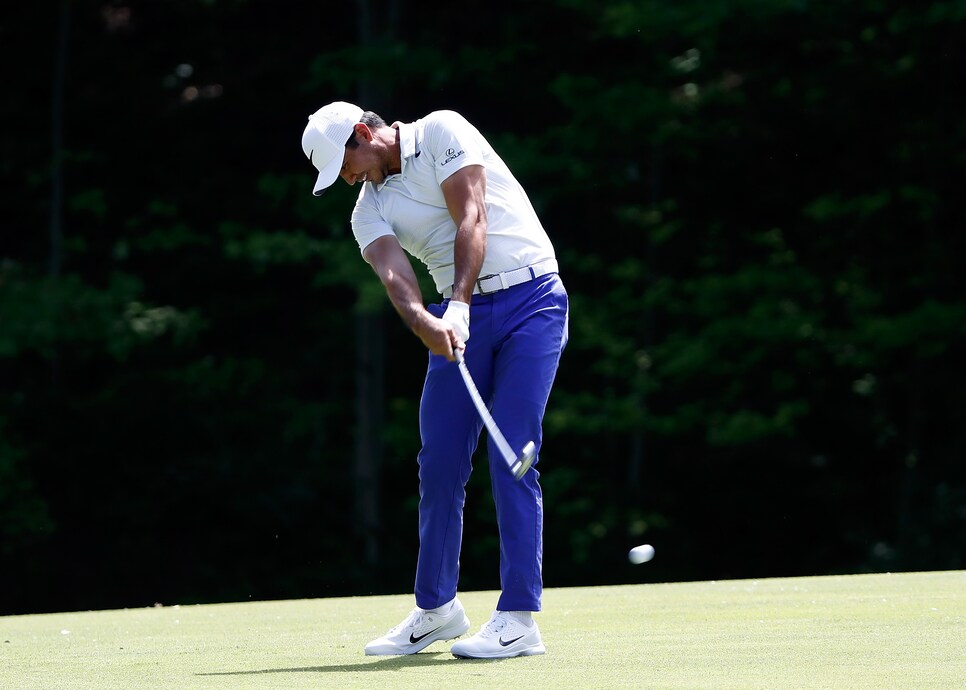 DUBLIN, Ohio – Jason Day, who has fallen from atop the World Ranking to No. 3, hasn't felt at home on the golf course for much of this year, but perhaps this week's home game at Muirfield Village Golf Club will change the course of his season.
Winless for more than a year, since the Players in 2016, Day enters this week's Memorial Tournament coming off a playoff loss to Billy Horschel at the AT&T Byron Nelson. Though disappointing, it was the first sign of the explosive form he had put on display since late 2015 and early '16, during which he captured his first major title with a record run at the PGA Championship and seized the No. 1 ranking from Jordan Spieth.
Day, 29, hasn't enjoyed much success at the course that serves as his practice base since moving to Columbus several years ago, finishing no better than T-27 in eight starts. His final-round 74 last year relegated him to that position for the second time. When he tees off at 1:27 p.m. Thursday with fellow Aussie Adam Scott and current Players champion Si Woo Kim, Day hopes his surging form is a harbinger for a return to the victory podium and for changing fortunes.
"I'm looking forward to coming out here and trying to change the way I usually play around here," Day acknowledged Wednesday after playing in the pro-am with two-time Super Bowl champion quarterback Peyton Manning. "This has always been one of those tougher spots for me."
Oddly, due to weather and a host of personal issues, Days hadn't yet played Muirfield Village this year until Wednesday's outing. Maybe that will be a benefit. He won't be stale.
And, to borrow a phrase from the investment world, past performance is not indicative of future prospects. Day in previous years had struggled in the Players and the Arnold Palmer Invitational, but he won both last year in wire-to-wire fashion.
"I think at the start it was more of an attitude that I took into that week," Day said. "It helps that I was driving it straight, long with that 2-iron and putting the dot off it, too. That's what I'm hoping this week. I'm not going to say the attitude gets you over the line, because it won't. It will probably get you 25 percent of the way there and then you have to go and execute."
And being ready to execute. Day hasn't been focused on golf for much of the year due to several personal issues. The most troubling was his mother's cancer diagnosis, for which she underwent surgery. Day was so distraught that he withdrew from the WGC-Dell Match Play in the midst of his first round. He couldn't focus on golf. Without focus, top level golf is impossible.
But he appeared to turn the corner at the AT&T Byron Nelson. And just this week he hired a new personal trainer. He is ready to rededicate himself to his golf, just in time for the year's second major, the U.S. Open.
"I think a couple of weeks ago, I think it was at the Players when I was in the rebuild stage of trying to get back to No. 1. And obviously, as you reach a certain stage, getting back to the top, it just slowly, gradually gets harder and harder and harder," Day said "And it's not so much the tournaments or the people that you play against, it's the amount of workload that you put into it, how much the desire is there to reach the top again, how much you really want to put into it.
"And just saying earlier that it was tough for me at the start of the year to really focus on trying to get back to No. 1. I didn't want to be on the golf course because I wanted to focus [on other things]. And now since everything's balanced again, I do think everything is starting to turn. But it's more about the mental switch that's gone off that now I can really focus on my golf again and try to get back to the top. And I've been kind of busting my butt to try to get back there."