The Loop
Jason Day joins long list of short misses at worst possible time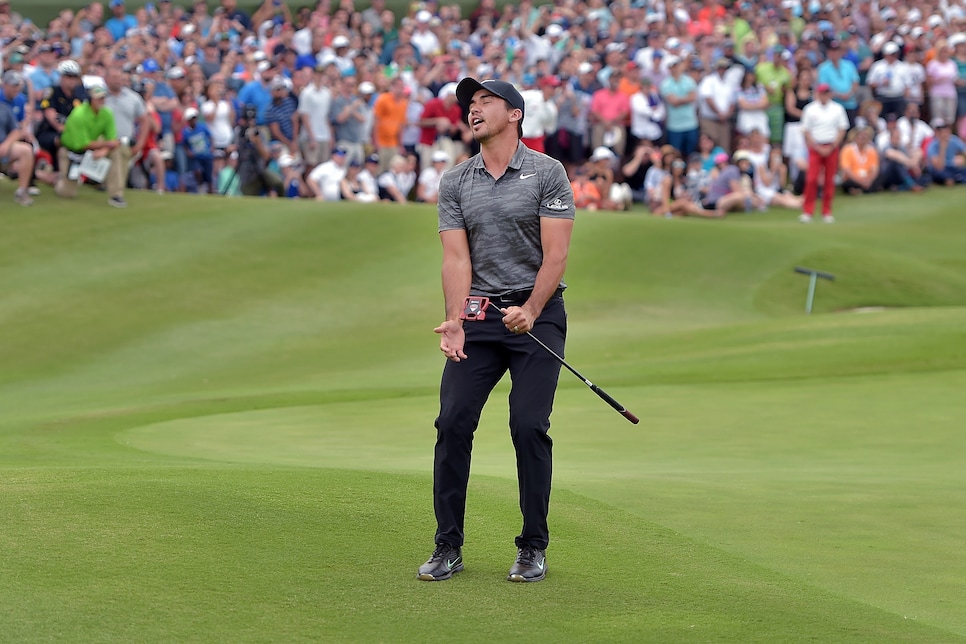 The one aspect of golf that separates PGA Tour players from the rest of the pack is putting. Teaching professionals and top amateurs alike can all rip driver down the middle and flush an iron inside 15 feet, but it's what comes next that gets you to the next level.
That's why anytime you see what happened to Jason Day on Sunday at the AT&T Byron Nelson you're left in shock. How can the No. 4 player in the world, one of the best putters on tour, and a guy that hadn't three-putted the entire week miss a four-footer that he's made millions of times in his career? Is it Johnny Miller's favorite word, "nerves?" Was it a bad read? A bad strike? Whatever it was, it couldn't have come at a worse time for Day, and he joins a long list of short misses in a big moment.
2016 RSM Classic – Billy Horschel on the first playoff hole
When Day missed his short one on Sunday, Horschel told him it wasn't the way he wanted to win. That's because he knows better than anyone how gutting it can be to lose in that fashion. Last November, Horschel was in a five-man sudden death playoff at the RSM Classic. On the first playoff hole, he had a tap-in to move on to the next hole, but he missed and was eliminated. Little did he know the script would flip just six months later.
2016 AT&T Pebble Beach Pro Am – Phil Mickelson to force a playoff
Lefty came into Pebble Beach in 2016 still looking for his first win since the 2013 Open Championship. After 72 holes, he had this five-footer to force a playoff with Vaughn Taylor. He was doomed the second CBS flashed the 23/23 putts inside six feet statistic, much like they did Sunday with Jason Day. Mickelson is still looking for that follow-up to Muirfield.
2005 WGC-American Express Championship – John Daly on the second playoff hole
A year after Daly finally broke through again at the Buick Invitational, his last win on the PGA Tour and first since the 1995 Open Championship, he found himself in a playoff against the top player in the world, Tiger Woods. On the second playoff hole Daly had a short putt to extend to a third hole, but he lipped it out to give Woods the victory.
2015 U.S. Open – Dustin Johnson to force a playoff
Had DJ not come back the following year to win at Oakmont, this would easily be the most painful of this list. He had an eagle look to win over Jordan Spieth at Chambers Bay, and two putts would have forced a playoff. We all know what happened next.
2009 BMW Championship – Brandt Snedeker for a spot in top 30 of FedEx Cup Playoffs
While Sneds had no chance to win the 2009 BMW Championship, he stood over a par putt on the 18th green needing just two putts to crack the top 30 of the FedEx Cup Playoffs and get into the Tour Championship. Instead, he walked away in disbelief with a triple-bogey seven. Warning: the video above is very graphic.
2012 Kraft Nabisco Championship – I.K. Kim to win
Even golf fans who have never flipped on an LPGA Tour event know about I.K. Kim's short miss at the 2012 Kraft Nabisco Championship. All she needed to do was tap this short putt in to win the event, her first major title, and it did a full 360 around the cup in devilish fashion. She would go on to lose in a playoff and has still yet to win a major championship.
1989 Masters – Scott Hoch to win on first playoff hole
Funnily enough, broadcaster Terry Gannon mentioned this putt in comparison to I.K. Kim's short miss in the last video. While they were similar in length, at least Kim's was halfway down before it eventually came out of the cup. Hoch's never had a chance, and he lost to Nick Faldo on the second playoff hole. The 11-time tour winner was never able to win a major.
2016 Ryder Cup – Lee Westwood to earn half a point
In the grand scheme of the 2016 Ryder Cup, this putt would eventually mean very little. But it's tough to say it couldn't have changed momentum for the European team. Westwood had this short putt to halve the match against J.B. Holmes and Ryan Moore, and it would have made it 9-7 U.S.A. heading into Sunday. Lee's miss made it 9.5-6.5, and Europe went on to lose 17-11.