The Loop
Jason Day embraces the challenge before him
AUGUSTA, Ga. -- For about 10 minutes during the third round, Jason Day, playing in his first Masters and trying to become the first Australian to win a green jacket, admired one of the large old-style leader boards at Augusta National GC.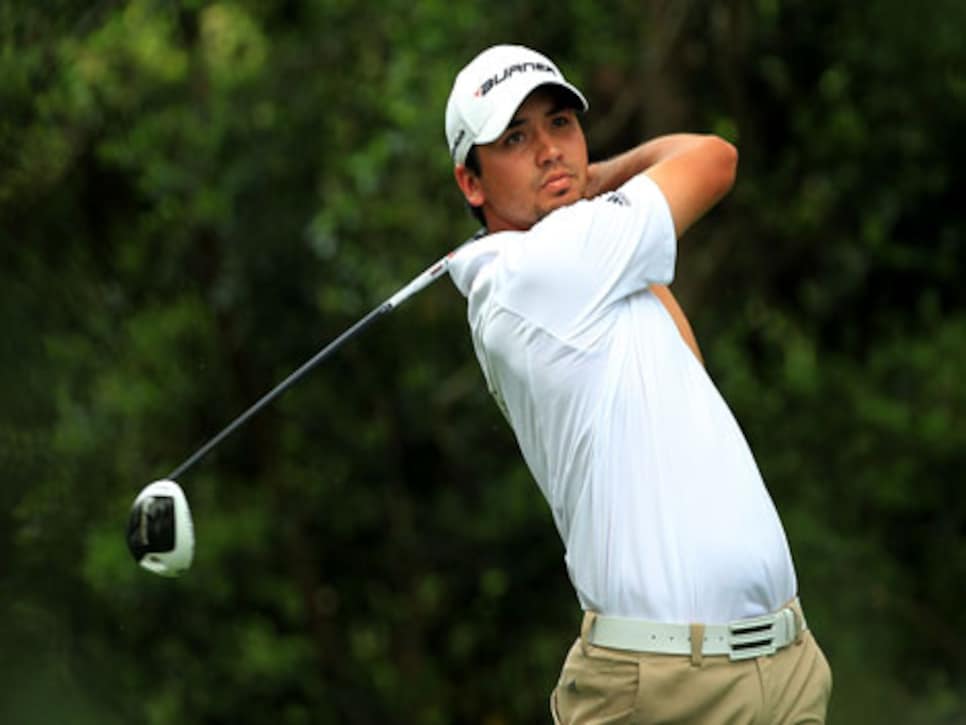 Jason Day watches his tee shot on the second hole. (Photo by David Cannon/Getty Images)
For a 23-year-old golfer on his way up, he had made it to the top -- in the lead alone on Saturday afternoon in the 75th Masters. "That was very short-lived," Day lamented a few hours later, when an even-par 72 had left him at eight-under 208 and tied for second place with Angel Cabrera, Charl Schwartzel and K.J. Choi, four strokes behind Rory McIlrory.
"A lot of guys are four shots back, so there's a lot of pressure on us to obviously go out there and score early and try and put some pressure on [McIlroy] so he can make some mistakes, I guess," Day said, looking ahead to the final round. "But you know, he's very mentally tough. He's a great golfer, and if he wins tomorrow, he deserves it, definitely."
Day, who opened with a 72 and vaulted into contention with an eight-under 64 Friday, began the third round as if he hadn't missed a beat - birdies at the second, third and fifth holes lifting him ahead of McIlroy, who led Day by two after 36 holes. But Day's 7-iron came up short of the steeply-pitched sixth green, leading to his first bogey since the 17th hole Thursday.
His momentum blunted, Day bogeyed No. 7 after a poor drive, No. 13 after his second shot finished in an awkward spot beyond the green and No. 16 when he three-putted. He was fortunate to birdie the par-5 15th hole because his second shot landed short of the green, but his ball did not roll back into the pond. Although he holed an 18-footer for birdie at the 15th, he had 31 putts for the day. "I just didn't hole the putts that I did [Friday]," Day said. "That was pretty much it."
Only Cabrera among the top-eight golfers entering the final round has won a major championship, which Day thinks could be an advantage for him. "Obviously if there's Tiger [Woods] and a bunch of guys that won majors before out there, it would be a little tougher," Day said. "The guys that have been there, that are experienced, they are not going to be as nervous as the younger guys. Obviously I think Rory is going to be a little nervous tomorrow, but the way he's hitting it, he's going to be very, very tough to catch. We need to work at it, and hopefully one of us can catch him."
Day drew a chuckle in the interview room Saturday evening when he noted the youth movement in men's golf, that "it seems every year they are getting younger." Like McIlroy, Day was drawn to golf as a boy when Woods began to dominate the game in the late-1990s.
"When Tiger came along, he pretty much changed the game," Day said. "Everyone turned into athletes. We are not fat slobs anymore. He has pretty much changed the game for the good. It just shows how good the coaching is, the science behind the game, and how confident some of these young guys are coming up now."
Day is one of those fit, self-assured young guys, perhaps one super round away from history depending on how McIlroy handles his harder-than-it-might-look challenge Sunday. "I can't control what he does," Day said. "I can only control, well, kind of control, what I do."
There is an honest, as well as gifted, golfer.