The Loop
Jason Day collapses on final hole, struggles to complete second round
UNIVERSITY PLACE, Wash. -- Jason Day, overcome by dizziness, took a bad fall on the par-3 ninth hole Friday as he neared the end of his round. Walking to the green after his tee shot found a bunker, Day went down in a heap. He seemed to hurt his wrist when he braced himself against the ground, and immediately brought both hands to his head as he lay on his back. Fox cameras hovered as medics gathered around, and the golfer could be overheard cursing and discussing his vertigo. After a delay of around ten minutes, Day got to his feet and completed his round with a bogey. He fell to -2, just three shots off the current lead heading into the weekend.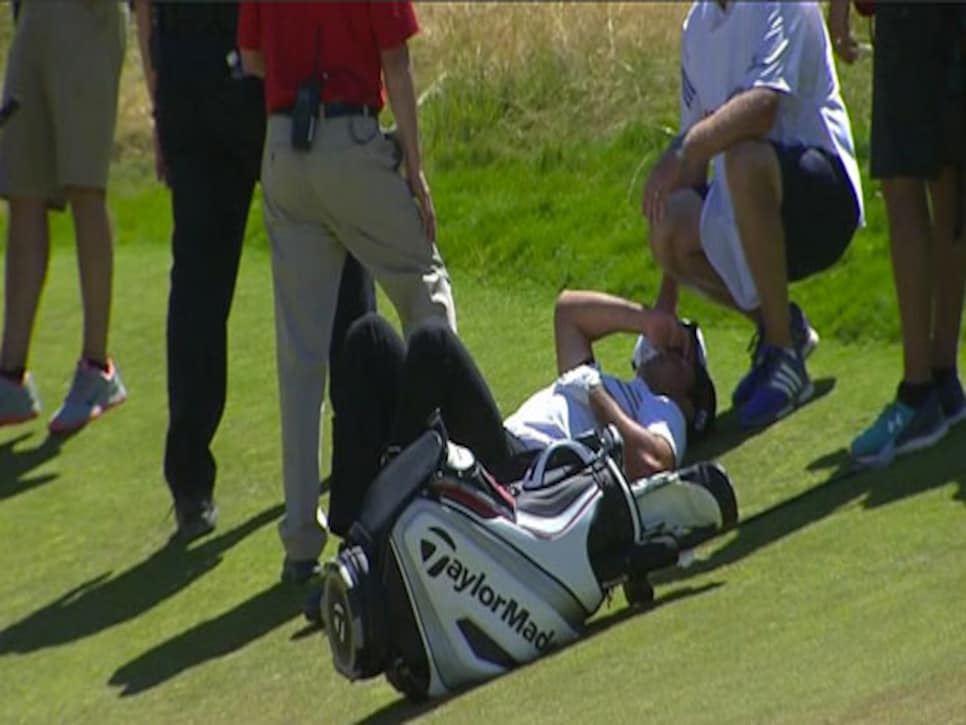 Recently, Day has undergone MRIs and sleep studies and blood tests in an attempt to explain his exhaustion and dizzy spells. These are just the latest in a career full of fluke injuries for Day, who missed significant time last year with a ligament injury in his thumb, and the ensuing complications.
After his round, Day was escorted off the course by medical staff and transported in a cart as fans cheered him. Day sat up, and was first brought to the scoring tent to sign his card. Later, he was seen approaching an exit van, being helped by two men as he walked slowly away. For obvious reasons, he didn't meet with the media, but Fox analyst Greg Norman said he spoke briefly with Day and caddie Colin Swatton. According to Swatton, the episode on Friday was very similar to Day's collapse at the Bridgestone Invitational, when he was forced to withdraw early in his third round.
Among Day's playing partners Friday was Jordan Spieth, who said Day seemed fine for most of the round.
"It wasn't mentioned by him earlier in the round to me," Spieth said. "He may have mentioned it to Colin, but I was walking with him, the next thing I know I turned around and I think he got dizzy and slipped and fell. So at that point, how can we help him out and kind of clear the scene and try and keep the cameras off and let him just rebound from being dizzy. That's all it was, I think. I don't think it was a slip off of the ground. I think it was maybe a little dehydration or something. I'm not really sure. He didn't mention much after the round. We were trying to look out for him."