Letter from Europe
I played a 50-mile, 18-hole golf course. But why?
Our writer explains what it was like to fulfill an outrageous boyhood fantasy in Scotland's golf rich East Lothian region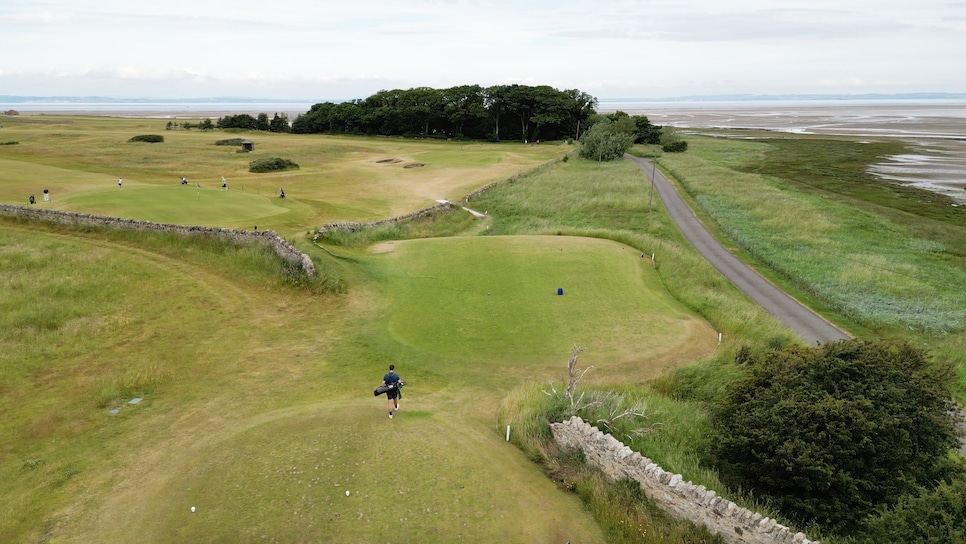 When I was growing up, my family spent a few weeks each summer in North Berwick. The drive was just 30 minutes from our house in Edinburgh and took us along the coast of East Lothian, which is now known as "Scotland's Golf Coast." I would sit in the back of the car, wedged behind the driver's seat of my 6-foot-5 dad driving, constantly staring out of the window. We would pass nothing but golf courses for miles and minutes at a time. Holes after holes, bunkers after bunkers, sand dunes after sand dunes. My brother and I would (naively) wonder if it was possible to "play" your way along the East Lothian coast, walking the whole way without ever leaving a golf course.
Well, it took me about 25 years but, last week, I actually did it.
While the idea began in my youth, it became more than a dream in the last few years. When COVID struck in 2020, and life and golf courses shut down for a few months, I began planning some comeback rounds and trips. I would map journeys, redesign courses from Google aerials and one day reconnected with memories of those drives out to North Berwick. After a quick imaginary conversation with my 10-year-old self, I began thinking about how the wonder of those trips could become a reality.
East Lothian is one of 32 local government areas that Scotland is divided into. It spans about 250 square miles and around 40 miles of rugged, "perfect for golf" coastline. There are a lot of courses, hence its new, tourism-inspired nickname above. There are somewhere between 22 and 26 courses depending on where you draw lines.
Old Musselburgh sits in the western part of East Lothian. With its title of "oldest existing golf course in the world," it seemed an appropriate place to map the journey from. I decided early on that I wouldn't hand-pick holes based on preference or proximity, I would simply attempt to play across 18 courses, one hole at each, doing so in order from 1 to 18—while walking between all of the courses.
Having set up a list on my Google Maps account, I began adding the courses from Musselburgh based on their location. Musselburgh to Longniddry, Longniddry to Kilspindie and so on and so on.
It all seemed pretty easy and doable, courses lined up next to each other, some even bordering fairways. However, by the time I'd added both courses in North Berwick, the tally was 16 holes. My OCD nature wouldn't allow me to consider such an incomplete golf challenge, so I scrolled along the coast further east … and scrolled again … and again. Eventually, I reached Winterfield Golf Club and Dunbar, some 11 miles beyond North Berwick.
They would make up the final two holes of the challenge. Already I knew the walk from 16 (The Glen Golf Club) to 17 (Winterfield Golf Club) would make or break the day. I wasn't wrong. More on that to follow.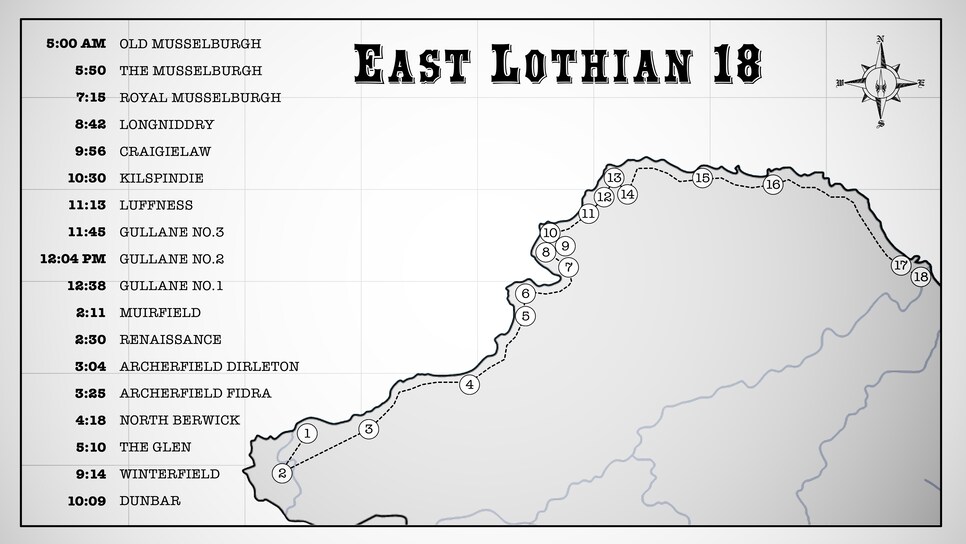 Fast forward three years from that planning. It's 4:45 a.m. on June 20, and I'm in a taxi, armed with a half set of clubs in my golf bag, watching the sun rise over the Firth of Forth as I pull into the car park at Old Musselburgh to kick off the challenge.
If you've never experienced Old Musselburgh, get a permanent marker and add it to your golf bucket list now. Set in the middle of a horse-racing track, the course dates back to the 1500s and has hosted The Open six times.
The first hole is a 240-yard par 3. Do your best to hit the green and then you walk through a gap in the racetrack's fencing, over the thick grass that the horses race on and seemingly back in time. I've played a lot of golf across the world and it's true that some courses carry an aura to them. Old Musselburgh is one.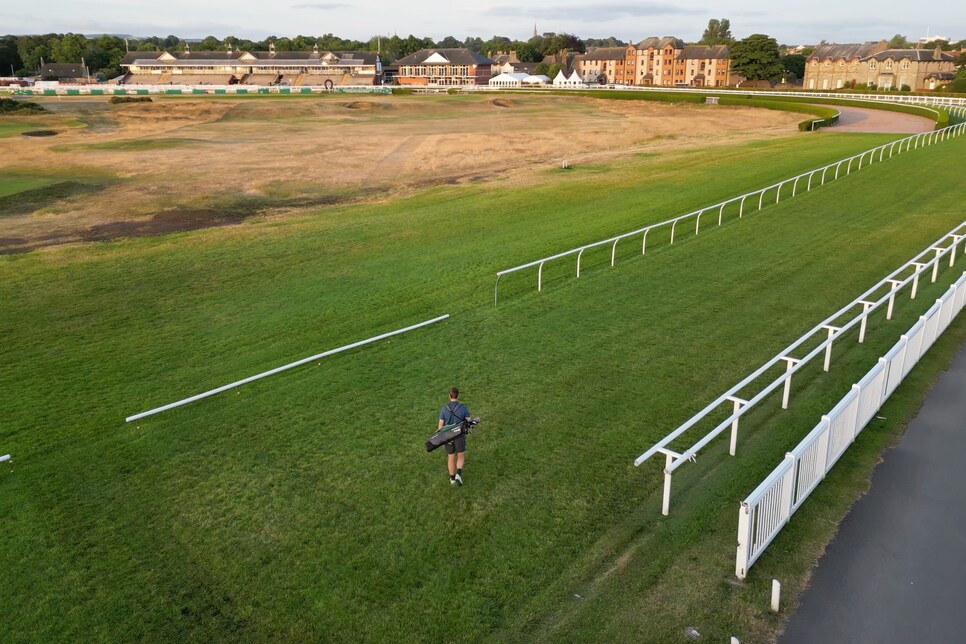 Hybrid, chip-and-run, putt. We're off!
There are three courses in Musselburgh: Old Musselburgh, The Musselburgh Golf Club and Royal Musselburgh. Having taken a wrong turn en route to the latter, I was slightly behind time as I took to the coastline for the first time and made my way, four miles, to Longniddry Golf Club.
It was oddly hot for pre-9 a.m. in Scotland, but the slight breeze off the coast offered some much-needed natural air conditioning as I climbed up to the back tee on the par-3 fourth hole at Longniddry. My legs were already feeling the steps. I know, only four holes in. A couple of extra loosening practice swings and my slightly thinned 6-iron was headed towards the green. More surprising than the result—the ball stayed on the green 30 feet from the hole—was the fact I actually holed the birdie putt.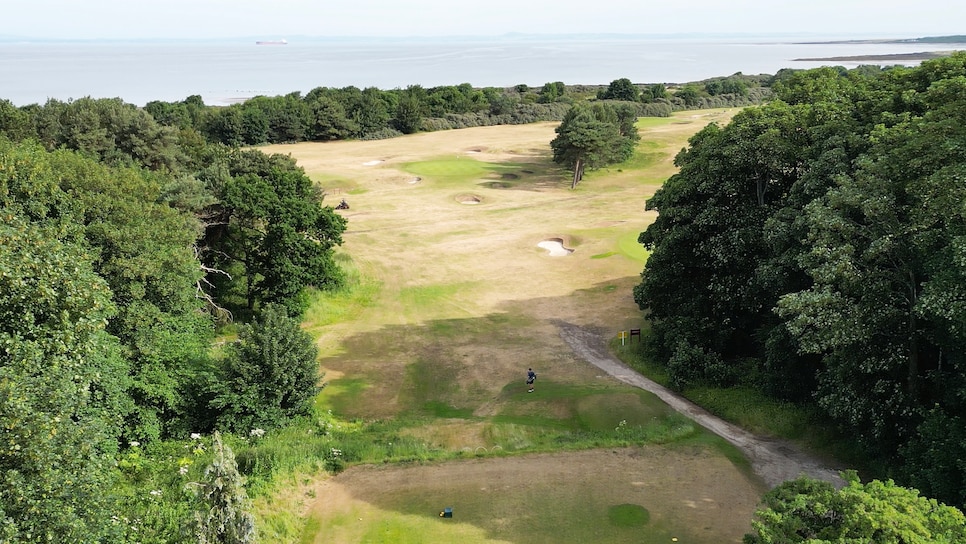 I picked the ball out of the hole and nearly skipped back to the coastline to make my way to Kilspindie.
This was the section of the walk I had envisioned most as a kid. The John Muir Way is a 134-mile walking path that crosses the central belt of Scotland and is very prevalent and popular in East Lothian. Here, it's as good as it gets. Narrow walkways weave and meander between the beach and coastal towns, passing monstrous sand dunes and wildlife, whilst also providing an up-close tour of some of Scotland's finest golf courses.
It led me to Kilspindie and Craiglelaw golf courses before I crossed a bridge and took the back door entrance to Luffness New Golf Club.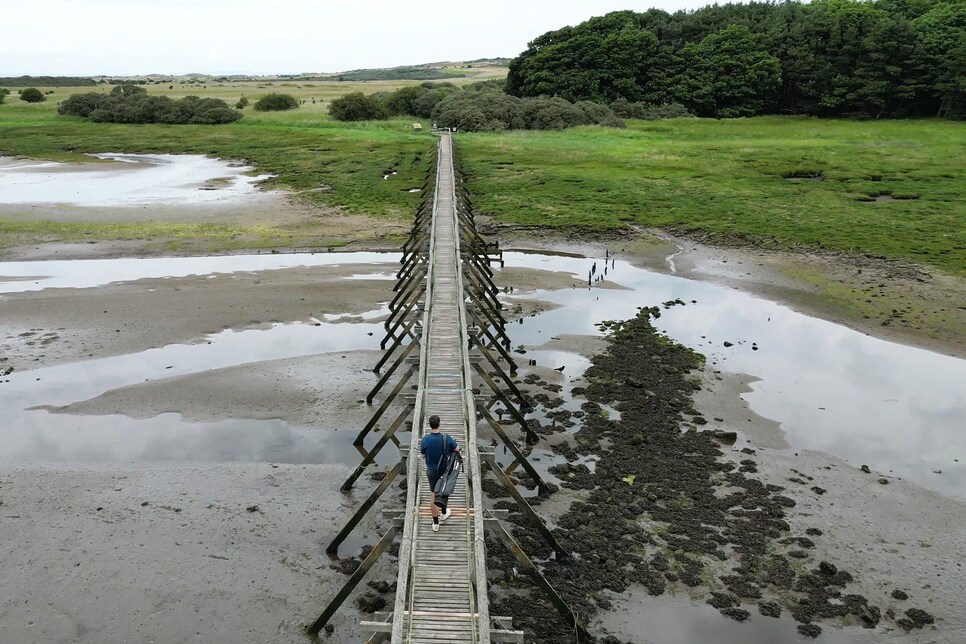 Of all the courses on this magical mystery tour, Luffness was one of two that meant a lot to me. My father is a member and my grandfather was a captain. Along with my brother, we competed in dozens of tri-generational matches across the links on the south side of Gullane Hill. The seventh course and thus the seventh hole.
There was not a soul near the tee as I arrived. As a college golfer, I often joined my granddad's regular Tuesday game here. Once when I told the group I was playing off "plus one," they gave me a look of equal measures respect and confusion, especially when it related to calculating shots for the game. I explained that as a plus one handicap, I would be "expected" to birdie the easiest hole. However, that didn't fly with this group of ex-doctors and lawyers. It was decided that I would add a shot on the course's hardest hole, the seventh.
It is a blind tee shot, but a short par 4. When I arrived there on that day, I embraced the challenge and pulled driver. I found the green and holed the putt for an eagle 2. Net 3. One of grandfather's friends, playing off 18, skied his tee shot barely over the hill, shanked his approach, thinned a chip over the green and then holed a chip, that would have missed the green again.
"That's a half then son" he said smuggly.
In honor of my grandfather, I managed a straightforward birdie last week. Back to one under par through seven.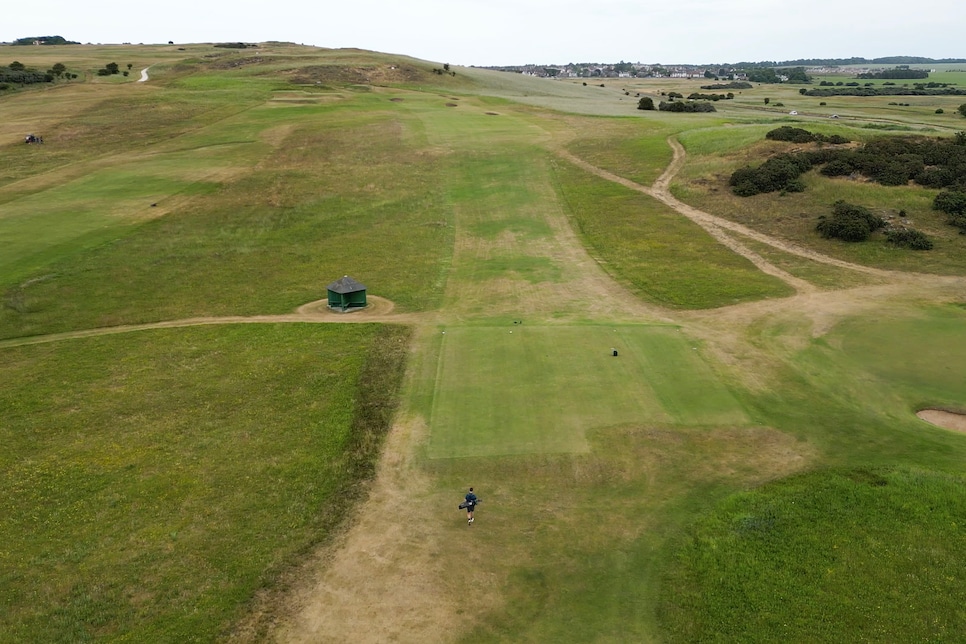 This next part of the day is where East Lothian began to show off. Without walking more than 10 minutes between holes, I played another seven holes spanning across Gullane's three courses, Archerfield's two, Renaissance and Muirfield.
When explaining this challenge to people in advance of the day, one of the most common responses was "good luck getting on Muirfield!" Like a lot of golf clubs around the world, it's a place whose reputation often precedes it. It is one of the reasons I handwrote letters to each of the clubs before planning the day. Go the extra mile, pay respect to the clubs, and ask for their permission.
Muirfield was the first to respond. The secretary said I would be welcome on the day and asked if I would like a member to accompany me as I took on the 11th hole.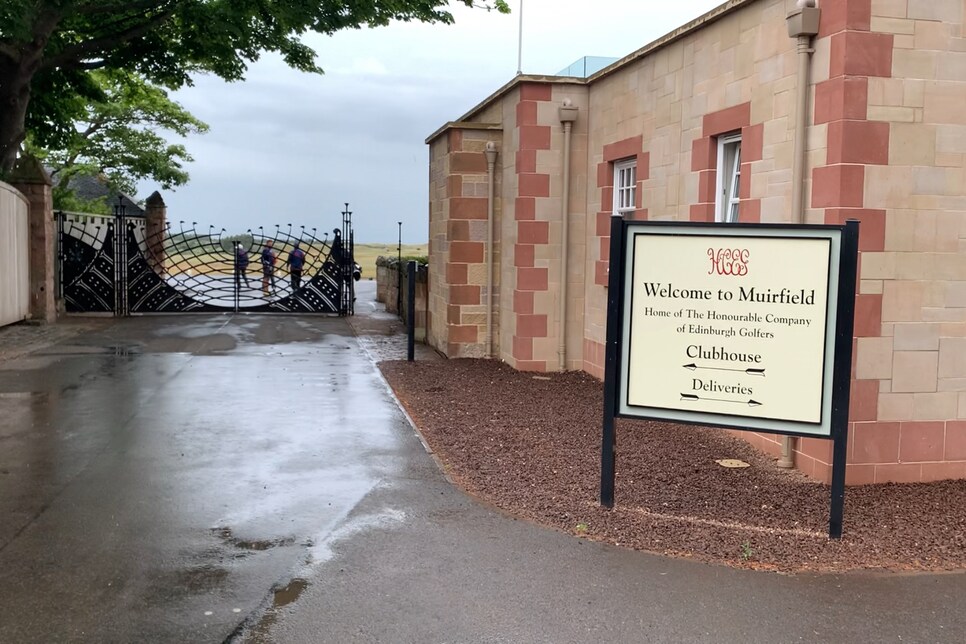 Having been lucky to play there a few times in the past, I declined the chaperone and checked in at the starter's hut a little after 2 p.m. The place was busy with equal-measure golfers and caddies. Anticipating a confused response to me explaining I was here to play the 11th hole, the starter greeted me, said they had been expecting me, and joined me on the hole to ensure I slotted in, among the groups of visitors.
A fairway, green and two putts later, and I was directed towards a gate that separates Muirfield and Renaissance and continued on the back nine of my marathon day.
After Renaissance, busy with construction workers preparing grandstands for the Genesis Scottish Open next month, and Archerfield, I was back on the John Muir Way making my own way to North Berwick.
Having laid out the plan for this day a couple of years prior, and seeing that the 15th hole coincided with North Berwick, brought a smile to my face. As many golfers know, "Redan" is the 15th hole. The OG of redans. A 190-yard par 3 that plays to a green pitched drastically from front right to back left. The prospect of playing that on this day was enough to make me ignore the blisters screaming at me inside my casual golf shoes (yes, I wore actual golf shoes fearing courses would not appreciate me rocking up in running shoes or hiking boots).
"Are you the guy doing all the courses in one day?"
This is how I was greeted when I arrived on the tee. A group of Australian golfers, playing North Berwick for the second time that day, were on the shared tee between the 15th and fourth holes at North Berwick and had been keeping up with my route on Twitter over lunch.
They asked for a picture (yes, I was as confused as you are reading those words here) and promised to donate to the charitable cause when they finished.
Fortunately, they had moved far enough away to avoid seeing me bail out on a tired-looking hybrid tee shot that finished closer to the kids' course that borders North Berwick than the famed Redan green. A miraculous flop shot saved my par, and my blushes with the assistant professional that had come to ensure I had space to play the hole.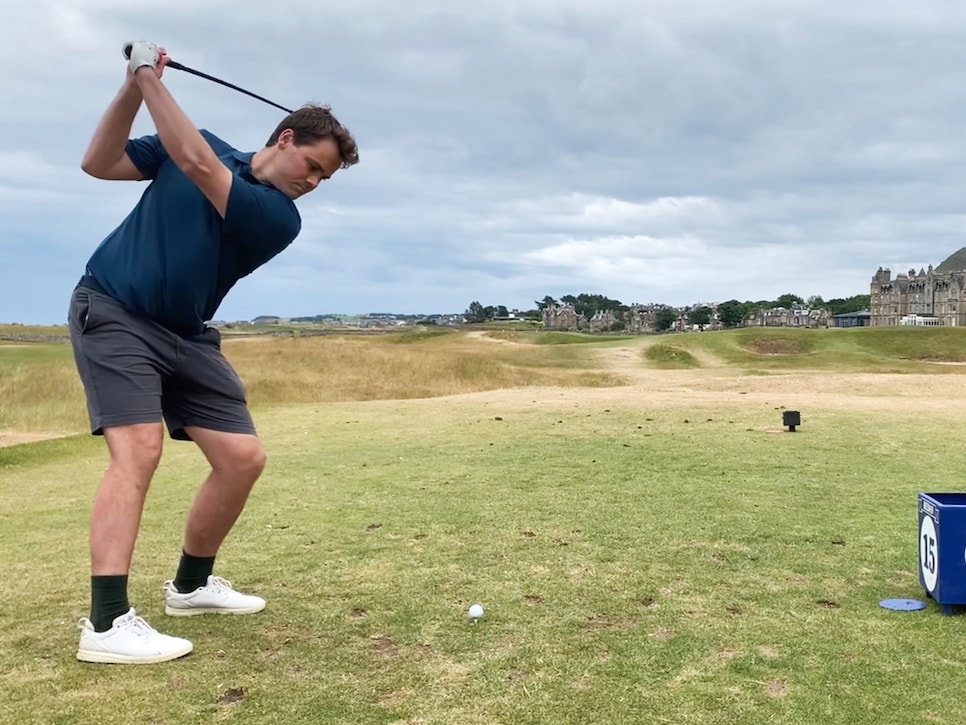 Level par, three holes to play.
It was about here that the challenge became truly challenging.
After a short beach walk to The Glen Golf Club on the east side of North Berwick, I set off on an 11-mile voyage to my 17th tee. For the few East Lothian residents who I told about the challenge, this is the part of the day that caused them to raise their eyebrows. Sadly, not even John Muir could help me. There was no coastal route connecting North Berwick to Winterfield.
What happened next was a four-hour walk across farmland, fields and narrow country roads with nowhere for a person to really walk, never mind walking with a golf bag on their back. Not even the strawberry-flavored candies I had stashed in the bottom of my golf bag, packed in an "in case of emergency" scenario, could help with the exhaustion, pain, and monotony of this walk. If I stopped, I wasn't going to move again. Stopping wasn't an option but it did seem appealing.
Almost exactly four hours after holing a good par-saving putt at The Glen, I arrived on the 17th tee at Winterfield Golf Club. Positioned on a rugged peninsula of land that is home to half of the course, the 490-yard par 5 would have seemed like a birdie hole on any other day. However, today, it seemed like 490 steps I didn't want to make.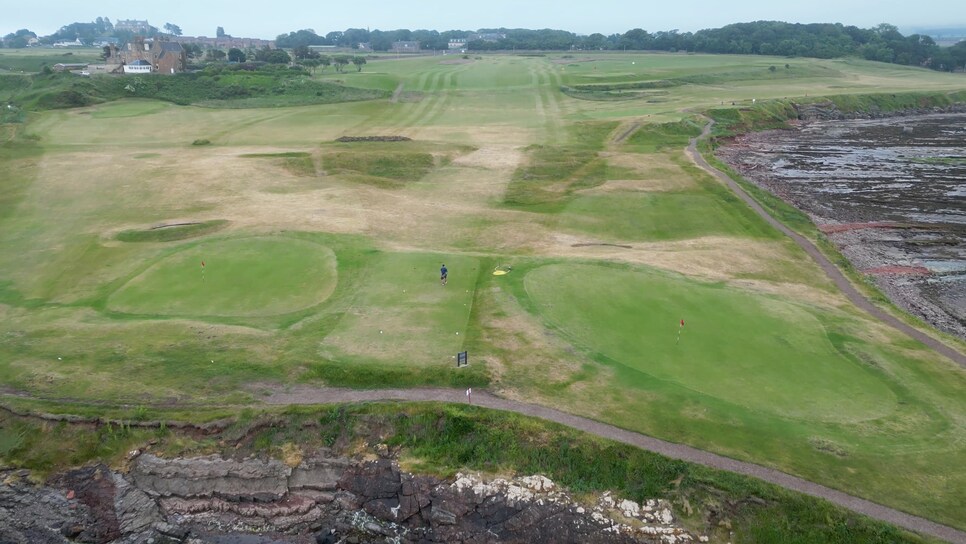 Driver, 6-iron, one weak pitch, and two putts later and I was headed to the final hole.
You may think I'd be running out of sunlight as it ticked pretty close to 10 p.m., however, this was June 20, the second longest day of the year in Scotland, and sun wouldn't set until about 10:45 p.m., hopefully moments after this suddenly feeling all of 38-year-old limped down the 18th hole at Dunbar.
When I slowly made my way down Golf House Road in Dunbar, there was a small group of members and club staff there to greet and support me. Having barely spoken to anyone since paying my taxi driver at some 17 hours previously, it was a welcome sight and distraction for the last few minutes of the round.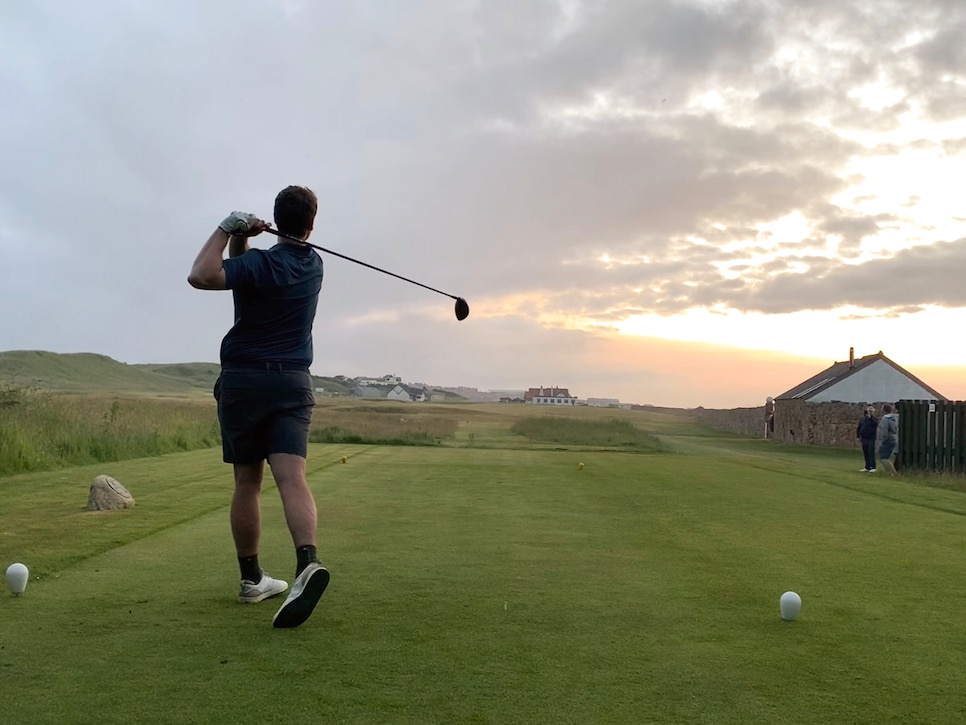 With the sun setting behind the green, I threw my arms towards the ball with a driver in tow and managed to scrap an 8-iron onto the middle of the green. The putt was to break par on the day, which would have been a nice bonus but tapping in seconds later and knowing the challenge was complete was fulfilling enough.
The final stats: 18 courses, 18 holes, 17 hours and 19 minutes, 47.9 miles, 66 shots and 89,749 steps.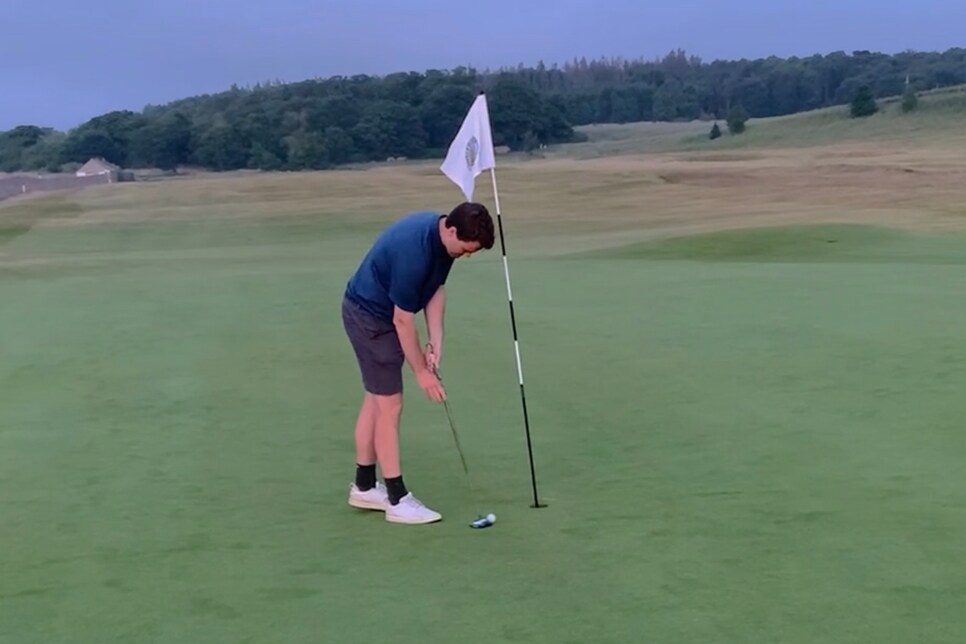 The entire day was a dream of mine as a kid but it was also a way of raising money for the Stephen Gallacher Foundation. Yes, the Stephen Gallacher who is a four-time DP World Tour winner and played in the 2014 Ryder Cup. His foundation provides events, education, and equipment for young golfers across Scotland. The kind of events that got me hooked on the game on those summers in North Berwick. Those summers gazing out of the window wondering if one day I might be able to play my way down the East Lothian coast.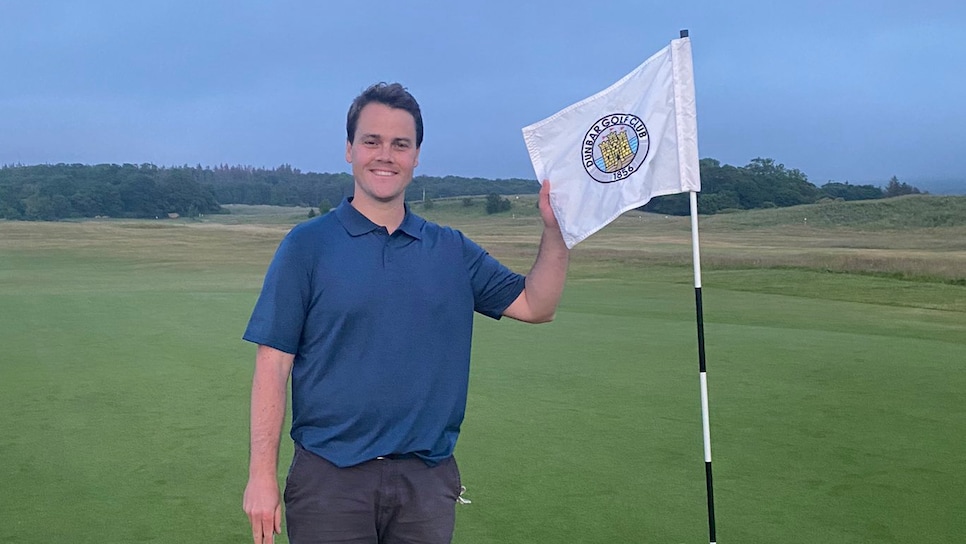 Note: The fundraising page for the challenge is still active and open for donations. If you would like to support the foundation, please visit the GoFundMe page and give generously. I can vouch for how and where the money will be used.