News
James Hahn on selling women's shoes, cutting his own hair, and approaching a PGA Tour milestone beyond his wildest dreams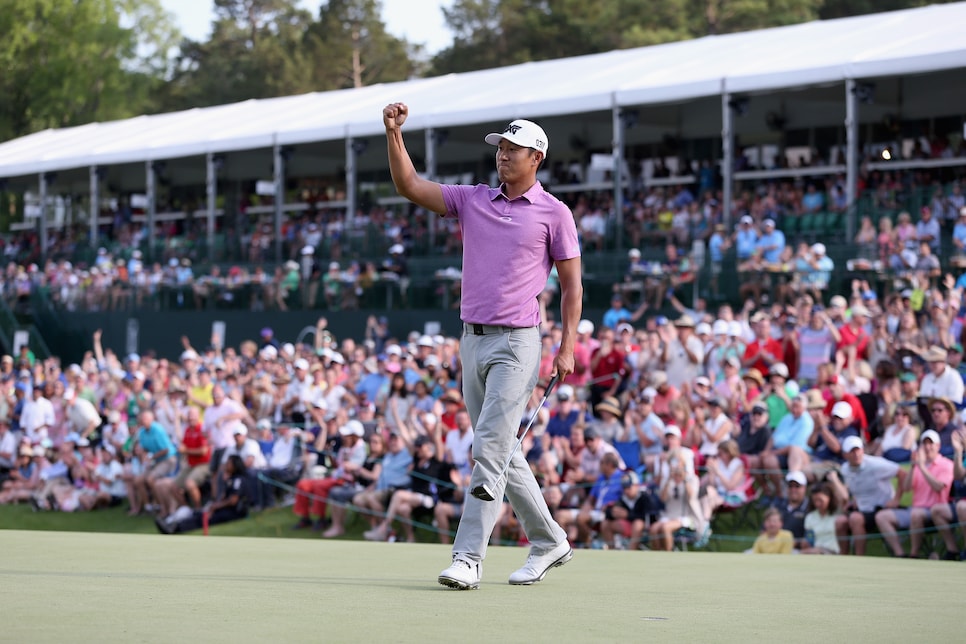 PARAMUS, N.J. — Sitting down with James Hahn in the media center at Ridgewood Country Club, I had an odd thought: I hope he takes off his hat. This had nothing to do with etiquette (I couldn't care less about that silly rule) and everything to do with the fact that this two-time PGA Tour winner cuts his own hair. Hahn wound up giving me a couple glimpses, running his hands through his shiny, black mane, and I must say, hopefully, without this sounding weird, that it looked pretty darn good.
Kudos to Hahn for wielding the clippers almost as well as he wields a set of golf clubs. And it's a fact made even more impressive by how far he's come.
It's been a long time since Hahn was a struggling tour pro selling shoes at Nordstrom's to make ends meet. This week he will play in the Northern Trust, marking the sixth consecutive year he's qualified for the FedEx Cup Playoffs, a four-tournament stretch with a $10 million bonus up for grabs. Meanwhile, this could be the week that he crosses $10 million in PGA Tour earnings. And yet, this two-time PGA Tour winner still cuts his own hair, brags to fellow tour pros about travel deals he finds online (He calls himself "The Priceline King"), and lights up when you ask him about the deals he's found searching Craigslist.
"I always feel like I'm the poorest guy in the room," Hahn said. "My brother and I, my dad, my mom, we grew up in humble beginnings. And they've instilled that in me. What's the cost of a dollar?"
Hahn joined me to discuss a wide range of topics from his financial philosophy to his unique swing thought to his love of Shark Tank, and yes, his (successful) stint selling women's shoes. And Joel Beall and I also preview the Northern Trust and talk potential Ryder Cup captain's picks. Please have a listen: