Eye Got This
Jameis Winston got LASIK surgery, is now good at football and 'can read street signs'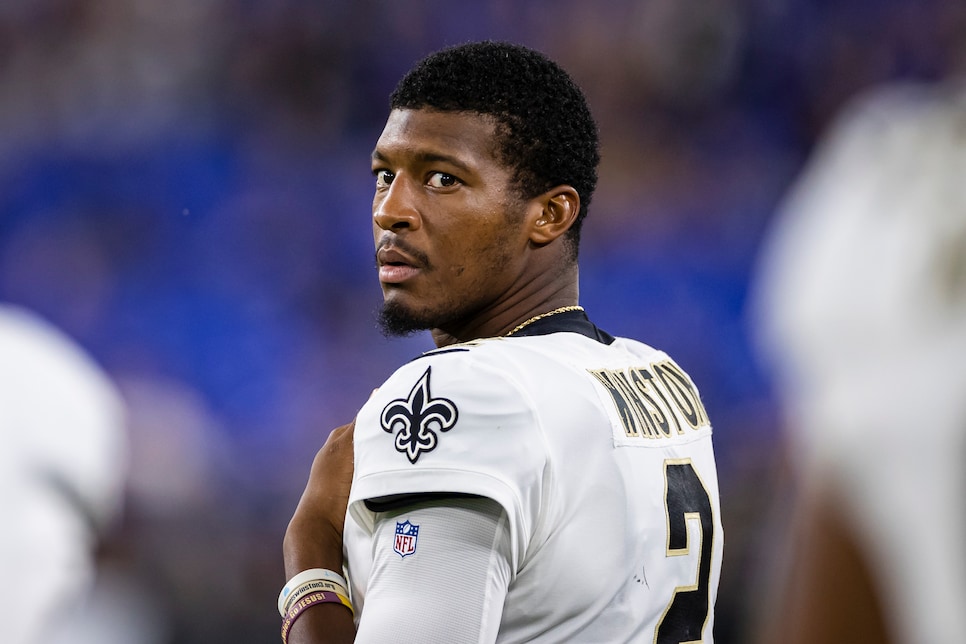 Something that hasn't been talked about enough over the past 18 months or so is that Jameis Winston couldn't see.
This isn't a metaphor or a deep dive into his psyche. Jameis Winston, an NFL quarterback, had trouble reading street signs and license plates. The multi-million dollar athlete, whose main job was to see people and throw a ball at them, had blurry eyesight.
The big problem apparently was "the precision and the sharpness" of his vision. Yes, this is an offshoot of a golf website, but it seems pretty clear to us that having precision and sharpness when it comes to vision is pretty important for a QB at the highest level of football.
No wonder he threw 30 interceptions his final season in Tampa Bay.
In February of 2020 (a few months before signing with the New Orleans Saints), Winston decided to right this wrong by getting LASIK. He spent a year learning from Drew Brees and potentially seeing the field correctly for the first time in a long time and now—would you look at that?—Winston's not terrible at football.
Sure, it's only been one game and 148 yards, but five touchdowns, a dominant victory over the Green Bay Packers, and a nice-and-tidy 14/20 stat line is nothing to sneeze at.
In his first showing as the new Saints' starting QB with Drew Brees retired, Winston saw the field and didn't throw a single interception, something he's usually quite good at.
The big question is, why are we not getting a deluge of LASIK commercials starring Jameis Winston? It's perfect. He couldn't see and he was not good at football and now he can see and is good at football. That's the most open-and-shut case possible. Instead of that ideal advertisement, we have to watch Rob Gronkowski stumble his way through a very awkward USAA commercial that doesn't make sense.
Give us 30 seconds of Winston and lasers and laser touchdown passes. Just imagine this guy pitching anything…
After a 38-3 shellacking of the Packers, there's no better story in the NFL than a starting quarterback deciding that he should be able to see the field as clearly as possible and then playing the cleanest game of his career while simultaneously outperforming Aaron Rodgers.
We're only a few days away from Andy Dalton wearing rec-specs heading into Week 2.